A Whimsical Summer Engagement Session At Fallbrook Estate
August, 6 2020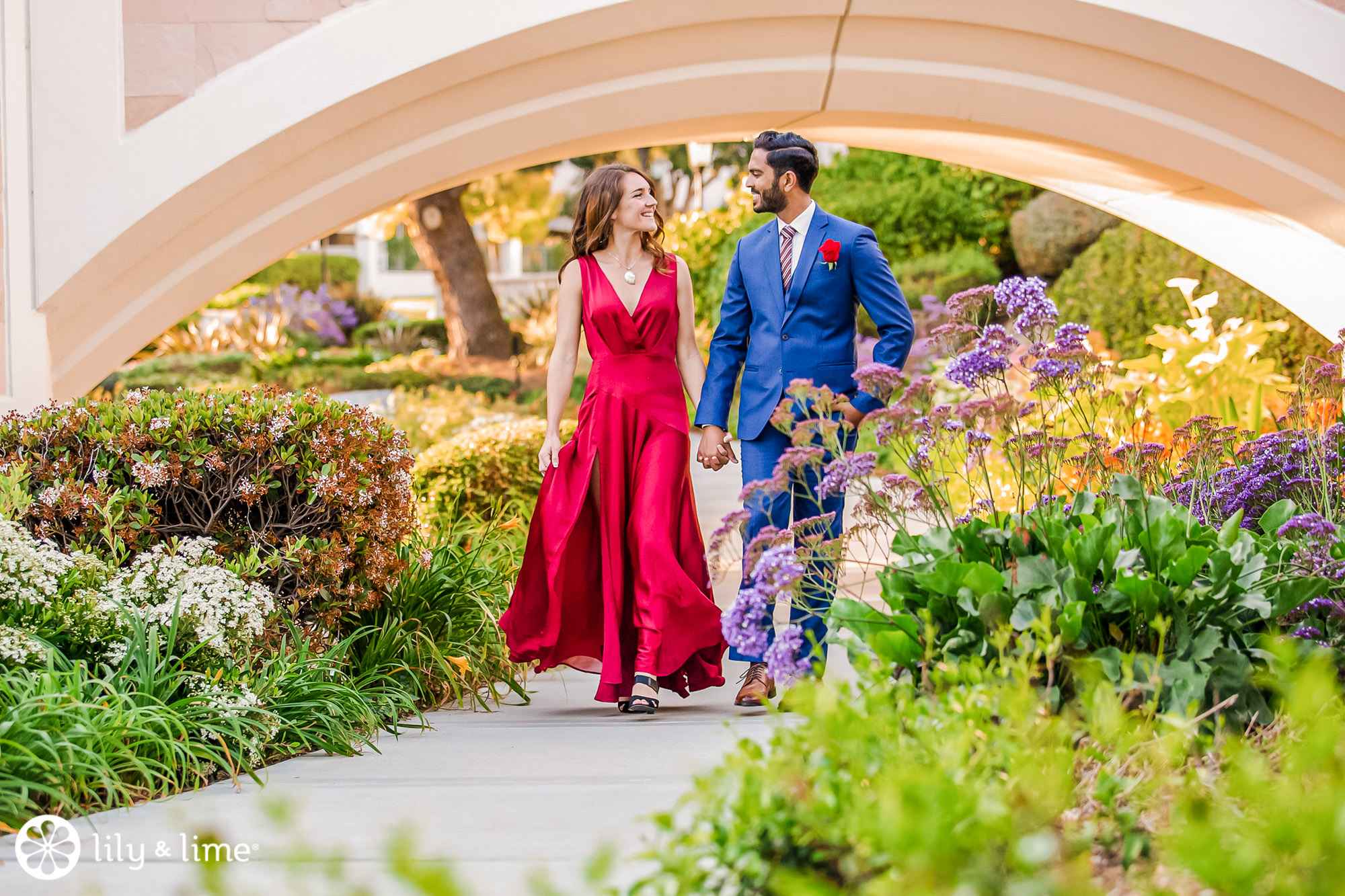 Congratulations on your new status! It delights our hearts to find two people who are head over heels for each other and cannot take their eyes off each other. With all the couple photos slowly taking over your social media feed, you must be wondering whether or not you should join the bandwagon of clicking engagement photographs. But what if we tell you that just like your wedding photography session, your engagement portraits are once-in-a-lifetime moments too?
Engagement portraits can take you back to the days when both you and your partner were planning your wedding, which marked the beginning of lifetime planning sessions. Keepsakes from your engagement photography session can be a walk down the memory lane, bringing back the glorious past, reminding you of the journey that you promised to begin.
There is something so magical and infectious along with the sense of joy and excitement among newly engaged couples, that comes to life in engagement photography sessions. What can be a better opportunity to document your love story than celebrating it with a professional photography session? We believe that every newly engaged pair deserves a collection of professional couple photos to look back on and cherish.
Whether you are sick and tired of looking at couples wearing color-coordinated clothes or couples kissing in front of the backdrop of blurred out cityscapes, you cannot ignore the romantic feeling that they entail. It's unmissable! You can always go ahead and throw in your mix of charm to your professional engagement photography session as we believe that every couple has a different kind of energy and passion to them, that comes out strikingly in their engagement portraits.
If you and your partner aren't professional models, there is a fair chance that like most of the couples you won't be naturally at ease in front of the camera. Getting your engagement photos clicked from professional engagement photographers, who will most likely be your wedding photographers as well, with whom you will spend the most amount of time on your wedding day, this might be your chance to swap stories and share laughs before your big day.
Whether you want a casual engagement photography session with candid and pre-planned poses or document your actual proposal with one knee bent and impromptu emotional moments, as people are getting more and more creative there are many kinds of engagement photographs from sharing similar beliefs to indulging in hobbies. According to many couples, they feel that their engagement photos are the truest reflection of them as a couple because of the presence of everyday style and natural elements in the pictures. Although not mandatory, couple photography sessions have become a rage over time due to the rise of social media, as every couple wants to display their fragrant portrayal of love in front of the world before they tie the knot.
From engagement portraits running from simple detail shots to six-hour-long extravaganzas in multiple locations with multiple outfits, there is no argument that engagement photography sessions are the new kick for newly engaged couples. Whether you are getting married or getting engaged, these are the moments that will never come back and freezing these moments in the most appealing professional photography will always remind you of the best reasons as to why you started this new life.
On a bright summer day in 2019, we swooned over the newly engaged duo, which reminded us of the naivety and whimsical spark of love and affection. We were greatly pleased when we met Chateria and Shawn, the couple with a blooming sense of passion, who are also teamed with a great sense of style and chicness. It would be right to say that we fell in love the moment we saw them, because of their adorable smiling faces and lively demeanor, and we were serendipitous to document their new beginning.
The lovely pair chose Temecula to record their love story for all the right reasons and we couldn't stop but cheer this decision. One of the prettiest jewels in California's crown, Temecula Valley is a very pleasant town as the city stands from prime winemaking country to that end much of the countryside, offering the best of locations for engagement photography sessions in Temecula. Ranging from the hot air balloon rides that take you on a ride of a lifetime, that gives you a bird's eye view of the city consisting of natural trails, lakes, hiking spots, and many prominent locations of this Californian city to the old school vibes in Old Town Temecula starting from antique museums to dramatic community theaters, there are so many photogenic engagement spots to choose from.
Temecula Valley is filled with a wide range of dynamic backdrops from eclectic cityscapes to the rock and roll country music scenes blurring in the background, from the rustic neighborhoods filled with horse trails and quaint countryside elements to the unending sparkling beach waves, making it a perfect location for engagement photography sessions.
One thing that we love about Temecula, California is that it is a beach season all year long! From the gorgeous overcast skies to the beautiful sunbeam shining through and clear skies lend that impressive baby blue hue, and we do not even want to get started on the sunsets playing in golden hour photography sessions! Let's talk about the diversity in the wide array of photo opportunities in Temecula, as apart from the beaches, Temecula is home to sprawling wineries and vineyards, making it a favorite destination for newly engaged California couples. The immaculately kept gardens that look from the pages a fairytale set in Europe to the metropolitan character in downtown vista with fun murals on the impressive walls with its urban garden feel, our engagement photographers in Temecula love to capture couples in candid poses throughout this sunny city in California.
After going through every engagement spot ranging from mountains to ocean, from big cities to enchanting forests and gardens, to mark their new beginning, Shawn and Chateria had their heart set on Fallbrook Estate in Temecula for its unmatched grandeur and class. The stunning Spanish-style estate located in Fallbrook, California is a stunning wedding venue in Temecula, that offers a blend of exceptional scenery with exquisite architecture for memorable wedding photography sessions. The meticulously maintained wedding venue in California has a warm vibe on cold days and acts like a gulp of chilled beer on sunny days because of its unmatched flexibility and versatility!
Every moment captured at this classic Temecula wedding venue had our hearts racing because of its sheer splendid atmosphere and fabulous backdrops. Perched at a lofty hilltop, Fallbrook Estate wedding venue in Temecula offers vantage views of sprawling golf courses, romantic courtyards, waterfront settings, and majestic mountain ranges at a distance. The seamlessly romantic vibe accompanied by pristine views at every step makes it one of the most favorite locations of our Temecula wedding photographers.
The gorgeous and classic Spanish-style architecture is the best addition to the serene atmosphere of this wedding venue in California, featuring traditional red tile roof and shaded arcades. The phenomenal wedding ceremony sites that are traditional terracotta tiled courtyards feature antique outdoor fireplaces, pergolas made of wood and stone flanked by a palm-lined lawn, lush green fairways, a quaint little pond and endless quintessential backdrops for creating a once-in-a-lifetime professional couple photography experience. The splashing waters of the four-tiered stone fountain ringed with colorful blooms, twinkle-lit trees, and flowering vines create a refreshing garden ambiance. The easy access to ocean views, city lights, and wine country make this a popular location for professional photography featuring diversity and unique elements.
The wedding reception event space features double glass doors, clerestory windows, soaring high ceilings, and ornate crystal chandeliers evoking a soft glow. Perfect for celebrating wedding receptions, while admiring sweeping views of natural panoramas, this wedding venue in Temecula, California can truly be a dream come true destination for nature-loving couples for their professional couple photography sessions. Whether you want to explore the camera-worthy settings and find your best background to strike your favorite Pinterest-inspired pose like the wooden trellis bridge that passes beneath a canopy of slender trees, or you want to twirl around the spacious dance floor by the fireplace, the gracious wedding event spaces will leave you spellbound without a doubt.
Our hearts leaped with joy as the gorgeous California couple began their engagement photoshoot at this amazing wedding venue in Fallbrook. Shawn's gorgeous fiancee- Chateria donned a stunning red slip dress with a side slit. The wrap-around front of this classic satin red dress that plunged down to a V-neck, with a side slit that ran-up to the thigh adorned our charming bride like a dream. She teamed up this perfect bridal look with an elegant platinum pendant and long black coiled earrings. Her neatly done hairdo complemented her stunning engagement look very well with the hair carefully side-parted at the front and dropped down loose curled up on her left shoulder. Keeping things very simple and minimalistic, Chateria carried a simple red rose as her bridal bouquet and kept the makeup to the minimum level.
Orchestrating the perfect couple engagement look, Chateria's dashing fiance Shawn decided to flash his stylish front by wearing a royal blue three-piece suit with notch lapels and a crisp white shirt. The maroon and white striped tie teamed with tan-brown formal shoes looked chic and striking. The perfectly coordinated couple engagement outfits looked straight from a fashion TV channel that was incredibly accentuated by the lovely smiles that never left their faces throughout the day.
The engagement photography session at Fallbrook Estate of this gorgeous couple started early when the light sunbeams fell on them, and the sun-kissed couple explored the gorgeous grounds filled with camera-worthy settings. Without missing a single photo opportunity, Chateria and Shawn carefully brought in the intricate details of this classic wedding venue. The bridal portraits of Chateria over the famous wooden trellis bridge that is also one of the most loved highlights of this wedding venue looked ethereal. The detailed shots that ranged from stealing a kiss under the arched bridge, with flower beds flanking the concrete path to the ones where Shawn lifted Chateria against the morning sun rays, the engagement album was absolutely getting filled with memorable keepsakes.
The impressive engagement photographs of this newly engaged couple from the ones where they are posing in front of the breathtaking courtyard featuring oversize beams, a dramatic stone fountain, live palms, and remarkable views, that blurred into the background to the one where Shawn went down on one knee to propose 'forever' to Chateria, our long list of favorites never seems to end.
One of our most favorite engagement portraits was, however, the one where they posed with crystal wine glasses and the evening sky smearing various shades of purple and blue in the background. From the way, this fun-loving couple displayed their acts of love for their engagement photography session in Temecula, to the perfect shots which our professional photographers managed to capture in their candid moments, every little detail added up to create a memorable engagement album that will be cherished for generations.
The dramatic settings of this wedding venue and the keen eye for details were the perfect additions to our impressive newly engaged California couple's professional photography session. There is something so positively infectious about this to-be-married couple that absolutely warmed up our souls and made the summer day in Temecula even sunnier. Probably it was the way they stopped in the middle to take a couple dance or the way they adorably looked at each other without taking their eyes off, every moment was precious and was intricately captured in a memorable album. The intricate planning and picture perfectness of our beautiful couple while planning their engagement photography session depicted their keen eye for details and the sense of unmatched teamwork that they brought to the table effortlessly.