Family Photo Session Tips & Advice
September, 2 2021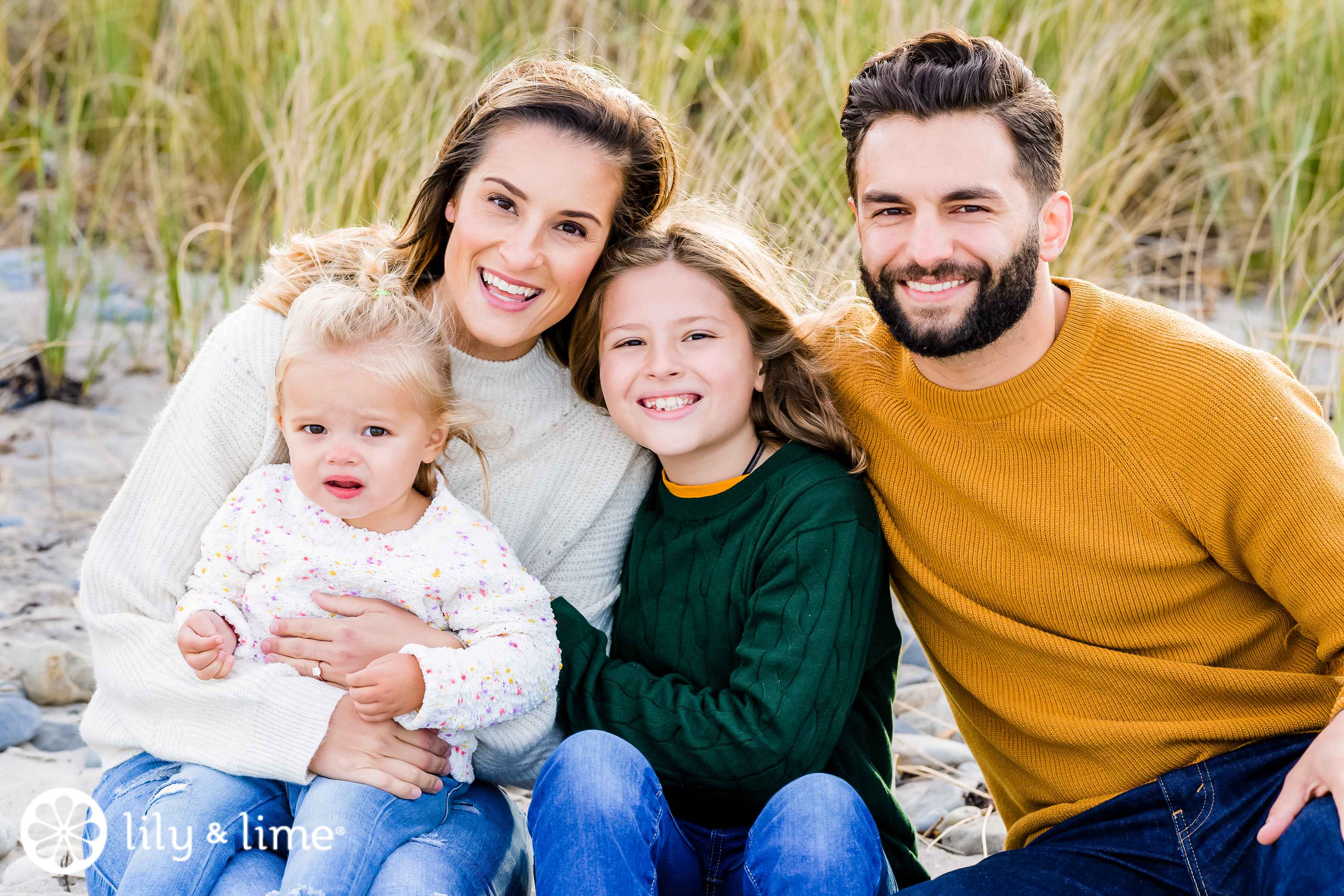 Your family means the world to you! They know you love them, but it's important to make them feel special and loved by gifting them something meaningful from time to time! And what better gift than a professional family photography session! Once you see the results - the beautiful family portraits and the smile on your loved ones' faces, you'll be pleased as punch for what you did! Here are 7 easy-breezy tips to secure family portraits that are a cut above the rest (with a bonus tip tucked in there too)!
1. Dress to express, not to impress
Everyone in your family has a different style or taste when it comes to choosing family photo attire. Not a problem. Whether it's a fall family photo session or spring family photoshoot, the key to making every member in the pictures stand out is that they wear their own unique personalities and styles on their sleeves! Pick the attire to complement one another! But here's the twist - pick a couple of hues and select garbs that squarely fit into the color scheme. Say NO to all white or all black clothing! Pro tip: Steer clear of patterns and T-shirts with your kids' favorite characters, as these can be pretty distracting and make your photo look too busy.
2. Accessorize your look
Don't shy away from incorporating different textures to give depth and interest to your photos. Add a pinch of fun to the family pics by pairing up your clothes with cute accessories like a tie around the gentleman's neck for the lady to hold, a necklace or a scarf for kids to play with, sunglasses, hats, or fascinators to hide behind, a flower crown for your little girl to look like an angel, and adorable caps or scarves for your fur babies (if the location permits pets)! Whatever you use as accessories for family photos, be sure that it doesn't take over the focus of the session.
3. Scout a location with plenty of photo possibilities
Although there's no magic answer to your question, "What is the right location for the family portrait photography?", it's best to consider a few different things while searching for your family shoot location - like the purpose of your photoshoot, the look and feel you'd like your photos to have, the season or month of the year you are planning to have the shoot in, the accessibility of the location plus your tastes, preferences, and personality. Our two cents? Go for a gorgeous park location for your nature-inspired green family photo session, a famous monument for a history-rich unparalleled indoor family session, or simply head to a beach nearby for your outdoor nautical family portrait session. Leave the rest to your professional family photographer, they know how to make the captures stand out in the crowd while making the most of the backdrops and the photo ops around!
4. Bring meaningful photo props along
You have coordinated your outfits perfectly and picked the most gorgeous location. Now let's work a little towards making the family portraits more memorable and meaningful! We mean photo props - oh, my giddy aunt, what an excellent way to inject life into mundane pictures! Don't you think beach toys for your waterside photoshoot can help you fetch those sweet, natural, and fuss-free poses of your munchkins! The right props will not only provide you something to interact with and make you feel more relaxed before the camera but also tell who you are as a family. From a quilt that has been handed down from generation to generation (or just one that has been handmade by a family member) to your fave sports items like football or frisbee, holiday props, balloons, bubble guns, finger paints, or ribbons! Or simply your toddler's favorite stuffed animal to something meaningful, like announcing your new pregnancy, move, job, or graduation - the world is your oyster when it comes to picking great photo props!
5. Be yourself, unapologetically
Leave your belly butterflies back at home and feel as light as a butterfly! The only secret to nailing a mind-blowing family photo session is to have fun with your family! NOT everyone has to be looking and smiling at the camera at the same time! Those natural and candid shots can be achieved only if you are enjoying the camera! Feel free to pick up your kiddo and toss them in the air. Give a BIG SQUEEZE to your doggo. Peck your wife on the cheek. Tell your husband how much you love him and appreciate him for being there for your family. Have fun. Laugh. Giggle. Joke. Embrace. Kiss. Snuggle. Play. So your pro-family portrait photographer can capture the sentiments and true beauty of your family. And yes, leave the stiff "cheese" faces for Aunt Sally at the next family reunion. All you have to do is show your photographer who you really are, and then Bob's your uncle!
6. Think collage
Portraits hanging on the wall tell stories and show family members they are truly loved. Let us remind you that wall collages are special art pieces! Besides telling multiple stories in one go, they are very functional because they are easy to move around, split up, and pass down to grown children and future generations. One large featured art piece in the center surrounded by smaller fun images is a wonderful way to showcase the bond y'all share with one another! We photograph siblings together, parents together, mum with kids, dad with kids, kids with pets in stunning spots along with a hero shot of the family for a perfect modern family collage! You can hang them vertically, horizontally, or even diagonally going up a staircase.
7. Bring an activity that y'all love doing together as a family
Looking into the camera and saying "cheese" to the photographer doesn't always make you look happy! Then what is it that brings an authentic smile to your face? C'mon, do something that you enjoy doing together! This will give you something to do with your hands and feet, engage the little ones, and bring a true smile to everyone's face. Bring a picnic, your favorite board game or cards, books, some ice cream bars, or drumsticks to your session and see the magic unfold! Don't shy away from playing a round of Uno or Monopoly for your fun and authentic family photo session. Other ideas for authentic photographs include: football, piggyback rides, races, bike riding, hiking, singing! Sky's the limit! The best family photographs are usually the ones where everyone is engaged or interacting with each other.

A piece of advice, the homestretch - give yourself ample time so that you are ready before it's time to head out of that door to cheerfully participate in your family photo session! These photographs will be left as a legacy, when your little ones are grown, with families of their own someday. Being a photography company, we love it when our clients steal some time from their busy schedules and make the most out of their family photography sessions. You totally rock, and we look forward to seeing you!