Mesmerizing Dallas Bridal Portraits
August, 13 2020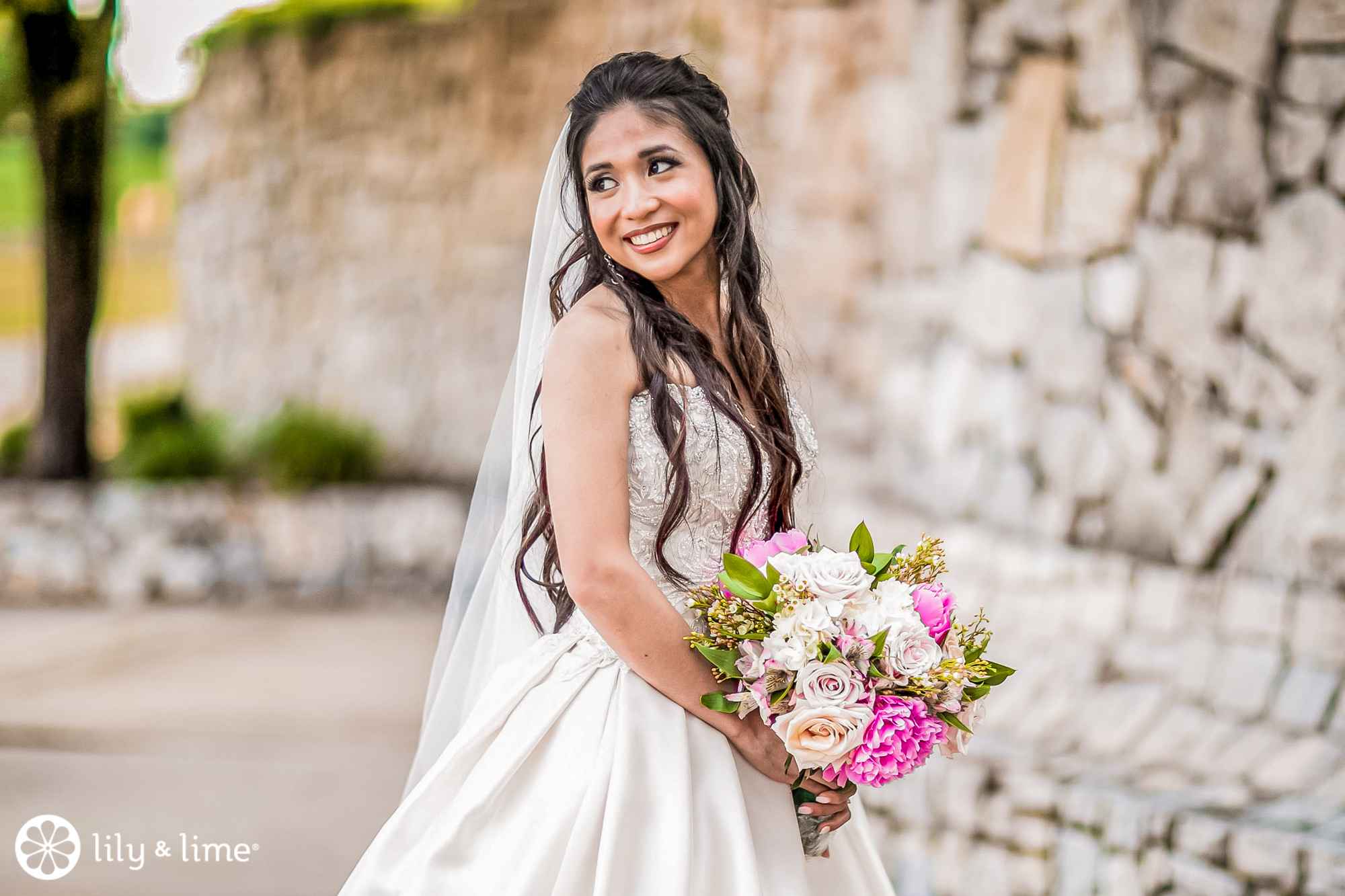 Spilling with precious emotions from beginning to the end, wedding ceremonies and receptions are loaded with fun and excitement. If you are a bride who is dreaming about the first kiss, fantasizing about the first dance and musing about the way you are going to exchange your wedding bands and vows, we are sure that you want every moment of your wedding celebrations to spark love and joy. Being the heartbeat of the entire wedding day, you deserve to be captured in an unfiltered way on the shutters of a professional camera, that will create exclusive memorable keepsakes for your wedding photo album.
It doesn't get more real when you are promising to spend the rest of your life with someone, and every moment that involves you needs to be captured by professional photographers starting from the time you are getting ready for your big day to the confetti toss to the bridesmaids. Setting down an example of true love at its finest, a wedding day is filled with swoon-worthy, tear-inducing, and heartfelt moments, that are captured by professional wedding photographers for your wedding album. But some things remain exclusive only to you for the rightest reasons and one of them being bridal portraits. Right from the time you were a little girl trying on your mother's pointy high heel shoes to the time you have meticulously decorated your Pinterest board with inspirational couple poses, every big and little moment of your life gets real on your wedding day. Probably that is why it is one of the most emotionally invigorating days of a couple where heartfelt feelings reach peak levels.

The elation of a bride on her wedding day, right from the time she slips into her wedding dress to the first look of her soulmate, and from the time she bursts into laughter at the altar to the fragile tears that escape her eyes while dancing with her father, every moment that a bride experiences on her wedding day is evoked with a sense of intimate touches, coveted looks, and in-between moments one cannot just put into words. A bride donned in her crisp wedding dress with flawless makeup and hairdo, posing for classic and artful photographs in fashion-forward and dramatic ways are known as bridal portraits. Bridal portraits were once considered a southern tradition, but now it is becoming a very loved part of wedding photography sessions.

The main goal of a bridal portrait session is to prepare the bride for her wedding day, giving her an idea about how she will look on that day, to evade major changes, and making her comfortable in front of the camera. On your wedding day, you will have to walk around wearing your wedding dress for an extended period of time, and having your bridal portrait session right before your wedding will help to check your bridal look comfort quotient. As a bride, we are sure that you are very picky about your appearance in photos, and why wouldn't you be, after all, this is the most special day of your life.

On a bright sunny summer day of 2019, we were exhilarated when we met Junelyn, the elegant Dallas bride who charmed us with her unfaltering grace and flawless smile. A happy bride is the best muse for a professional photographer and our bride-to-be was exactly that to our Dallas Fort Worth wedding photographers. Right from the exciting and joyful moments to the heartfelt and compassionate ones, one thing that adorned Junelyn's wedding outfit during her bridal portrait session was her bright smile that radiated and reverberated the entire atmosphere with a sense of euphoria.

Right from the beginning, Junelyn had her heart set in Midlothian, a quaint and charming city in northwest Ellis County, Texas, United States. Located just 25 miles Southwest of Dallas and 30 miles of Fort Worth, this attractive city is home to some of the best photo opportunities when it comes to eclectic and scenic photogenic backdrops. The ideal locations of Texas and its suburbs exceed expectations when it comes to Fort Worth-Dallas wedding photography sessions that are filled with scenic and natural backdrops brimming with elegance and appeal.

The idyllic and scenic rolling hills, filled with rustic barns, historic mansions, well-known churches, and pristine chapels along with the busy and bustling eclectic city landscapes, the list of gorgeous choices and wedding venues styles of Texas is crammed to the brim. Ranging from luxurious and traditional hotel options to the mountains style cabins and cottages, the multitude of great accommodations for out-of-town guests, that are conveniently located in each corner of Texas suburbs, makes it an excellent choice for hosting memorable weddings.

Loved by both newly engaged couples as well as professional wedding photographers in Dallas-Fort Worth, the spectacular natural wonders of Texas come to life and professional photography sessions. The panoramic landscape posing as photogenic backdrops comes in the form of the gently rolling hills, sprawling vibrant wildflower beds, rustic winding hiking, and biking trails, and panoramic vistas spreading out as far as the eye can see.

Our elegant Texas bride Junelyn opted for the excellent location in Midlothian Texas known as the Firefly Gardens wedding venue for her bridal portrait session on a bright summer day. The charming ambiance of this classic wedding venue in Dallas-Fort Worth suburbs of Texas is tucked away in a secluded space that sprawls on 8 acres of intricately manicured and maintained landscape. The enchanting and swoon-worthy property had our bride's fragile heart racing when she saw it for the very first time and decided instantaneously about having her Dallas-Fort Worth bridal portrait photography session right there.

Located just 30 minutes south of Dallas-Fort Worth, this suburban traditional wedding venue has over 85 years of combined experience in hosting wedding celebrations as well as many other events. Considered to be a premier event venue in Texas suburbs, Firefly Gardens wedding venue is loved by local Dallas-Fort Worth couples for its charming details and timeless elegance. The incredibly beautiful wedding venue is home to some of the most whimsical wedding event spaces, that are not only flexible in nature but also amazingly photogenic. With a capacity of hosting up to 250 guests, this flexible Dallas-Fort Worth wedding venue is unquestionably one of the most favored destinations for hosting weddings in Texas.

The famous Dallas-Fort Worth wedding venue, which is also very close to the Metroplex in Texas, has three important wedding event spaces that are not only unique but also offers breathtaking views for photography sessions. The stunning two-story 7,500 square foot white hall is the first wedding reception space that features a gable roof, striking glass walls, and gleaming hardwood floors reflecting off of the warm glow of three 7-foot grand champagne-colored chandeliers hung from the wooden beams overhead. Teamed with unending photo opportunities, this wedding space overlooks pristine lush green acreage with a white iron gazebo, making it an unforgettable sight for our Dallas-Fort Worth wedding photographers.

The exquisite settings of the rustic white barn located under towering oak trees with a chandelier and pond at the wedding ceremony site reverberate a whimsical and romantic grace. Perfect for an inspirational wedding photography session in Dallas-Fort Worth, the secluded wedding property homes a red rustic barn. It is a traditional wedding ceremony site sitting near a pond with a quaint little bridge, a grand crystal chandelier, a whimsical private garden, and surrounded by age-old oak trees. The long white pergola nestled right on the grounds of this vintage barn can weave a fairytale-like backdrop for your wedding ceremony.

The historic house is a classic two-story mansion with an impressive swimming pool that can host your rehearsal dinner party and cocktail reception with up to 40 guests. The luxurious country wedding vibe of this historic mansion comes to life when our talented wedding photographers in Dallas-Fort Worth capture the intricate element strewn all over the event spaces. Starting from the quintessential natural outdoor settings the illuminated indoor wedding event spaces, to the limestone filled creek to the German smeared brick wall and amazing wall of windows, every corner comes to life in pro photography sessions, which is perfect for creating an unforgettable wedding album.

We could easily see why Junelyn, our classic Texas bride chose this incredible wedding venue in Dallas-Fort Worth for her bridal portrait session. The day started early when the summer sun was shining a little brighter at Firefly Gardens, in Midlothian, Texas making the entire ornamented with a candid and joyful mood. Our gorgeous bride decided to slip into a creamy white wedding dress that made her look stunning and graceful. The classic sleeveless satin ball gown with a plunged sweetheart neckline at front, dipping into a straight line at the back, breezed through the floor like a daydream. She paired it with a cathedral-length wedding veil and pastel-colored Biedermeier rose bridal bouquet. Junelyn's mesmerizing wavy hair was loosely back brushed with two parted strands at the front, and her smokey day makeup adorned her pretty face, along with her dangling earrings and bare neck.

The romantic and candid shots from the bridal portrait photography session were surrounded by great views and ranged from posing against the towering and weathered Doric columns to her sitting in front of the large quarried walls. The brilliant detail shots with the bright green foliage blurring in the background and the historic cascading steps with exposed stone walls looked ethereal. Our talented Dallas-Fort Worth wedding photographers did an amazing job in capturing inspirational bridal shots as Junelyn posed in the waterfront settings with the majestic red barn in the background and cobblestone paths, flanked by luscious green grass and brilliant architecture at the backdrop.

The dreamy wedding portraits of this bridal portrait session ranged from the fairytale-like beautiful bride descending a staircase to the truly spectacular array of detailed portraits with radiant lighting on point. The dappled sunlight effect on the beautiful bride offered some beautiful bridal portrait opportunities for our blushing bride as she kicked up her heels and posed candidly in front of all the stunning and timeless backdrops. The beautiful moments of this memorable bridal portrait session stayed with us for a long time like a cool breeze in a summer afternoon. The radiant smile and the unfaltering positive attitude of our classic bride made this experience one of its kind, as we wish her tons of good luck for her new life and brand new beginnings.