Spectacular Modern Wedding Inspiration From Katie and Justin, Phoenix
November, 15 2018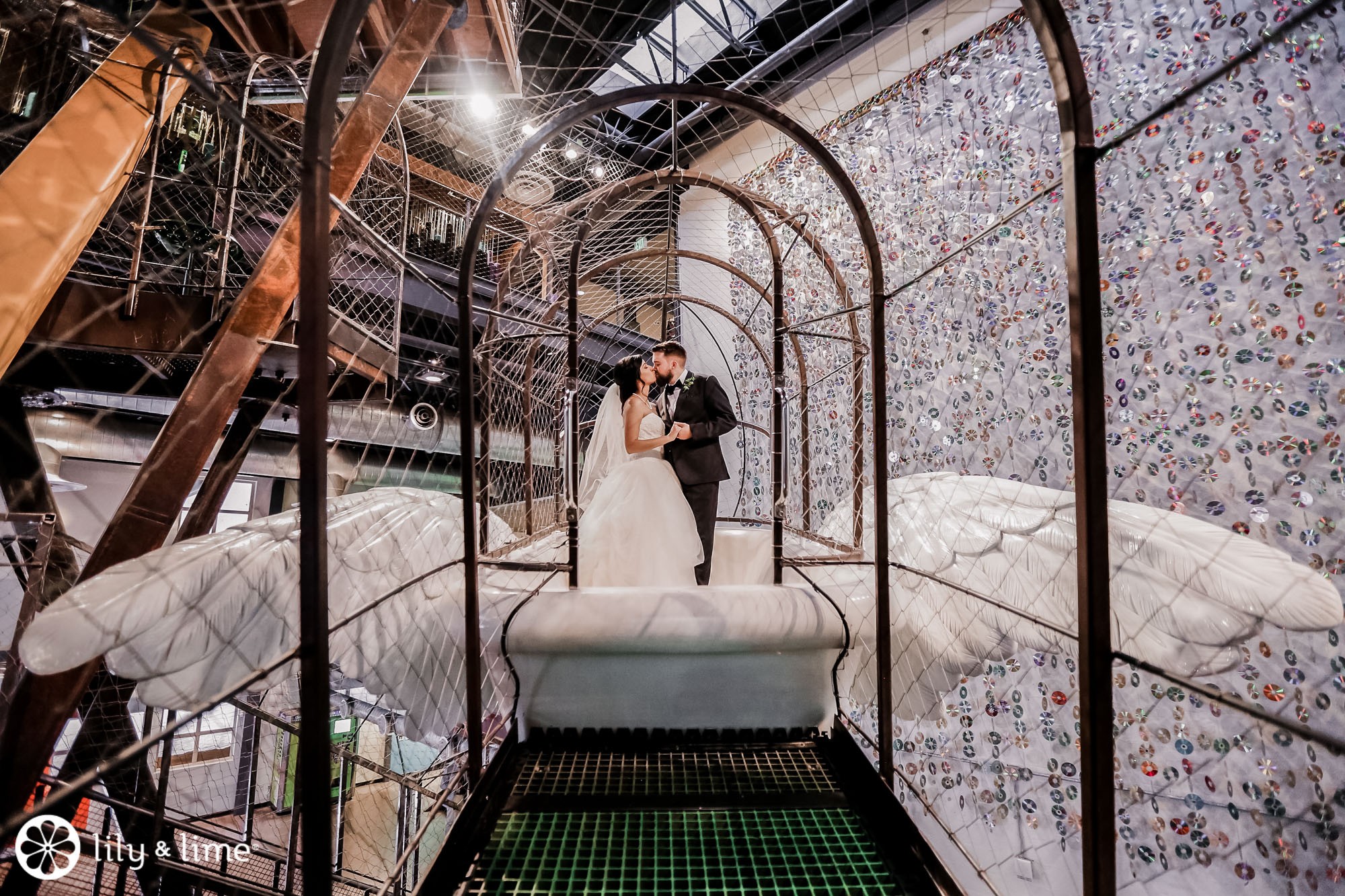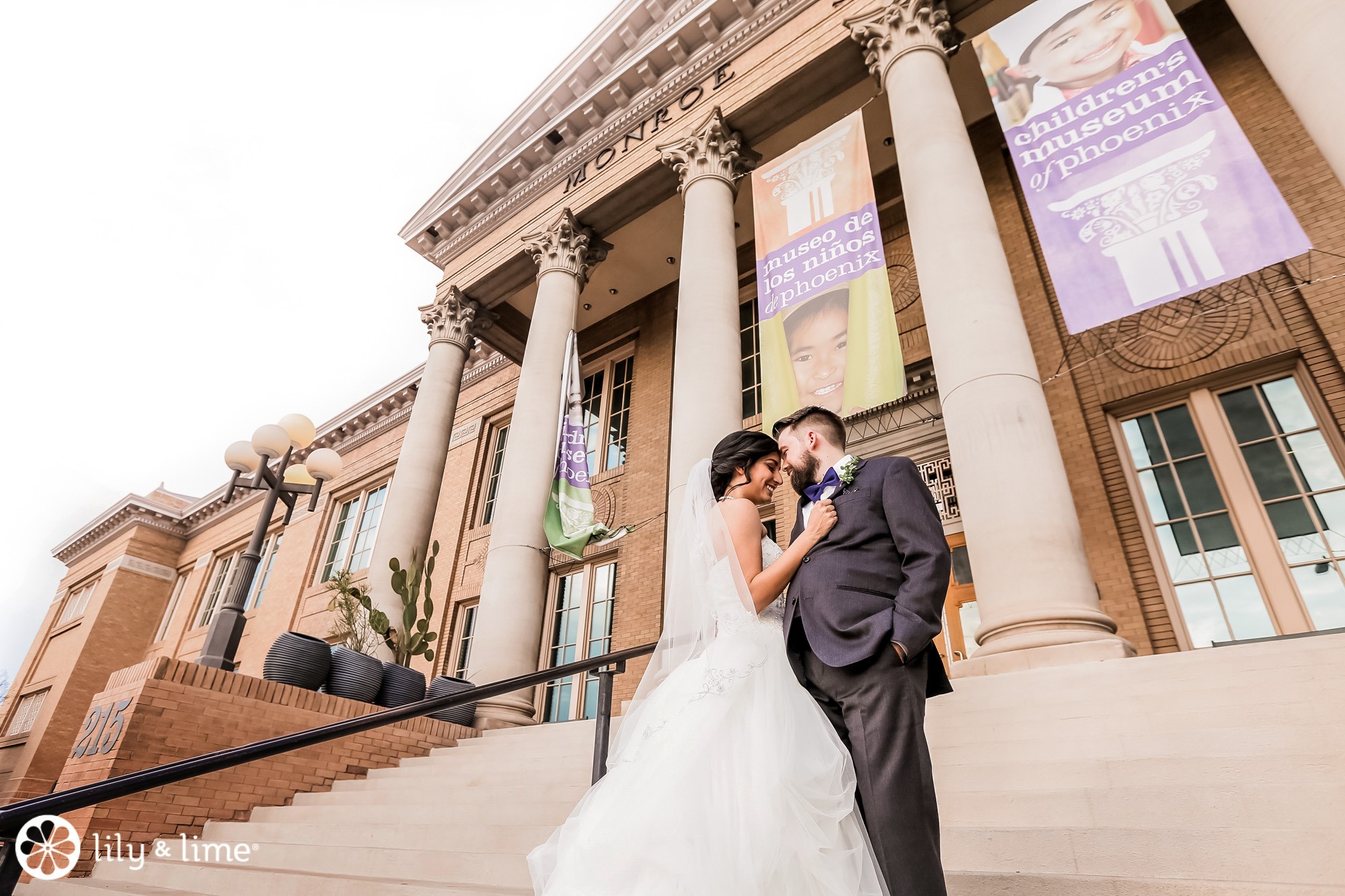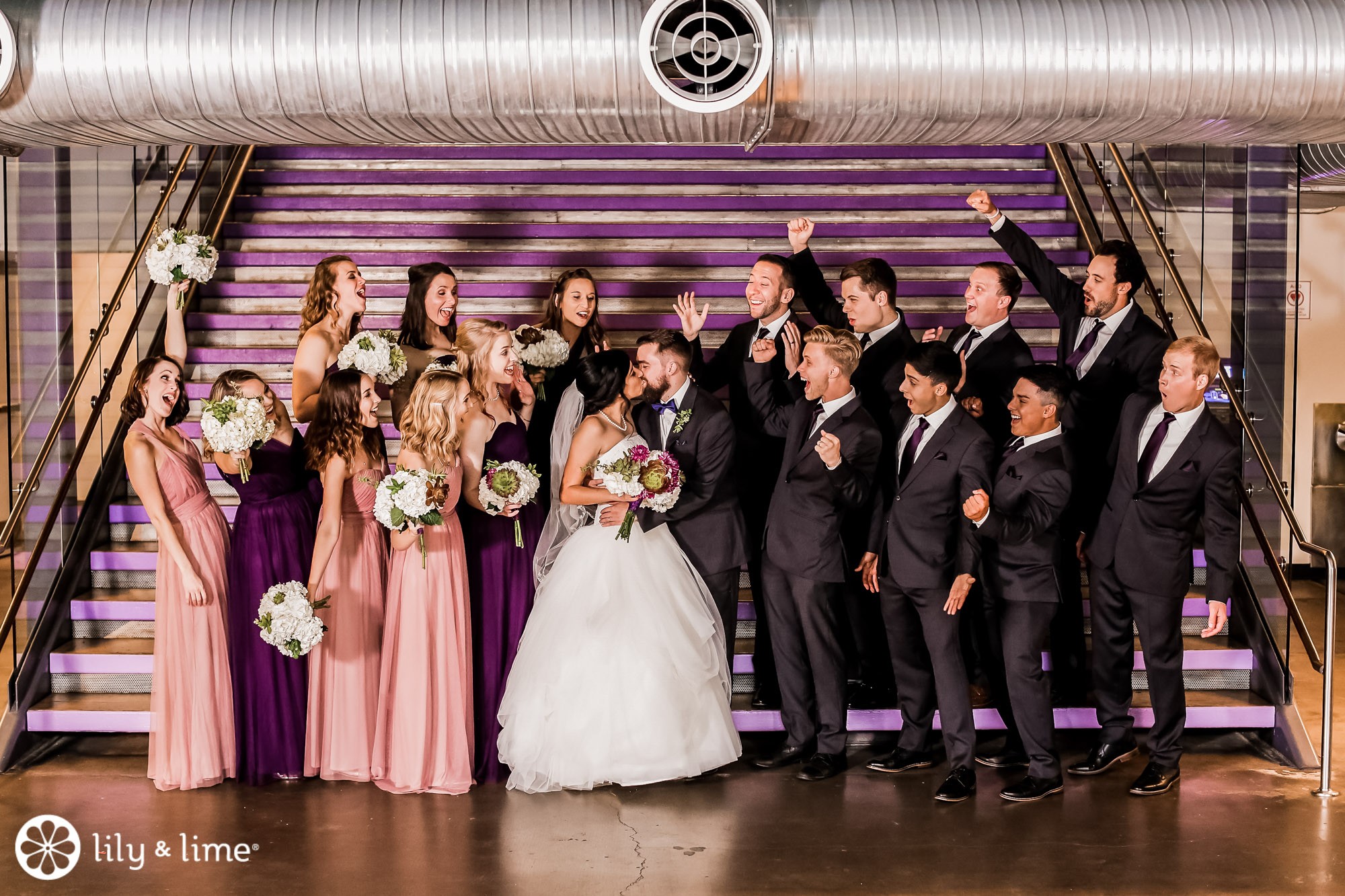 Katie and Justin's late summer wedding was a modern museum fête. Although the wedding took place in the warmth of late summer, it's a great example of a venue that would work in cooler weather, too. With the seasons fluctuating so much in recent years, choosing a space that works in different ways for summer or fall can be a great way to hedge your bets for the weather. The same goes for fall-winter, winter-spring, and spring-summer flexibility.
Katie began the day by getting ready with her bridesmaids. Her strapless, drop-waisted gown was full and airy. Her shoes were gold and glittered with floral appliques. Her bridesmaids wore a mix of rose and plum-colored dresses. We love the mix and match bridesmaid dresses because of the way they can perfectly balance individual personality and visual cohesion in the bridal party.
Justin and his groomsmen wore dark grey suits with dark plum ties. For distinction, Justin donned a bowtie. We love the sharp, autumnal feel of these grey suits, and we know the groomsmen loved them, too. An added bonus of choosing grey, black, or navy suits is that groomsmen have ample opportunity to sport them again.
The coupled tied the knot at The Children's Museum of Phoenix. The playful space offers over 500 educational programs each year. The topics of their programming include: addressing arts and culture; early education through play; health and wellness; environmental awareness; tolerance and understanding. The museum engages in imagination, creative learning, and practicing skills -- three traits that also set you up for a successful marriage.
Katie and Justin embraced pops of color to accentuate clean, bright white. Their bright wedding color palette really accentuated the vibrancy of the day. Katie and Justin enjoyed plentiful wedding photography opportunities at The Children's Museum. The bright light that came in through the windows made for great indoor portraits.
Every corner of the museum had an installation or an interesting feature that added so much to their wedding photos. The couple's Phoenix wedding photographer knew their way around the museum and was able to guide Katie and Justin to the prime photo spots. They made good use of the staircases. The indoor staircase had a modern, industrial feel for portrait, while the traditional stone staircase outside had a grand feeling that made it just right for post-ceremony pics. We especially love the shots of Katie on the balcony with a curtain of CDs in the background providing a modern rainbow of colors.
A simple, modern ceremony set up was the perfect spot to exchange vows. The same space later transformed into the reception location for the couple.
For more modern wedding inspiration, check out the rest of the blog!