A Year of Flowers: A Monthly Guide to Your Perfect Wedding Bouquet
January, 17 2020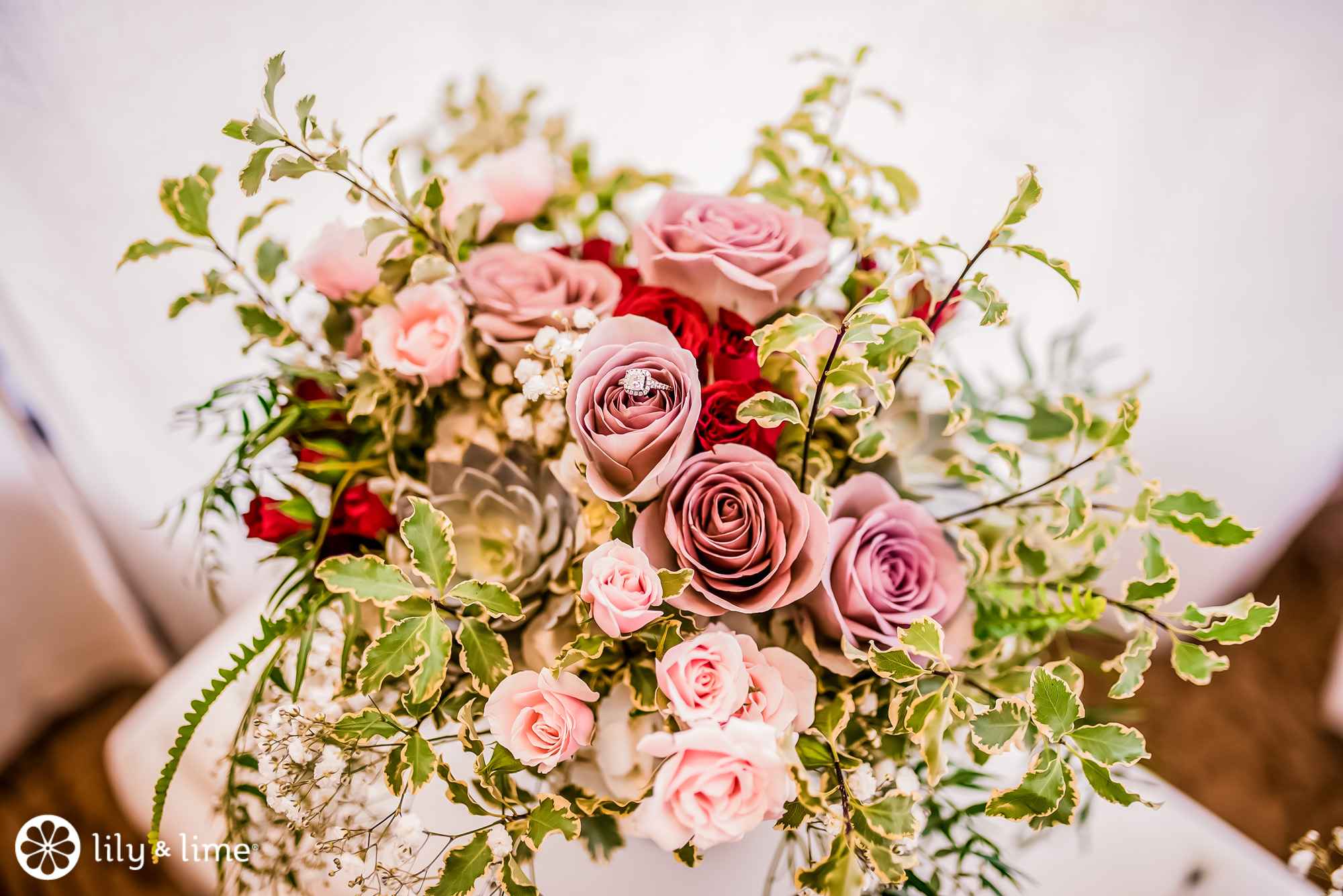 There are various things at a wedding that have to be carefully chosen. While most comprise of things that are there at the wedding venue, there are a few that stay with you for most of your photographs! These things are your accessories like footwear, jewelry and of course, your wedding gown. There's one more thing that forms a part of your accessories and completes your entire look and that is your bridal bouquet.
There are a million ways to arrange the flowers of your wedding bouquet, be it according to your wedding dress, your mood, season or any other factor. Did you know, that you can also make your bouquet as per the month which you are getting married in? Sounds interesting, right?
Well, we have compiled a list of all the flowers that rock majorly during those specific months. Here's how you can incorporate these particular flowers into your wedding-day bouquet, as per the months.
January
The cold gloomy days of January are reminiscent of dullness all around. The perfect way to add brightness and contrast to the surroundings is to add lots of whites and off-whites roses. Ranunculus also makes for an ideal choice during this month and so does French tulips. Team them up with luscious green foliage, the more shades of green, the better!
February
The month of love. Doesn't it call for pinks? If you are one of the lucky ones who are are getting married during this month, pastel pinks are so for you! Roses in pastel pink or light pinks look gorgeous when paired with some light green foliage. We simply adore the effect of Japanese lisianthus on the mood of the bouquet. Add the charm of love with a couple of red roses for a bouquet that blushes on its own!
March
Spring begs for soothing greens such as myrtles and subtle yellows! Throw in some lavender for the perfect color combo. You could pick roses or lilies in soft pastel shades of yellow. Lavender provides a beautiful kind of contrasting balance to the entire combination, so how about adding some anemones or delphiniums?
April
With the spring in full swing, it's only fair to include vibrant blooms! Bright and fresh blooms totally fit for this month. Go for exuberant semi-cactus dahlia, chrysanthemums, and colorful stock flowers. Sprinkle it with some dusty miller for a completed look.
May
This summer month deserves anything but gaudy! Power-packed with various shades of yellow, from the lightest to the darkest, the bouquet can be made from garden roses and lilies. Add green foliage like myrtles and seeded eucalyptus to fill the voids and give it a great contrasting volume.
June
Roses galore! While white or off-white roses are our favorite for this month, you could also blend in some other light-colored roses. Think pinks. Like phlox. These bouquets are the best when kept in a synced height and bordered by the greens like myrtles.
July
It's lavender all the way! Soothing. Bright. Elegant. From phlox, iris, anemone, and carnations to delphinium, hydrangeas and grape hyacinth, the shades of purple are boundless and beautiful. Add a bit of calla lily, ranunculus or white roses for the deep sensual combination. You could even add a whole lot of volume by using some baby's breath.
August
Green monstera leaves are so 'it' for the month of August! Team them up with vibrant blooming flowers like garden roses, semi-cactus dahlia, stock flowers, amaryllis or camellia. You can add a bit of white as a great addition to the contrasting colors. Think French tulips, ornithogalum, or lily of the valley.
September
Huge and blooming flowers are the most sought after flowers for weddings in September. Longer myrtles do the trick by adding more length to the bouquet while a great assortment of chrysanthemums, zinnia, scabiosa and roses in full bloom give it a vibrant fullness.
October
It's peaches and yellows that rule the month of October! Semi-blooming roses in peach and yellow look utterly gorgeous as the fillers of similar shades give the bouquet a fluff. You don't have to go overboard with the myrtles with this bouquet, just a little bit here and there is enough! Add in a dash of aubergine with the help of some viburnum berry and voila - you have the perfect bouquet for October!
November
Peaches abound for November. As you gear up for a winter wedding, blooming peaches become a magnificent accessory to your look. Eucalyptus leaves complete the appearance and the fillers of a neutral color add oodles of volume.
December
The last month, and one of the coldest, warrants for everything dark and deep! Dark red roses, scabiosa, coxcomb, and deep red chrysanthemums are ideal for this month, so make sure to include them in your bouquet for that sophisticated and (dare we say) sexy look!
Months have their own significance and specialty. And just by adding that perfect flower, you bring about a big change to your wedding bouquet which would feel synonymous to the month! For more bridal trends and bridal inspiration, read the rest of our blog.