Surrounded By Nature, Lindsay And Timothy's Fall Romance In Hartford
November, 15 2023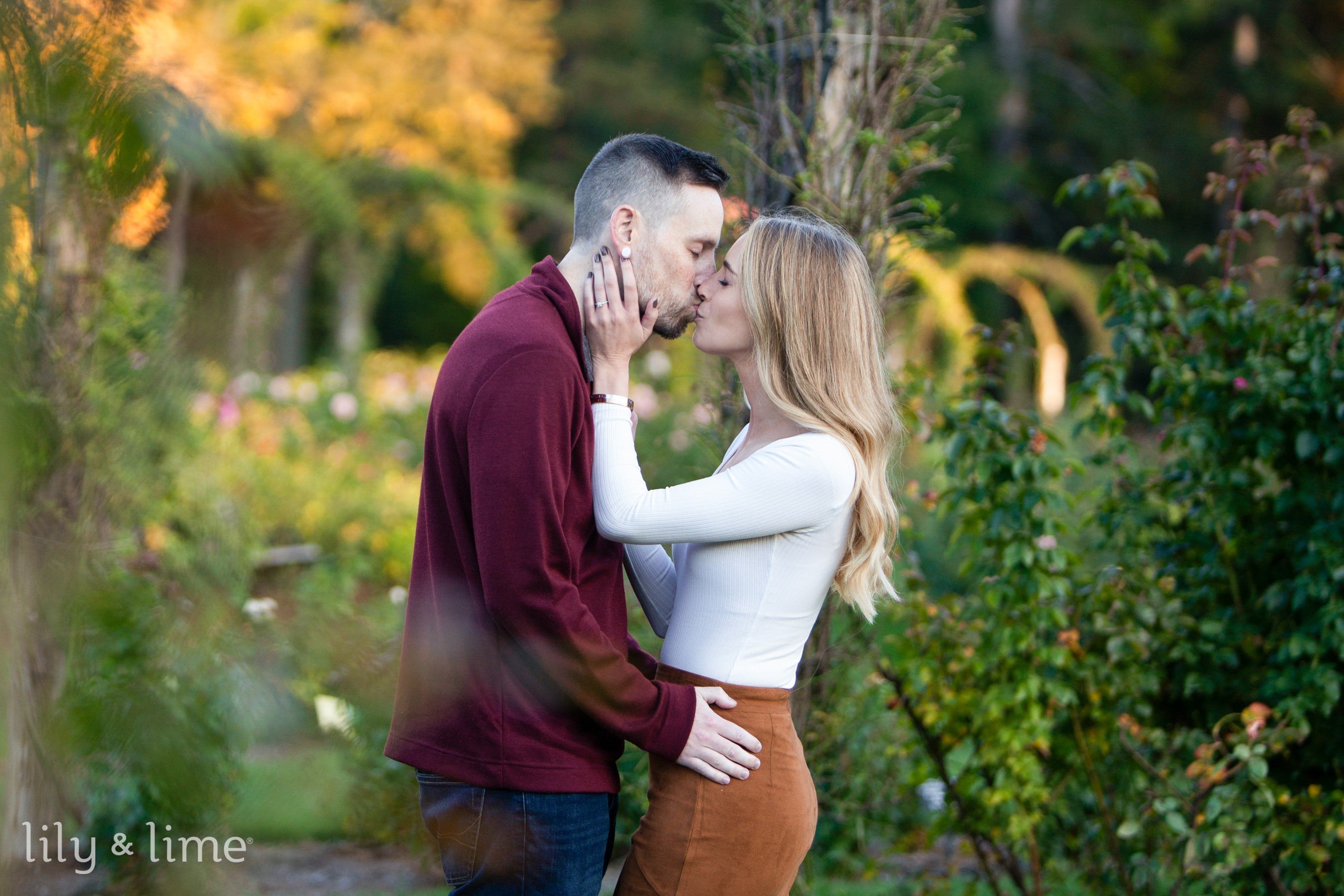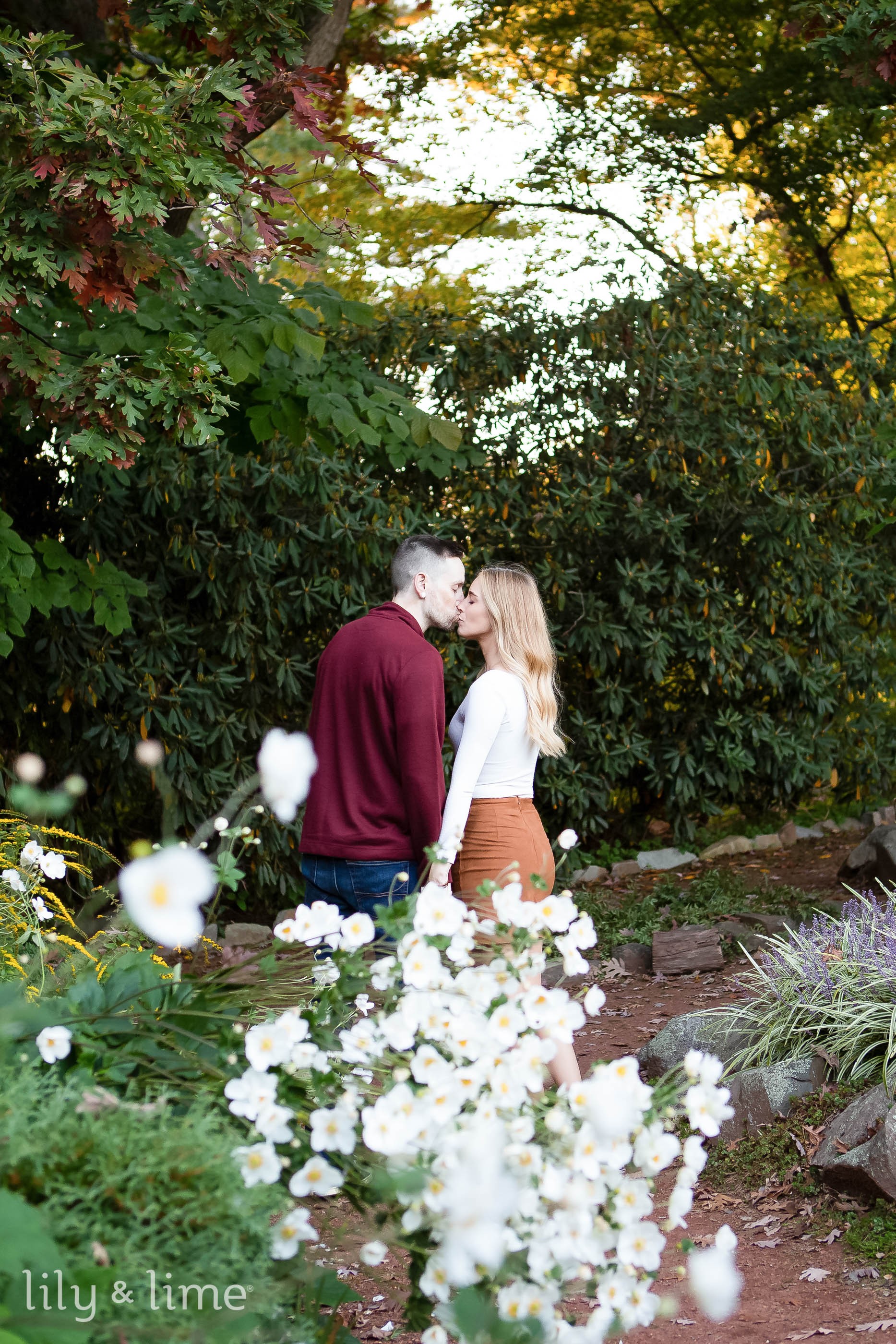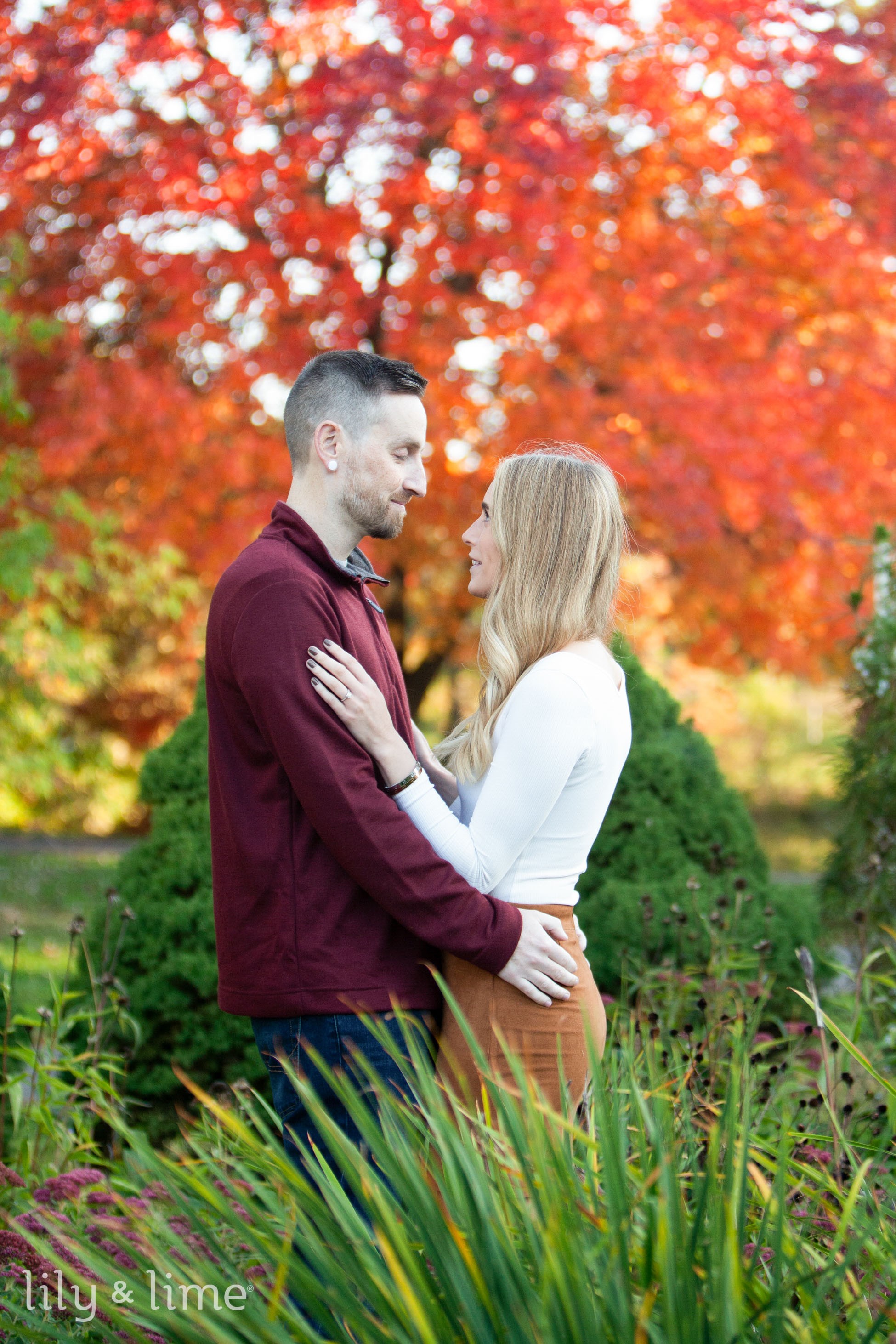 We cannot talk enough about beautiful love stories. At Lily and Lime, we are big fans of love and love stories. Considering that we spend all of our time either talking about wedding inspiration that we can use or covering stories of the amazing people we meet and telling their even more amazing stories, it is only natural for us to have a soft corner for love stories. We love watching two souls coming together. We love beautiful weddings, and we love engagement session photos too. What we love the most, however, are these engagement photo sessions! Our photographers meet beautiful couples, and we love that we can be a part of their love stories from the moment they take their "first step" after the engagement as their engagement photo session, and then they tie the knot with their soulmates. It warms our hearts to know that we are a part of some of the best love stories. The love story of Lindsay and Timothy is nothing less than beautiful and photo-worthy smiles. Their outdoor Hartford engagement photo session was beautiful, charming, and delicately romantic. Surrounded by the beauty of the season, their fall engagement photo shoot is sprinkled with warm tones and undeniable smiles! It was easy to see that these two were meant for each other. Looking at their engagement photos we knew these two were head over heels for each other, and could not wait for their wedding day!
Sitting in the heart of Connecticut, Hartford beckons you with its enchanting blend of culture, history, and natural beauty. Hartford is a city where past and present intertwine beautifully, blending to give you some of the best places to visit and see. It's a beautiful collection of different experiences waiting to be explored. Whether you're an art aficionado, a history buff, or a nature enthusiast, Hartford has something enchanting just for you. For the lover of art and history, Hartford's museums are your playground. The Wadsworth Atheneum Museum of Art is a crown jewel, offering you a timeless collection of masterpieces. As you stroll through its hallowed halls, you'll be captivated by works of renowned artists like Salvador Dalí, Vincent Van Gogh, and Claude Monet. Imagine you and your beloved sharing whispers before mesmerizing paintings, igniting conversations that will linger in your hearts forever. For the curious soul, the Connecticut Science Center is your place, a captivating museum of interactive exhibits and scientific wonders, where learning meets adventure. Hartford is not just about art; it's an adventure waiting to unfold. The Mark Twain House & Museum is a portal to literary history. As you wander through the author's former residence, you'll feel his spirit of creativity and humor enveloping you. Step back in time, and for a moment, it's just you and Mark Twain, sharing stories that bring laughter to your hearts.
Hartford has a special treat for nature lovers. Elizabeth Park's Rose Garden is a burst of color and fragrance, a romantic oasis where you and your partner can stroll hand in hand amidst thousands of blooming roses. As you whisper sweet nothings, you're enveloped by the allure of nature's beauty. A picturesque picnic by the serene pond at Bushnell Park provides the perfect backdrop for your romantic escape, serenaded by the sounds of chirping birds. The Wethersfield Cove, with its meandering waters, beckons you to embark on a paddleboat adventure. The gentle swaying of the boat feels like a gentle love story, as you navigate the pristine waters together. Evenings in Hartford are a gourmet delight. Max Downtown offers a romantic ambiance with its dimly lit setting. Savor a sumptuous meal and toast to the memories you're creating. Say cheers at Little River Restoratives, where craft cocktails add a dash of adventure to your evening. Hartford is a city that invites you to create your love story. Its museums, attractions, and natural beauty become the canvas, and you and your partner are the artists painting your unique journey. As the sun sets over the city, and you steal a kiss amidst the enchantment, you'll know that Hartford has etched its charm in your hearts forever. It's a city where love stories are written, where moments become memories, and where your adventure together truly begins.
In Hartford, the photo shoot location for the day was the beautiful Elizabeth Park. Nestled in the heart of Hartford, the Elizabeth Park Conservancy is a blooming gem, a tranquil oasis where nature and beauty converge in a breathtaking display of horticultural wonder. If you're seeking a haven of resplendent colors and serene charm, you've found it here. As you step through the gates of Elizabeth Park, you are immediately greeted by the intoxicating fragrance of thousands of roses in full bloom. The Elizabeth Park Rose Garden is not just a garden; it's a living masterpiece, a canvas painted with the most vibrant and delicate shades of pink, red, and yellow. Imagine walking hand in hand with your beloved amidst this sea of roses, the gentle rustling of petals, and the sweet perfume of flowers creating a romantic ambiance that is nothing short of enchanting. The rose garden isn't the only treasure at Elizabeth Park. As you explore further, you'll discover various themed gardens, each with its unique charm. The Perennial Garden, with its diverse collection of perennial plants, showcases nature's resilience and the ever-changing beauty of the seasons. The Shade Garden is a tranquil retreat, offering respite under a canopy of trees and the soothing sounds of a babbling brook. Each garden at Elizabeth Park tells a different story, inviting you to connect with nature and find serenity. If you're an admirer of cherry blossoms, you're in for a delightful surprise. Elizabeth Park boasts a mesmerizing collection of these beautiful trees, an ethereal spectacle that transforms the landscape into a delicate sea of pink and white during the blooming season. You can walk beneath the boughs of these cherry trees with your significant other, feeling as though you've been transported to a realm of fairy tales. Beyond its gardens, Elizabeth Park offers open, grassy spaces where you can have a leisurely picnic or simply lay back and gaze at the vibrant blue sky. For the more active nature lover, the park also has walking trails, perfect for exploring the natural beauty that surrounds you. Elizabeth Park Conservancy in Hartford is a testament to the timeless allure of nature. It's a place where you and your loved one can immerse yourselves in the beauty of the natural world, where each step reveals a new marvel, and where the scent of blooming roses becomes an indelible memory of your visit. This splendid park is an oasis of tranquility, a celebration of nature's majesty, and an ideal backdrop for cherished moments with your loved ones.
Our photographer was happy with the choice of the photo session location since it was the perfect time! During this outdoor fall photo session, our photographer knew that the warm hues, the flowering plants here, the blooms, and the creeper-covered gazebos were the perfect backdrop for beautiful photos. To make the most of their outdoor photo shoot our couple decided to dress up in beautiful fall-inspired outfits. Their engagement photo session outfits were casual and fit the season perfectly. For the day, Lindsay decided to put on a rusty orange skirt and paired it with a lovely ribbed white sweater. To finish her outfit, she put on tan boots. For her day's look, she kept her makeup for the day natural and soft. Her hairstyle for the day was naturally swept. To match the beautiful fall aesthetic for his finances, Timothy put on a maroon sweater, and blue shirt with a blue pair of jeans. He paired his outfit with a stylish pair of gray shoes. For the beautiful engagement photo session, our couple for the day was dressed in stylish fall-inspired outfits and our Hartford engagement photographer was excited to get the day started. The stunning surroundings, colored with yellows, oranges, and greens were just right for the photo session for the day!
Our couple and our photographer knew exactly where to start their photo session! The two wanted to start in front of the beautiful gazebo! As the golden hues of autumn descended upon Elizabeth Park, Lindsay, and Timothy found themselves in a picturesque embrace beneath the enchanting gazebo, its intricate structure adorned with the fiery colors of falling leaves. It was a moment in time, captured in the full splendor of fall's embrace, where nature's beauty intertwined with the love shared between this remarkable couple. The gazebo, draped with a canopy of winding vines, created an exquisite backdrop, perfectly accentuating the charm of this lovely couple. As Lindsay and Timothy stood beneath its rustic arches, their love seemed to blossom as beautifully as the fall foliage that surrounded them. Lindsay, dressed in a rich burgundy gown that harmonized with the season, exuded grace and elegance. Her fiery hair framed her face like a crown of autumn leaves, and her eyes sparkled with warmth and affection. Timothy, in a classic suit, wore the look of a man who had found his true home in her eyes.
The photos our engagement photographer in Hartford captured during this enchanting photoshoot were not just frozen moments in time; they were a visual love story. Each glance, each touch, and each shared smile spoke volumes of their deep connection. Against the backdrop of the gazebo, they radiated a warmth and tenderness that only the fall season could evoke. As the soft light of a setting sun bathed them in a warm, golden glow, Lindsay and Timothy's love story was etched in the memory of the park. Their photos stood as a testament to the enduring beauty of love, the magic of autumn, and the special moments created when two hearts come together. Elizabeth Park had witnessed many seasons, but that fall day, it bore witness to a love that was as timeless as the changing leaves, and as enchanting as the gazebo itself.
Amidst the stunning backdrop of Elizabeth Park, Lindsay and Timothy embarked on a romantic journey, their photographer in tow, capturing the essence of their love story with every step. The park's enchanting beauty served as their canvas, and their connection as the masterpiece, waiting to be painted. Our photographer was their guide, helping them discover hidden gems in the park that would serve as picturesque photo spots for their photo session. With gentle encouragement and an artistic eye, the photographer revealed the essence of their love through the lens. Their laughter, their whispered conversations, and the tender moments they shared were artfully captured, each frame a testament to their deep connection. As they wandered deeper into the heart of the park, they chanced upon a quaint stone wall, the two decided to make use of that with its beautiful surroundings of fall colors as an aesthetic photo backdrop. The moment was perfect, and Timothy took a seat on the wall, exuding a sense of strength and stability. Lindsay stood gracefully in front of him, their eyes locked, and their hands entwined. It was a scene that perfectly encapsulated the dynamics of their relationship - two individuals, deeply connected and yet distinct in their own right. Our photographer captured these moments with a keen eye, ensuring that every detail was preserved. The fall leaves whispered in the background, adding an extra layer of beauty to the photographs. As Lindsay and Timothy shared smiles and whispered endearments, it was as if time itself had paused to admire their love story.
With the sun setting on their enchanting photoshoot journey at Elizabeth Park, Lindsay and Timothy found themselves standing before the majestic greenhouse, and were ready to strike interesting engagement photo poses. This final location offered a vivid backdrop for the concluding chapter of their photo session. Before reaching the greenhouse, their path led them through a world of whimsy and wonder. The giant skeleton sculpture loomed overhead, an unexpected yet captivating find. Against this unique backdrop, Lindsay and Timothy shared playful moments, embracing the extraordinary in their love story. The photographer skillfully captured their carefree spirits against the backdrop of this artistic marvel. Under the canopies of towering trees, they sought refuge from the late afternoon sun, which dappled the scene with soft, golden light. As they strolled hand in hand, they exchanged smiles and stolen glances, an intimate connection that spoke volumes. Finally, they arrived at the greenhouse, where lush greenery thrived under the glass and metal structure. Here, their love blossomed anew, much like the delicate plants that thrived within. The greenhouse became a symbol of their relationship, a space where their love could flourish and endure. As they posed together in front of the greenhouse, Lindsay and Timothy's connection radiated a sense of serenity and promise. The photographer's lens captured this final moment, forever preserving the love that had grown and evolved throughout their remarkable photoshoot journey. It was an ending that marked a new beginning, a chapter in their love story that they would treasure for years to come.