A Lovely Fall Wedding At Lakewood Ranch Country Club in Tampa
November, 24 2021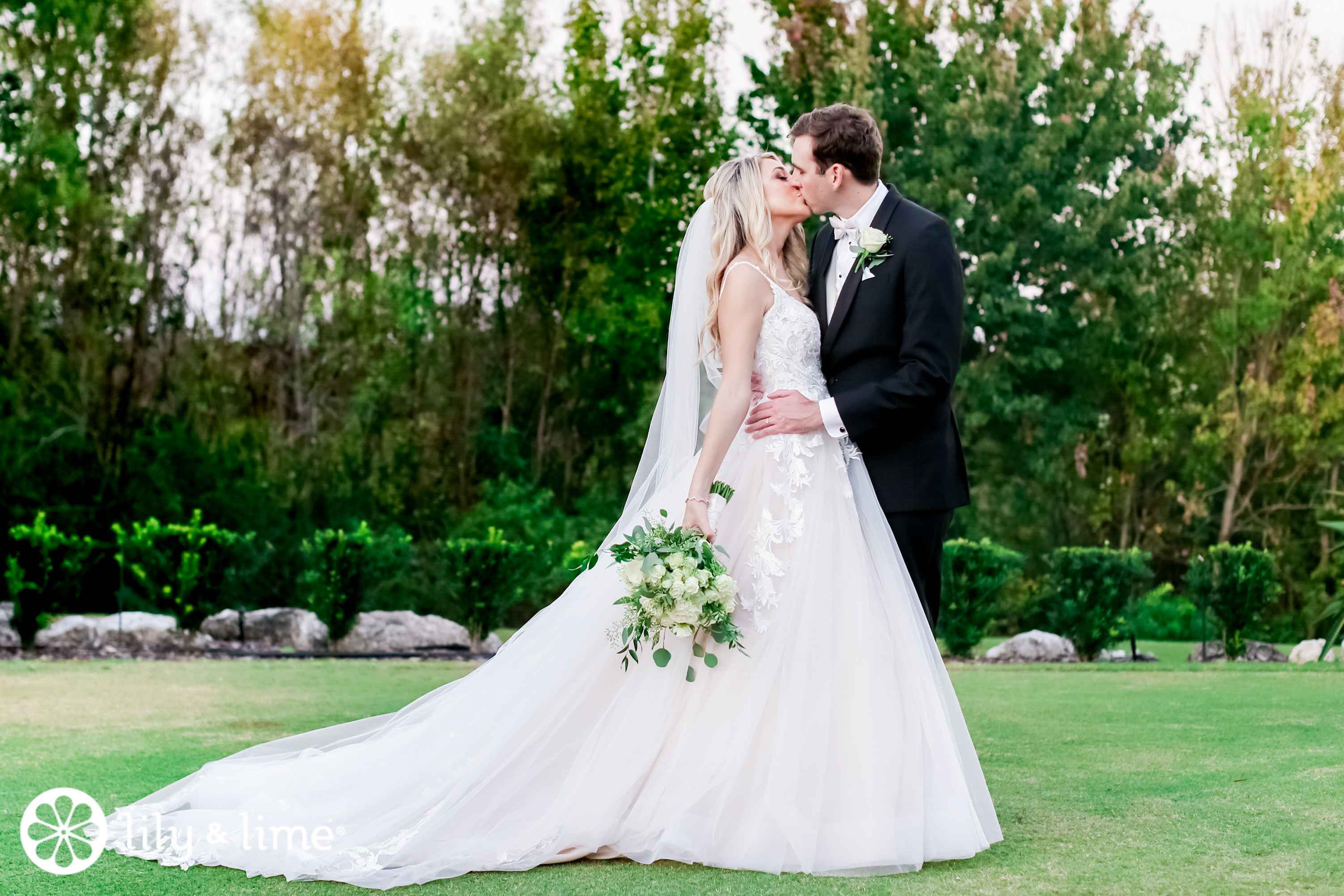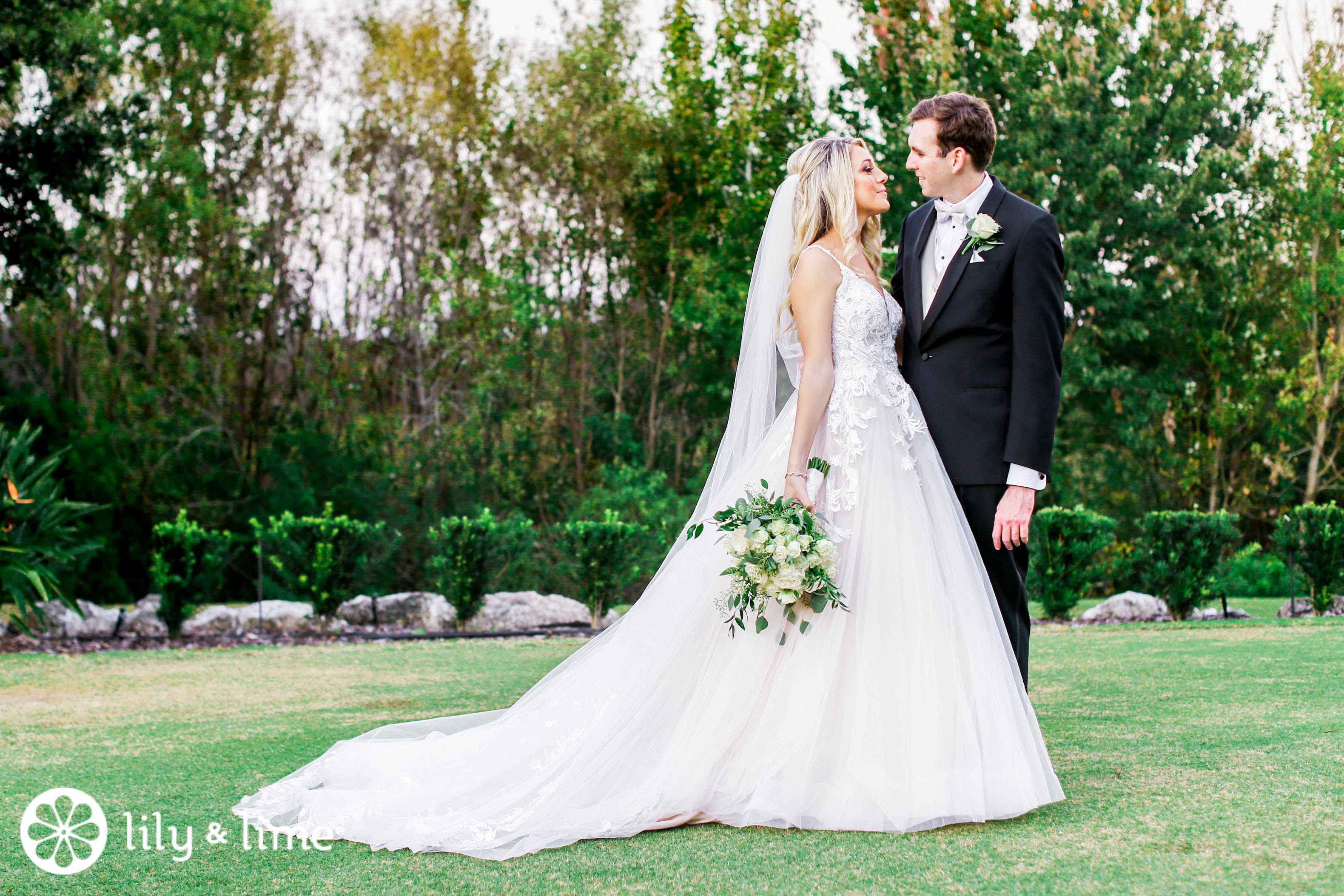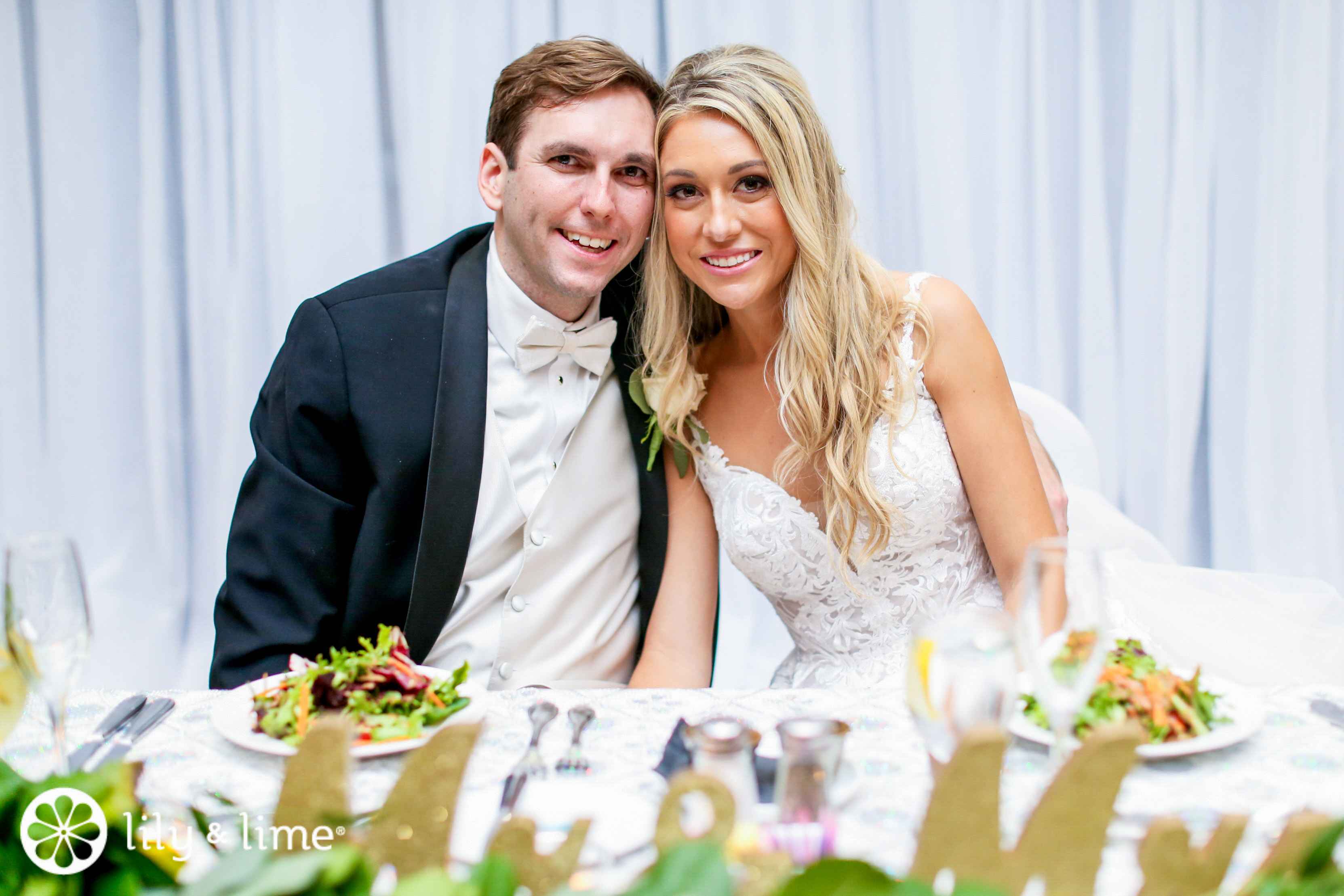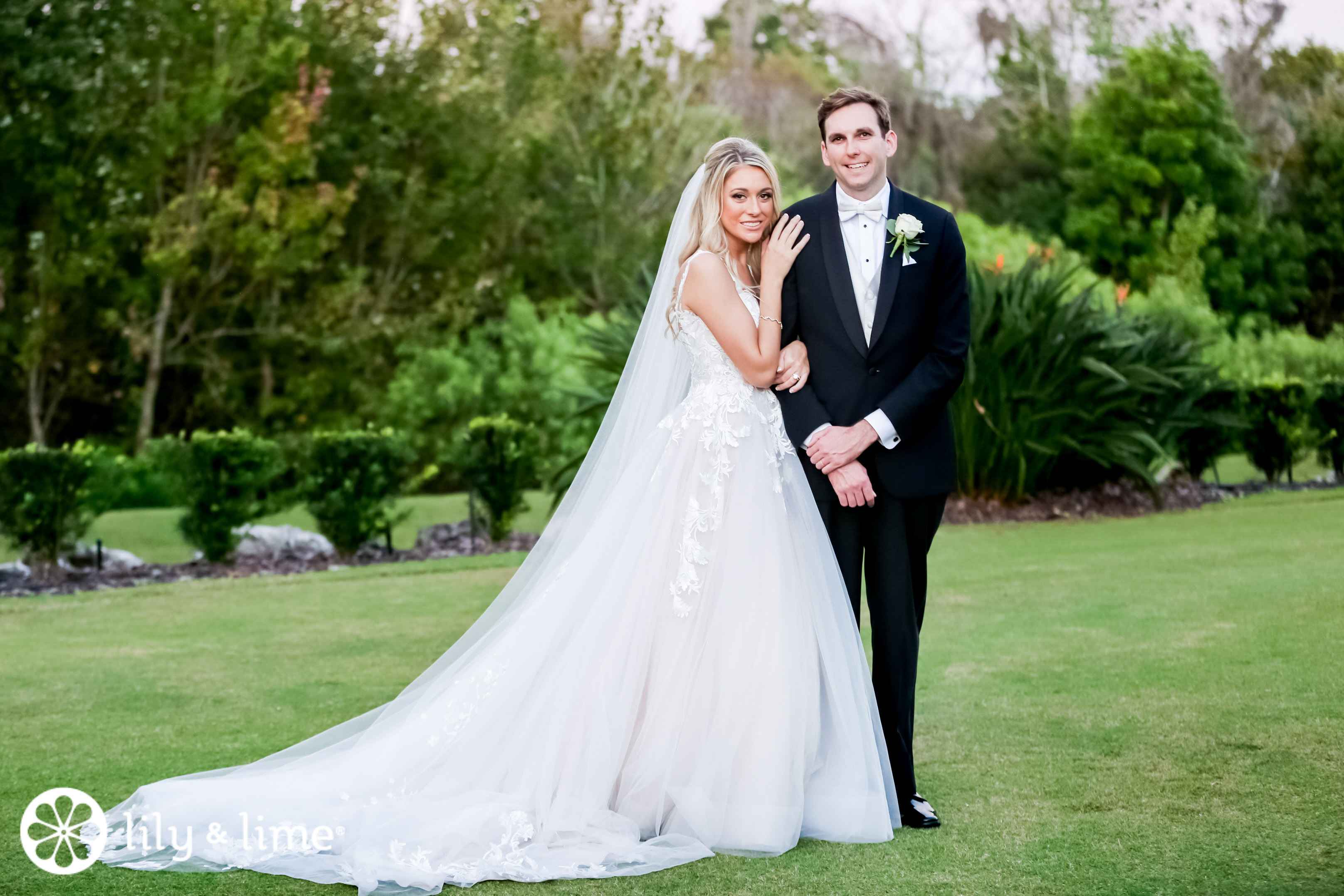 "Celebrating love and friendship, Jake and Brianna tied the knot in a warm fall setting and tugged our heartstrings with a cheerful celebration day in Tampa!"
As the season of fall brings us the crisp weather, bucolic foliage, and warmest drinks smelling of cinnamon and cocoa, we know it's officially the wedding season! From the changing leaves of the trees featuring burnt oranges and deep maroons to the children playing around in hayride wagons and the surrounding neighborhood emanating the smell of pumpkin spice, there is truly something so deeply enchanting about this season. Creating a pretty scene everywhere, the season of autumn fills the cups with its signature spices to make delicious cocktails and muted earthy color schemes and the harvest's signature fruits make for the sweetest décor. The predictable temperate weather makes this season perfect for outdoor nuptial celebrations with the most breathtaking fall wedding ideas.
The not-too-hot and not-too-cold weather of autumn is a naturally beautiful time to get hitched. The biggest perk of getting married in the fall season is how the gorgeous leaves on the trees - from the bright flowers like dahlias, marigolds, and zinnias in bloom to the bright fruits like pumpkin, gourds, and apples in the farmers market can come together to create unforgettable fall wedding details. This means that when you utilize them in your fall wedding décor, you do not need to invest in more wedding décor items. Beyond the seasonal beauty, the season of fall also brings a cozy and casual vibe for weddings that sets them apart. From the dark and deep Halloween-themed wedding details to the festive and glamorous new year wedding themes, there is something special and magical about couples embracing unique and creative experiences in their weddings to make them unforgettable.
Every year we see so many couples starting their "forever" with plenty of warm beverages, cozy blankets, and romantic candlelight at the reception tables. This year the season of fall brought to us a wedding in Tampa, Florida that looked enchanting and dreamy in all the beautiful ways. From the choice of the wedding venue to the white and green wedding details, this fall fête was rustic and modern all at once. This next couple from Tampa stole our hearts with their infectious energy that brought us a bright ray of sunshine in the middle of the fall season. From the way they orchestrated each and every bucolic wedding detail to fit into their wedding itinerary to the way they greeted every wedding guest with a cheerful smile, this heartwarming wedding day was a tale of two souls deeply embedded in love and our wedding photography session in Tampa stood as a Testament to this magical wedding day that looked like a daydream.
We met Jake and Brianna on a bright and sunny morning in November 2020. They instantly lifted our moods and made us happy with their ever-smiling faces. The Tampa wedding photography session of this gorgeous couple gave us a reason to smile even on dark and dim days. It was Jake's idea to tie the knot in Tampa and it was very easy to see why. We have always loved the Floridan city of Tampa for its historical and majestic beauty. Situated on an inlet reaching far into the west coast of Florida, this city is best known for its tourist attractions featuring thrilling amusement parks and historic spots for professional couple photography sessions.
It is no secret that Tampa is crammed to the brim with photogenic spots and is a sunny spot for photographers to capture couples in swoon-worthy locations. Although known for its ideal vacation spots for families, the city of Tampa was a brilliant choice for channeling the romance and love of this couple in a fun and sweet wedding photoshoot. Talking about photo spots of Tampa, we cannot forget the all-time popular Busch Gardens, the 335-acre family entertainment, and adventure park featuring live music, performances, and a multitude of exotic animals. Part of the former Tampa Bay Hotel, the historic Henry B. Plant Museum, is another photo spot in Tampa, a luxurious Victorian palace with distinctive Moorish features. Tampa's Florida Aquarium is another stunning spot to get photographed while popping the big question and being surrounded by exotic marine animals. For all the dramatic couples who love dazzling backdrops, the Tampa Theatre can pose as the swooning retro backdrop featuring architectural styles including Italian Renaissance, Byzantine, and Greek Revival.
Ybor City is another National Historic Landmark District which is not only a pretty photogenic spot but is also the center of Tampa's Latino community. This area is home to many shops, galleries, restaurants, and cafes for sweet and remarkable wedding photos with striking Spanish influences. No list will ever be complete without mentioning the elegance of Tampa Riverwalk. The 2.4-mile walkway winds its way along the waterfront of the Hillsborough River and is loved by our wedding photographers in Tampa, especially for evening photography sessions when the entire neighborhood blinks in dreamy glows of colorful lighting. Tucked beside upper Tampa Bay, the historic Safety Harbor of Florida is filled with amazing spots for professional photographers to click snaps of couples in love. The unique small-town setting is home to a wide variety of recreational activities and special events. One of the main attractions of this historic spot in Tampa Bay is Philippe Park. This is where our Tampa wedding photographers captured the ethereal romance of Brianna and Jake in memorable keepsakes.
With fire burning in their eyes and dripping with seamless passion, this couple had their wedding photography session at Lakewood Ranch Country Club in Tampa, Florida. Featuring endless photo-ops, this was truly a great choice for our stunning couple. This classic Tampa wedding venue is located in Bradenton, Florida, and has been exquisitely designed to make a wedding day one to remember. It is nestled within the beautiful community of Lakewood Ranch, offering a scenic atmosphere as the backdrop for celebrating the most special day of couples in Tampa, Florida. This award-winning wedding venue in Tampa is home to a 44000-square-foot clubhouse that features marble columns, graceful arches, and elaborate finishes that are inspired by 1920's elegance and Italian villas. The indoor wedding event space in Tampa has formal and informal dining areas as well as a beautifully structured grand ballroom that has an attached outdoor patio and fabulous spiral staircase.
Briana and Jake were swooned by the charm and romance of this clubhouse wedding venue in Tampa the very first moment they set their eyes on this property. It really set the stage for their wedding day while they relaxed and enjoyed the celebrations. There is a grand entrance down an elegant staircase inside the clubhouse wedding setting in Tampa that looks as pretty as a picture. One can exchange their wedding vows on the lush lawn overlooking verdant fairways and a fountain-filled lake. Our Tampa wedding photographers loved to capture Jake and Brianna against this breathtakingly picturesque setting. The expansive terrace overlooks the fine gardens and the grand architecture along with the stunning grounds which come together to make wonderful wedding photos. The Grand Ballroom is another elaborate wedding event space that is completed with marble columns, graceful arches, and elegant chandeliers. There is an adjoined balcony to get a breath of fresh air in the middle of your first dance as newlyweds! There is also a luxurious bridal suite at this country club wedding venue in Tampa where you and your bridesmaids can gather together and prepare for your big day. The adjoining "Romeo and Juliet" balcony overlooking the grand lobby is the ideal spot to capture those memories in memorable bridesmaid portraits that will last you a lifetime.
The romantic and inspirational wedding photography session of Jake and Brianna began at this breathtaking country club venue in Tampa on a bright sunny morning of November 2020. Just when the world is coming out and celebrating love and life once again after the first half of the year went down, this fun-loving couple decided to declare their deeply coveted love in a brilliant wedding portrait session in Tampa. As the day began bright and happy, we saw our stunning couple getting ready for the biggest day of their lives while wearing wedding day outfits that blended seamlessly with the beautiful weather. The sunny moods were lifted when they were joined by the people they hold close the most and totally owned the dramatic moods of the day. Like a trickling waterfall in the middle of a desert, Jake and Brianna gave us a wedding photo session in Tampa that we'll never forget.
Let us go through the wedding timeline of Jake and Brianna and see for ourselves what this stunning day has in store for us. It was a sunny morning when the beautiful wedding day in Tampa started unfolding with a little humdrum around the clubhouse of the Lakewood Ranch Country Club wedding venue. The day started bright and beautiful with our Tampa wedding photographers capturing Brianna and her gang of bridesmaids in matching bridesmaids getting ready outfits. The A-team of bridesmaids along with the bride in the center sported elegantly matching white shirts and short bridesmaid outfits. They posed beautifully wearing their matching bridesmaid outfits in the exclusive luxurious bridal suite of the clubhouse. As they got ready for the big wedding day celebrations, our wedding photographer in Tampa captured the white and green-themed bridal bouquet in close-up detail shots.
After a while, Brianna came down wearing the grand staircase looking like a dream in her elegant wedding dress and we were amazed by her choice! She wore a sweeping train wedding dress with elegant lacework and netting details. The strappy train wedding dress plunged into a deep neckline with illusion details and was adorned with intricate embellishments and French laces. The flowing bridal train dress featured elaborate beading and lace details and a sophisticated button-up back that held the entire bridal look in place. Her bridal hairdo was kept open with a side braid and an art deco headpiece strapped to the side of her head. The front hair beautifully caressed her gorgeous face with minimal bridal makeup with curled-up wisps of hair. Our dashing groom Jake wore a formal black suit with a crisp white shirt and a creamy satin bow tie. He looked debonair with his white rose groom boutonniere which matched Brianna's along with his button-down shirt making him look formally dashing.
The bridesmaid dresses featured long floral maxi dresses with red and gray floral details. The V-neck floral bridesmaid dresses made them look fall-ready and created whimsical bridesmaid portraits. They posed for a few bridesmaid photos with Brianna in the middle. Everything looked beautiful during this bridesmaid photography session in Tampa. The bridal portrait of Brianna as she glided through the grand and winding staircase stole the show with her unmatched style and effortless charm.
There was not a single dry eye when the wedding ceremony commenced and Jake and Brianna exchanged their wedding vows while looking at each other with hope, joy, and precious emotions. The outdoor wedding ceremony setting with the panoramic views of the lusciously green estate as a backdrop looked stunning and impressive in all the wedding portraits. They kissed beautifully as they made their way out of their ceremony in a picture-perfect wedding exit and it resulted in amazing couple portraits. The golden hour photography session in Tampa was beautiful as the entire wedding venue was lit up with a warm glow of afternoon sunshine. They were joined by the team of groomsmen and bridesmaids for an amazing wedding group photography session in Tampa and the sun-kissed ambiance dawdled dreamily in the background making the entire atmosphere look straight from a storybook.

The newly married Tampa couple danced the night away while being surrounded by their most loved ones on the deep mahogany wedding floor of the country clubhouse. It was followed by the cake cutting ceremony, as they moved to cut the three-tiered white frosted wedding cake topped with white roses and green leaves. They welcomed everyone to their wedding reception in a fun way while wearing rose-tinted sunglasses and lei (the welcome garland of Hawaii). The reception details that featured Jake's surname "Holehouse" as a hint to what they will be called together in the future! There is one thing that remained ascertained and our hearts were swooned and smitten by this gorgeous couple with their unfaltering chemistry and sheer sophisticated vibe. They reminded us how in a world full of variables, love is the only constant.