The Engagement Portrait Session of Delaney and Dillon at Oakwood Country Club, KC
August, 11 2022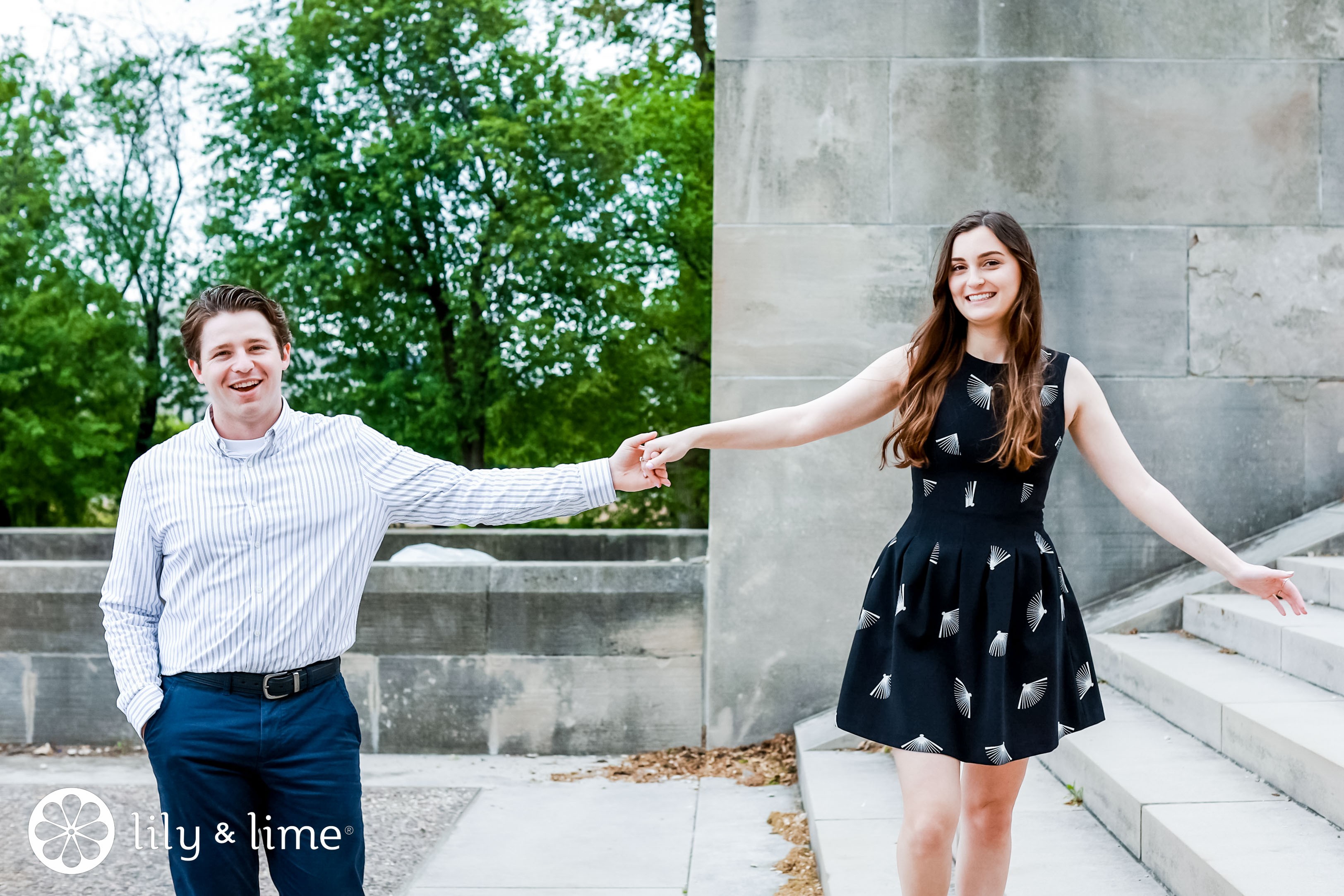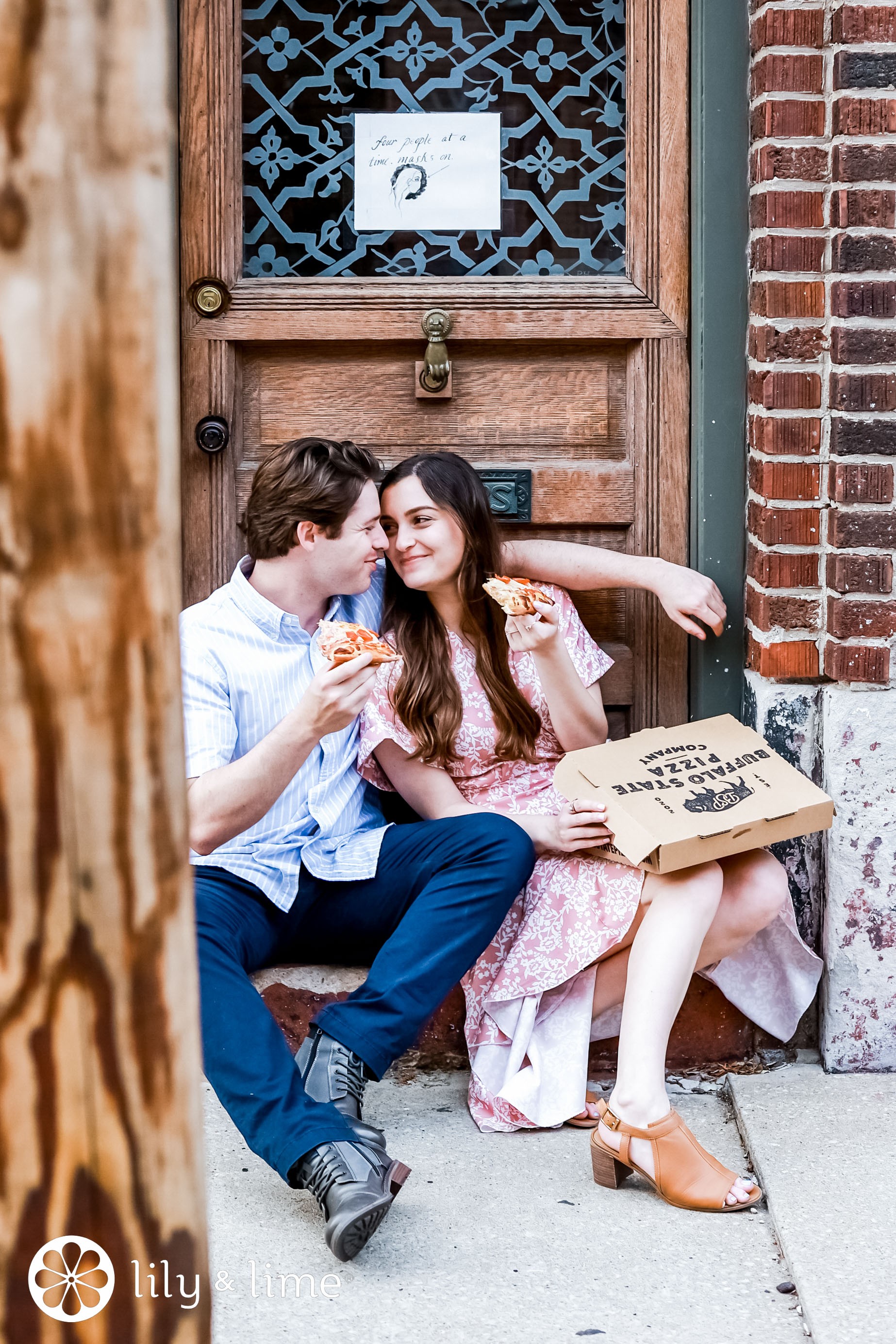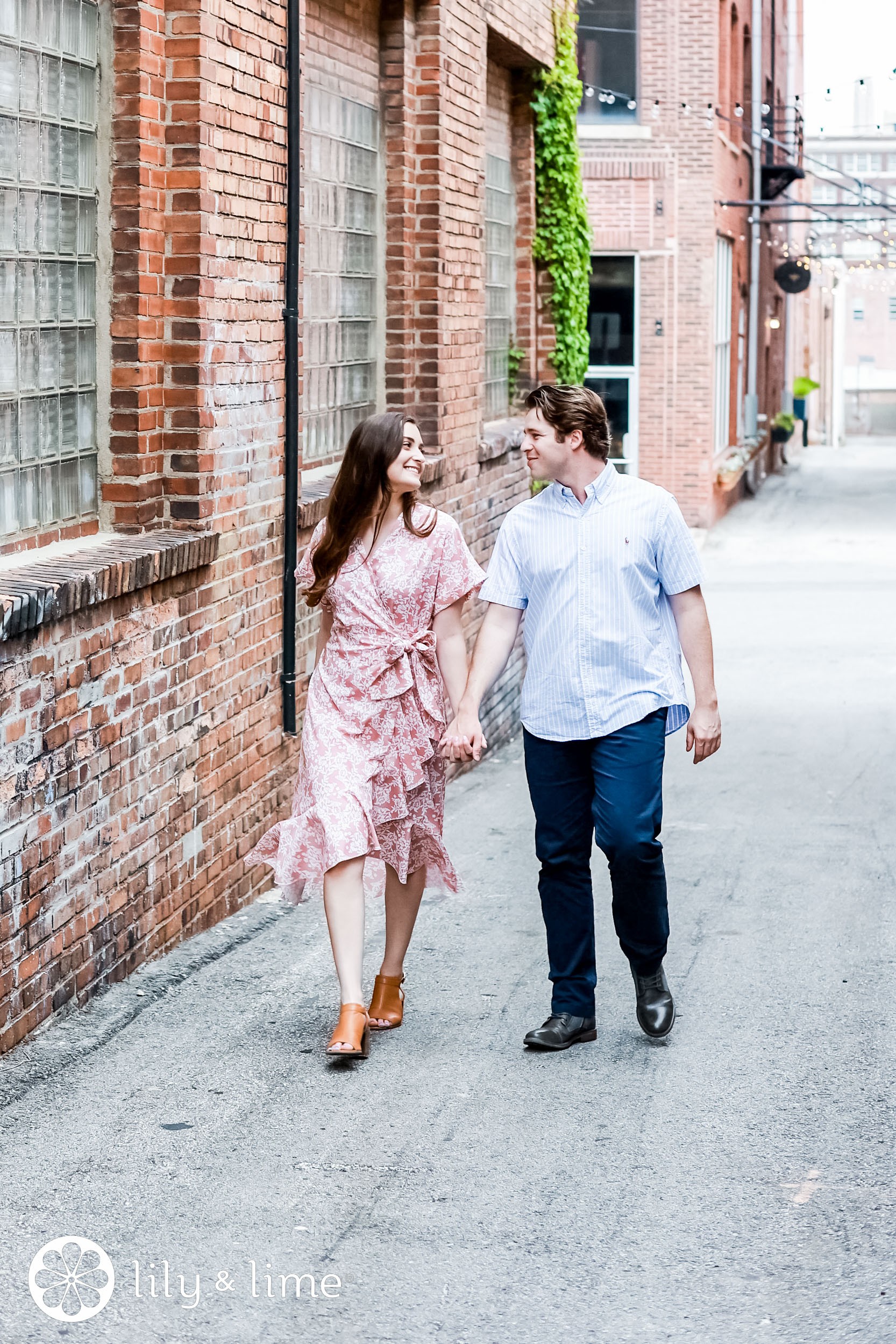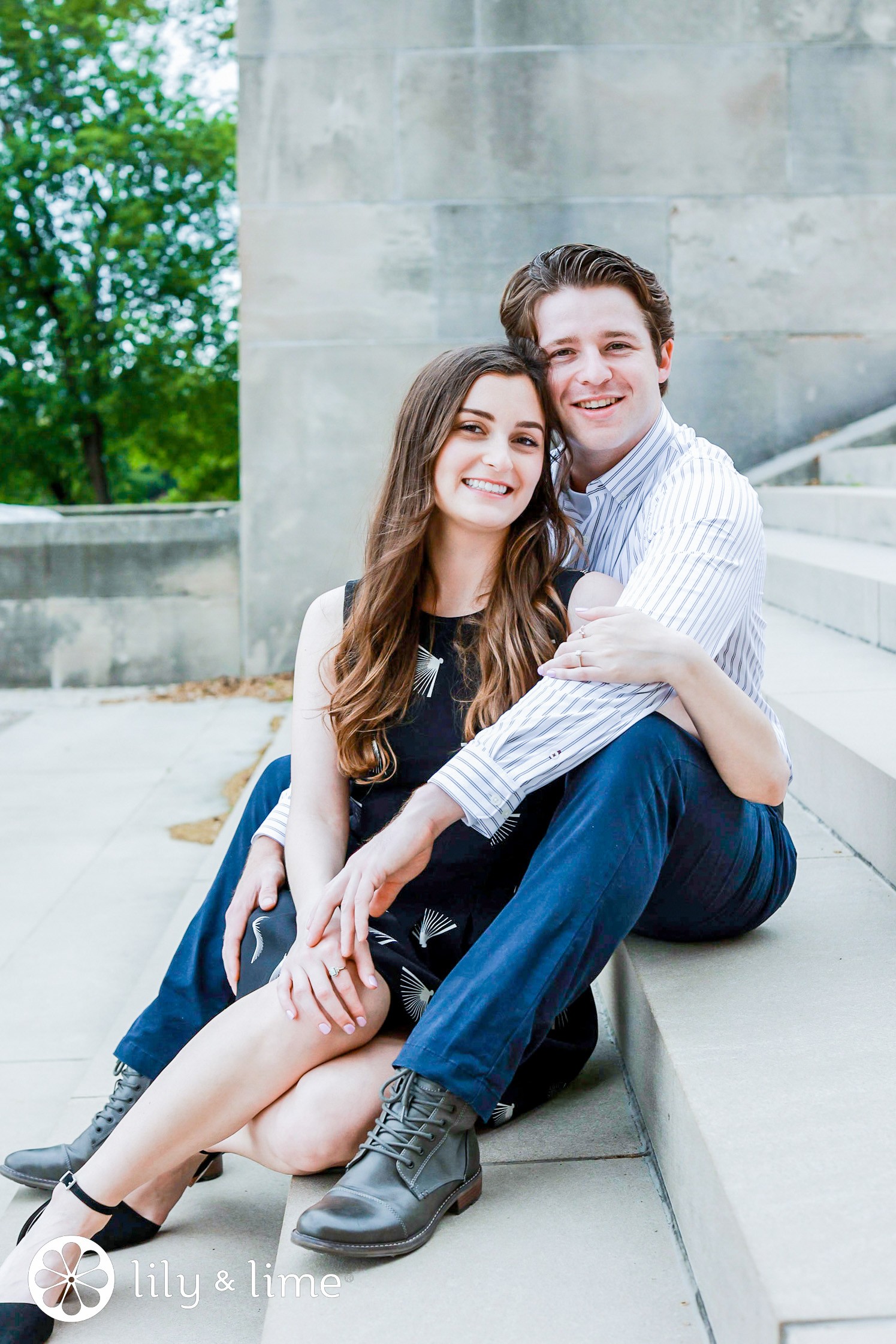 Congrats on your newly changed relationship status! When we see two people who are crazy about each other and can't stop looking at each other, it warms our hearts. With all the couple portraits slowly taking over your social media feed, you might be wondering if you should also start looking for a professional engagement photographer to click your engagement photos. What if we told you that your engagement portraits are just as once-in-a-lifetime as your wedding photography session?
Engagement photos can take you back to when you and your partner were planning your wedding, which was the first step in planning a lifetime together. Keepsakes from your engagement photography session can be like a trip down memory lane, taking you back to the good old days and reminding you of the journey you promised to begin.
Inspirational engagement photography sessions bring out something magical and contagious, along with the happiness and excitement of newly engaged couples. What could be a better way to remember your love story than by having a professional photographer take pictures of it? We think that every couple who just got engaged should have a set of professional couple photos to look back on and treasure.
Even if you are tired of seeing couples with dressy engagement outfits or kissing in front of blurry cityscapes, you can't deny how romantic they make you feel. It's unmissable! You can always add your own mix of charm to your professional engagement photography session. We believe that every couple has a different kind of energy and passion that shines through in their remarkable engagement photo sessions.
If you and your partner aren't professional models, you might not be as comfortable in front of the camera as most other couples. Professional engagement photographers, who will probably also be your wedding photographers and with whom you will spend the most time on your wedding day, can take your pictures with amazing tips for remarkable engagement photos. This could give you a chance to talk and laugh with the people you will spend the most time with on your wedding day.
People are getting more and more creative, so there are a lot of different kinds of engagement photos. You can have a casual photo shoot with planned poses, or you can document your actual proposal with a bent knee and spontaneous emotional moments. Many engaged couples think that their engagement photos are the best way to show who they are as a couple because they show their everyday style and natural surroundings. Couple photography sessions aren't required, but they have become very popular as social media has grown because every couple wants to pay an ode to how sweet their love is before they get married. From couples looking to make the most out of engagement session photos to going impromptu couple portrait sessions in matching fall engagement outfit ideas, engagement photography ideas are evolving every day and we love every bit of it.
Engagement photography sessions are the new thing for newly engaged couples. They can range from simple detail shots to six-hour-long fêtes in multiple locations with multiple outfits. Whether you are getting married or just getting engaged, these are the moments that will never come back. Capturing these moments in the most beautiful way possible with professional photography will always remind you of the best reasons why you started this new life.
While talking about couple portraits, breezy engagement sessions in the summer show us why this is the best time for a photoshoot. Engagement photos taken in warm weather are all about romance and magic, from the brightly blooming flowers to the lush grass and greenery in the background to the magic of golden hour portraits. Summer is known as the "season of love" for a lot of good reasons. Summer engagement photo sessions can be very beautiful, from the thousands of brides who have gorgeous weddings to the modern and minimalist couple portraits that look like they were taken utilizing the dreamy golden hour magic.
Even though most people think of the holiday season as the official engagement session, we are here to give you ideas for engagement photoshoots in warm weather. It's because one of the best things about having a summer engagement photoshoot is that you don't have to get engaged during the summer to schedule one. Your love might have asked you to marry him or her in the fall or during the holidays. But if you can capture the romance of dreamy summer nights and mornings in your portraits, capture these once-in-a-lifetime moments in the season that is associated with love. If these summer engagement photo ideas aren't enough, think about those trendy summer engagement sundresses and stylish groom-suiting ideas that will look the best in pictures! You can look through summer engagement outfits and summer-inspired couple poses to make your engagement photo session fun, perfect, and memorable.
On a bright summer day in 2021, we swooned over the couple who had just gotten engaged. They reminded us of the innocence and playfulness of love. When we met Delaney and Dillon, we were very happy as they were a couple with a blooming passion for each other and a great sense of style and chicness. We could say that we fell in love with them the moment we saw them because of their cute smiles and lively personalities, and it was the beginning of a happy tale as we got to record their new beginning.
The sweet couple chose Kansas City to tell their love story for all the right reasons, and we couldn't help but cheer on this choice. This double city in the Midwest, straddling the border between Kansas and Missouri, lies at the junction of the Kansas River with the Missouri River, extending along the high banks, known as the Bluffs, of both rivers. World-famous for its steaks and barbecue, it is sometimes called the "Barbecue Capital."
The city's legacy in jazz history can be explored in the Historic Jazz District, which was once filled with the sounds of jazz icons like Charlie "Bird" Parker and Big Joe Turner. Another historic area is the Westport Neighborhood, which is full of things to do, including antique shopping and river cruises. Kansas City is also home to several good museums, including the Nelson Atkins Museum of Art, the Arabia Steamboat Museum, and the Toy and Miniature Museum.
It's no mystery how much we love our beautiful Kansas City. Have you ever just been in the right place at the right time for that perfect shot? Of course, some places are more photogenic than others, but where exactly are the best spots to take photos? Kansas City has a wide range of dynamic backgrounds, from eclectic cityscapes to jazz music scenes blurring in the background, from rustic neighborhoods with horse trails and quaint countryside elements to the endlessly sparkling riverbanks, making it a great place for engagement photography sessions.
One thing we love about the top engagement photo spots of Kansas City is that it is a dreamy season all year long. The beautiful overcast skies, beautiful sunbeams shining through, and clear skies all contribute to that impressive baby blue color, and we don't even want to talk about the sunsets during golden hour photography sessions. Let's talk about the different kinds of photos you can take in Kansas City. On dreamy river banks, Kansas City is home to historic monuments like the National World War I Museum at Liberty Memorial, which is an impressive Egyptian Revival-style monument erected in 1928 in honor of the men and women who served and died in the war. Our engagement photographers in Kansas City, love to take photos of couples in natural poses all over this sunny city. From the well-kept gardens that look like they belong in a fairy tale set in Europe to the urban feel of downtown with its fun murals and "urban garden" feel, our photographers love to capture couples in Kansas City. There are also other photogenic places that you can explore with our engagement photographers in Kansas City.
For example, the collections at the Nelson-Atkins Museum of Art are very impressive. They show art from North America, Europe, Asia, and Africa. LEGOLAND is one of the best places for kids and adults of all ages to go with their families in Kansas City. It is in the Crown Center. Here, you can see a full copy of the city made out of more than 1.5 million LEGO bricks. The Arabia Steamboat Museum has the things that were on a steamboat that sank in the Missouri River in 1856, just six miles from Kansas City. It was carrying 400,000 pounds of supplies for general stores in the Midwest. After major renovations and improvements in recent years, the Kansas City Zoo has become one of the best places for families to visit in the area. It has over 200 species of animals from all over the world, and a lot of care is taken to make sure that each animal has a good home and a good life.
The American Jazz Museum is in Kansas City's Historic Jazz District, which was once home to Big Joe Turner, Count Basie, and Charlie Parker, three of the most important jazz musicians of all time. The Science City in Kansas is a popular place for families to go when they visit Kansas City. The exhibits focus on different parts of science and are all interactive, so people can learn by doing. The National Museum of Toys and Miniatures is on the campus of the University of Missouri-Kansas City. It has more than 72,000 old toys and scaled-down models. The Bebe and Crosby Kemper Collection is the beginning of the permanent collection at the Kemper Museum of Contemporary Art. It has pieces by Georgia O'Keeffe, Robert Mapplethorpe, and William Wegman. It now has a wide range of works, such as paintings, sculptures, installations, prints, works on paper, photographs, and media that changes over time.
The Hallmark Visitors Center is in the Crown Center complex and shows the history of the greeting card business. It tells the story of how Joyce Hall went from being poor to building an international organization based on caring. Westport is one of the oldest and most popular places to visit in Kansas City. It is a nice neighborhood that tourists love to explore. The Downtown Airport's Airline History Museum on the northern edge of the city is sure to make the heart of any flight fan beat faster. Here, you can go back in time to when people still flew over the Atlantic in planes with propellers and TWA was based in Kansas City.
Delaney and Dillon looked at every possible place to get engaged, from mountains to the ocean, from big cities to enchanted forests and gardens. In the end, they chose Oakwood Country Club because it was the grandest and most elegant place they could find. The beautiful Oakwood Country Club wedding venue is a true hidden gem in Kansas City! This elegant wedding venue is conveniently located in Kansas City, Missouri, near all major highways. The Kansas City golf course wedding venue is sophisticated and spacious, making it ideal for any wedding. For your wedding day, the Oakwood Country Club reception venue will provide amazing services, delicious cuisine, and friendly staff.
At Oakwood Country Club, you will enter a world of elegance and ambiance. It has a rich and distinct history. Every photograph our Kansas City engagement photographers took at this classic wedding venue made our hearts race because of how wonderful the atmosphere was and how lovely the backgrounds were. The historic Oakwood Country Club in Kansas City is a wedding venue with stunning views of distant golf courses, romantic courtyards, waterfront settings, and majestic mountain ranges. This opulent venue has a sophisticated design with expansive windows overlooking the golf course's sprawling hills. It's one of our Kansas City wedding photographers' favorite locations because it's so romantic and has stunning views from every angle. Their seasoned executive chef and pastry chef can create an elegant dining experience in a one-of-a-kind setting that can make your event memorable.
When the beautiful Kansas City couple started their engagement photos at this amazing KC engagement spot, our hearts jumped for joy. The beautiful fiancee Delaney wore a beautiful black fit and flare engagement dress. Our charming bride-to-be looked like a dream in this classic little black dress with white floral details that ran down to mid-thigh. She paired this perfect engagement dress with a no jewelry bridal look and a pair of black mule heels. Her hair was neatly parted on the side in the front and curled up on her left shoulder, which went very well with her stunning engagement outfit. Delaney kept things very simple and minimalistic by wearing very minimal engagement makeup.
Dillon, our handsome fiance, put together the perfect look for our engagement by wearing a crisp white shirt with light blue stripes. The white and blue formal shirt looked stylish and eye-catching when worn with jet black shoes and dark blue formal pants with a black belt. The couple's strikingly coordinated engagement outfits look like they came straight from a fashion TV channel. Their lovely smiles, which never left their faces all day, were the perfect way to top off the look.
Delaney also had an engagement outfit change after the first half of the session. She went ahead to wear a white and blush pink wrap-around dress with bow detail on the front. She paired this second engagement look with camel brown peep toe wedge heels. This beautiful couple's engagement photos were taken at Oakwood Country Club early in the morning when the sun was shining on them. The sun-kissed couple explored the beautiful grounds which were full of photo-worthy spots. Delaney and Dillon made sure to take pictures of every detail of this classic wedding venue so they wouldn't miss any photo opportunities. The KC engagement portraits of Delaney and Dillon were taken in front of the grand stairways with the gorgeous KC skyline in the backdrop. Detailed shots of Dillon and Delaney embracing each other in front of the sprawling green lawns, with flower beds on either side of the concrete path, and shots of Dillon holding Delaney's hand against the great stairs as morning sun rays filled the engagement album with memorable keepsakes.
The beautiful Kansas City engagement photography session of this newly engaged couple posing in front of the stunning bucolic backdrops holding slices of pizza, and amazing views that blurred into the background to the one where Dillon and Delaney kissed in front of a rustic storefront are at the top of our long list of favorites.
The dramatic setting of this Kansas City engagement photo spot and the attention to detail were the perfect additions to the professional photography session of our beautiful couple who just got engaged. Something about this to-be married couple is so infectious that it really warmed our hearts and made the summer day in KC even brighter. When our beautiful couple was planning their Kansas City couple photography session, they spent a lot of time making sure everything was just right. This showed that they have a good eye for detail and a sense of teamwork that is unmatched.