The Ever-Gorgeous Winter Engagement Session of Alisa and Cameron at the United States National Arbor
January, 18 2023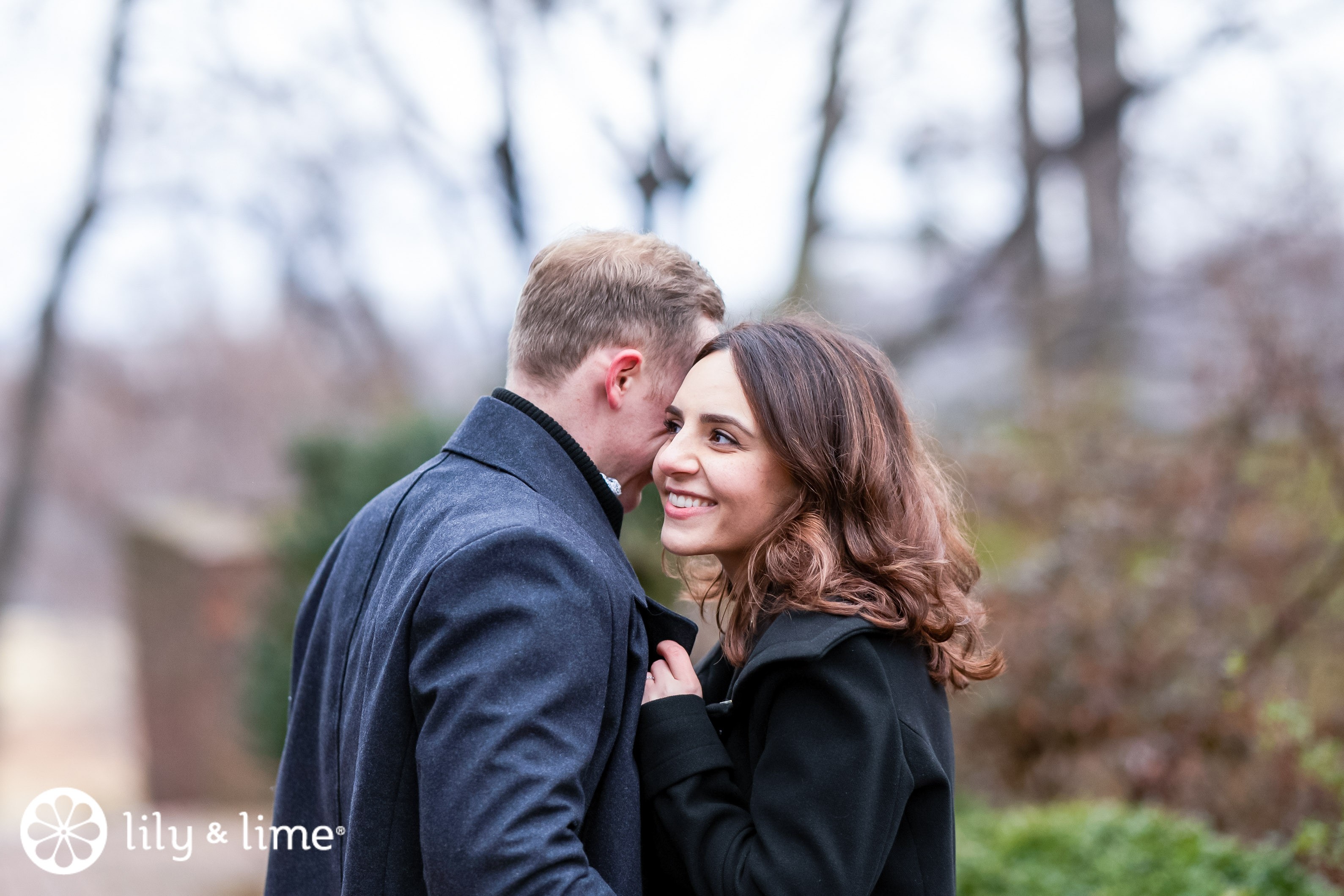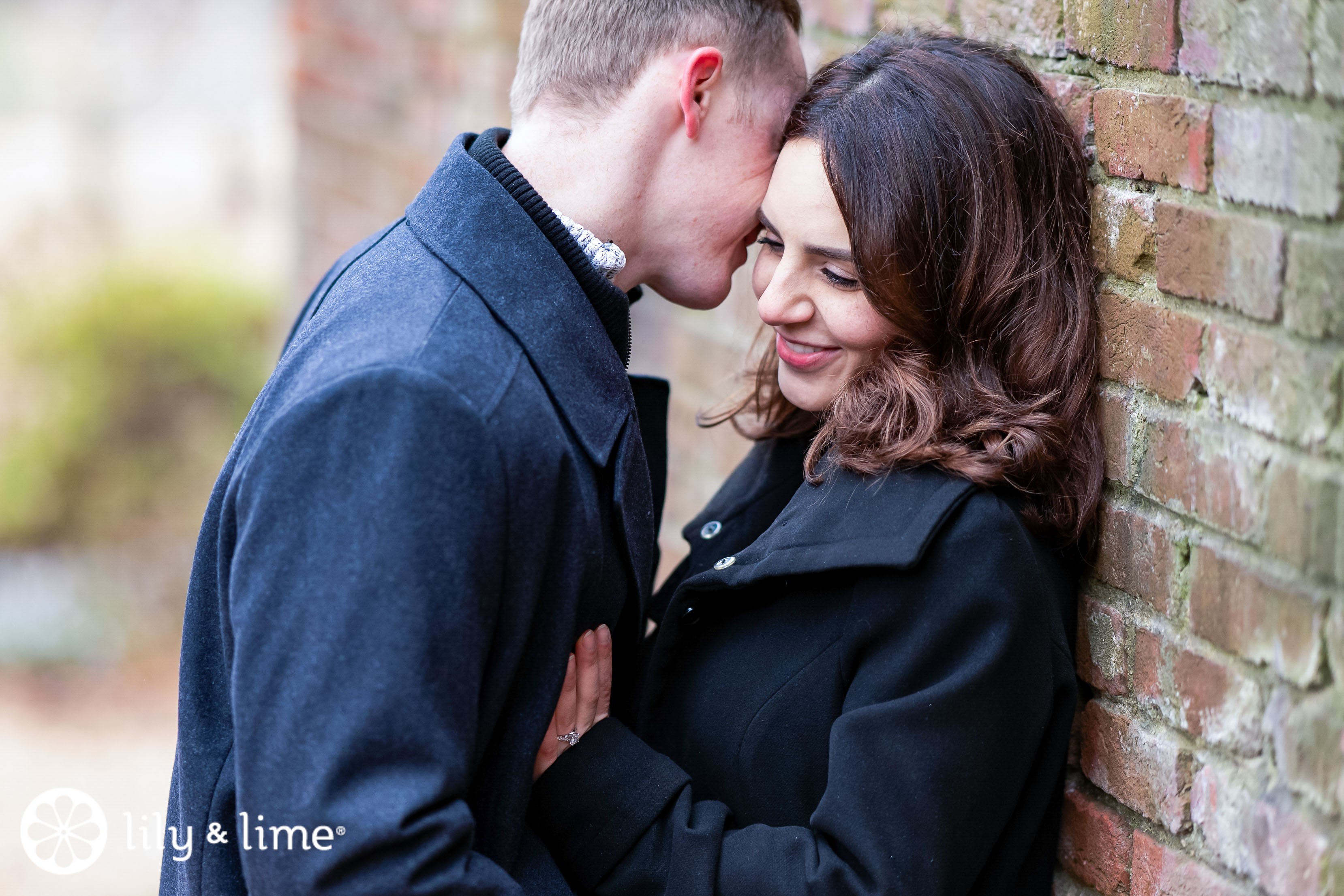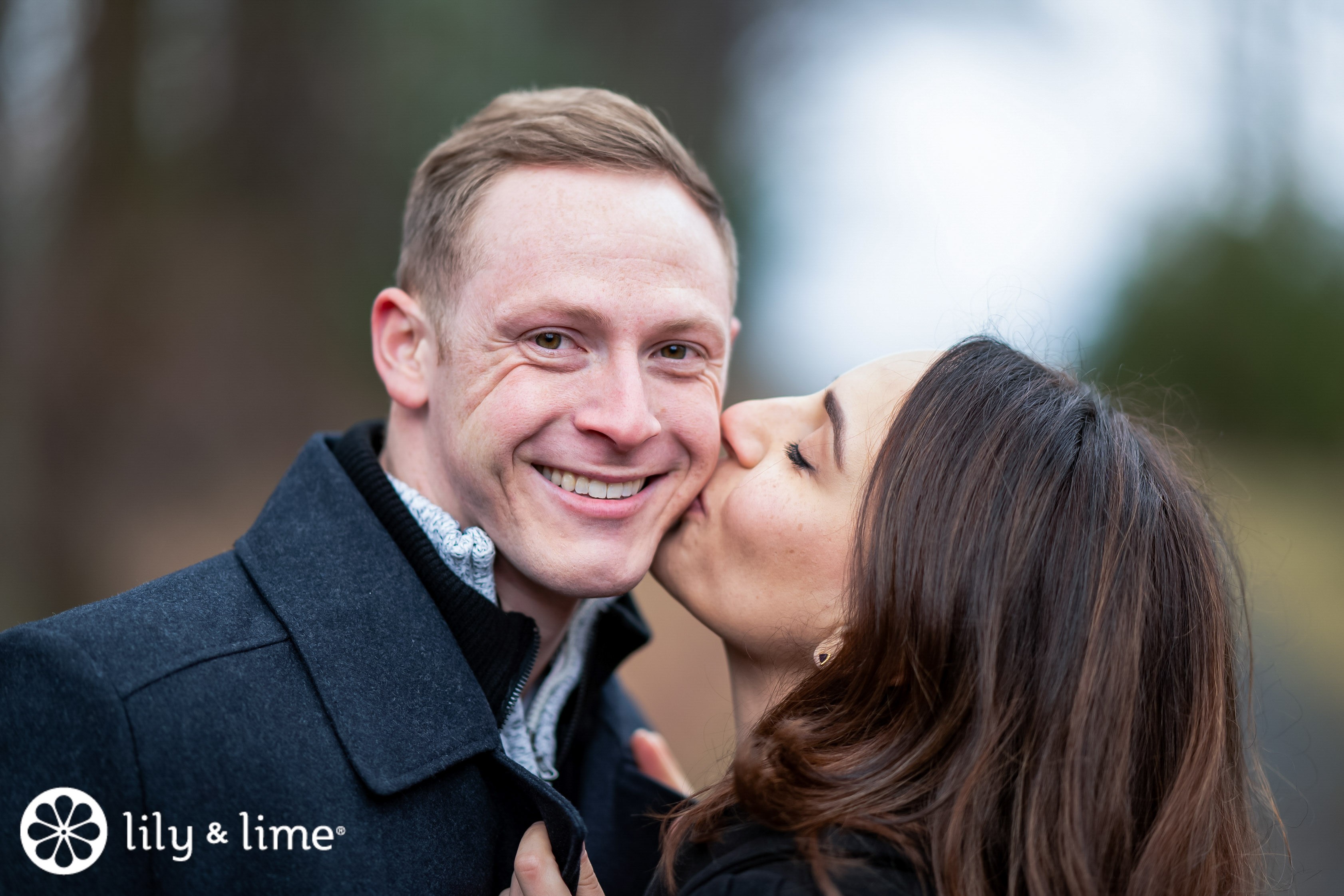 Now that you have got engaged with the stunning engagement rings shining on your fingers, it's time to consider how and where to make it memorable and capture it in beautiful keepsakes. What can be a better season to do it than the season of holidays filled with new hopes and cheerful spirits? Winter has always been thought to be the most romantic season. Whether you are looking to get married in the season with chic winter wedding ideas or going for a remarkable engagement photography session with a snowy wonderland backdrop, everything is magical in the season. Perhaps it's the snowflakes, the fireplaces, or the way people cozy up in fuzzy sweaters and fleece pajamas. When you combine that with the holidays, you have the ideal setting for creating memories that will last a lifetime. From the winter wedding whites that look straight out of a storybook to last-minute winter wedding ideas that can make your wedding look fabled, there are so many reasons why couples love the season to start their forever.
Of course, we love spring engagement photography sessions, but there is something special about winter engagement photoshoots! There are endless opportunities to propose whether you plan to spend the holidays curled up at home, on vacation somewhere special, or celebrating with your family or theirs. For starters, you can start looking for cute winter proposal ideas and make them memorable by getting in touch with our professional engagement photographers to capture breathtaking engagement portraits filled with holiday cheer! You can get away to any one of the engagement photo day trip locations or find a nearby park to make the most out of your engagement session photos. After all, there is a reason why the majority of wedding proposals take place between November and February.
Consider the holiday lights, Christmas trees, snow, and everything else that comes with the season. From the holiday DIY decor ideas decorating your winter wedding venue to the festive Christmas lights making their way into your winter wedding wishlist, we love how this time is the most exciting and romantic. You can blame it on the holidays, fresh snow, and hot cocoa! On top of that, we also love how almost every city is transformed with twinkling magical lights and festive holiday decor, and the results are simply magical. It makes us believe once again that the winter months are the most romantic time to propose to your significant other and create winter-themed engagement portraits that look straight out of a fairytale! Speaking about magical cities to spend your holiday in, how can we miss Washington DC?
Where else can you find Christmas trees twinkling on the White House lawn? Opportunities to skate on ice over a gleaming wharf or sip Martini in an igloo at the Watergate Hotel? Winter is a snowy playground for Washington DC couples as it is steeped in rich history, rich and intriguing cultural inspirations, and of course, holiday cheer!
Along Washington, DC's storied and historic streets, you will find relics of the country's history. The world's largest museum complex houses everything from dinosaur bones to moon rocks to the Star Spangled Banner. The long, grassy National Mall is the beating heart of America's democratic experiment, showcasing America's most famous historical monuments such as the Lincoln Memorial, Washington Monument, and the United States Capitol. More than that, Washington, DC is a community of people from all over the world, dining and drinking in the shadow of historic monuments.
Winter in Washington DC is the most magical time of year, with the city decked out in twinkling lights and festive decorations! Hence you can find numerous locations near Washington, DC for your inspirational couple photography session this winter that can add drama and character to all of the couple shots. If you haven't taken any engagement portraits yet, now might be a good time. Contact our Washington DC engagement photographers to visit all of the photogenic spots in the nation's capital, which is nestled between Maryland and Virginia by the Potomac River.
The United States Capitol and Capitol Hill, which our engagement photographers in DC adore, are considered a symbol of the United States. This lovely engagement photography location is home to a massive dome-shaped architectural structure that is a replica of St Peter's Basilica in Rome. The historically rich rotunda is filled with frescoes, reliefs, and paintings, particularly the great cast-iron dome with a ceiling painting by Constantino Brumidi and huge paintings of scenes from American history on the walls, where you can spend some quality time with your love while our professional couple photographers in DC and its suburbs capture you both with the aesthetic backgrounds of this place. A city with such a rich history also has the Library of Congress, which is home to the largest model of the Paris Opera House in the world.
Your engagement location could be the very green grounds of the White House, the President's official residence of the United States, which was originally built by James Hoban in 1792 and has been the home of every US president since. The picturesque grounds of the White House, with vast stretches of flower beds and quintessential trickling fountains, are ideal for your Washington DC engagement photography session, as the brilliance of these striking old government buildings in Washington tells its own unique historically significant story. The Lincoln Memorial is one of the most popular Washington Memorials, located at the far end of the mall, separated from the Washington Monument by the Reflecting Pool. This 19-foot marble statue of President Abraham Lincoln was completed in 1922 and has since become an icon, particularly when Martin Luther King Jr. delivered his famous "I Have a Dream" speech on its stately staircase in 1963.
The 555-foot white shaft of the Washington Monument, which is mirrored in the long Reflecting Pool, and the base of the monument, which is surrounded by 50 American flags, is a true American icon that can be captured for your pre-wedding photography session in Washington DC. The National Mall and Veterans Memorial, which stretches from the Capitol Building to the Lincoln Memorial and is usually crowded with tourists and visitors every day, is a popular location for professional post-wedding photography in Washington DC. Spend some time here in the evenings to enjoy the beautiful grounds and indulge in golden-hour photography with an iconic American historical backdrop.
The National Air and Space Museum, one of the world's most popular museums, houses a collection of historic air and spacecraft, including the Wright Brothers' flier from 1903 and Charles Lindbergh's Spirit of St. Louis, the first plane to fly solo across the Atlantic Ocean. This destination in Washington DC is ideal for science and aviation enthusiasts. It illustrates the science, history, and technology of aviation and space flight. The National Gallery of Art is the next destination for couple photography in Washington DC during your pre-wedding photoshoot or post-wedding photo session for art lovers, as this architecturally brilliant building houses a wide collection of European and American masterpieces such as paintings, sculptures, artifacts, and decorative artworks.
The National Museum of Natural History will enchant archaeological enthusiasts with its dazzling collection of gems and minerals, particularly the iconic Hope Diamond, as well as exhibits on natural history, marine life, and human origins. The National Museum of American History is another popular historical spot featuring political, cultural, scientific, and technological traces of American history starting from Edison's first light bulb to the original flag that inspired Francis Scott Key to write a song that eventually became the United States national anthem- "The Star-Spangled Banner". When the day is done, head to the pristine location of Jefferson Memorial and Tidal Basin, the architectural brilliance based on the Roman Pantheon, with its low dome supported by 54 iconic columns by the Tidal Pool and surrounded by Japanese Cherry Blossoms, making it an ideal location for our Washington DC engagement photographers to capture you and your BAE during the golden hour.
It was easy to see why Alisa and Cameron chose DC to celebrate their love story amidst the beautiful grounds of the United States National Arboretum, which was surrounded by dreamy winter foliage. Illustrating their affection for the city of DC, our stunning lovestruck couple, Cameron and Alisa demonstrated why winter was the right choice of the season for their inspirational DC couple photography session. The sky-high brown trees and brick walls draped in moss mesmerized our DC engagement photographers to capture this unique love story against the quaint scenes of scenic and rustic beauty. And we could see why they enjoyed every moment of capturing this incredible duo while playing with their shutters. Our lovely couple can give you photography goals with the engagement portraits clicked during their winter-inspired engagement photography session at the United States National Arboretum.
The season of winter in DC is a special treat for the senses, and one of the best places in the city to see the season come to life. The dreamy engagement location in DC was an amazing choice for this equally amazing newly engaged couple to celebrate their warmth of love. The US National Arboretum is located in Washington, DC at 3501 New York Avenue NE. The Arboretum, established by a congressional act in 1927, aims to increase the aesthetic, environmental, and economic value of landscape and ornamental plants. The attraction accomplishes this through gardens and exhibits, long-term botanical research, and resource conservation. At any time of year, the stunning 446-acre property stands as an interesting tourist destination in Washington DC.
The Arboretum features an impressive collection of plants, each with its own display. The Gotelli Conifer Collection, which features conifers from a variety of climates, including the Arctic and subtropical regions, is one of the most popular. Japanese maples, ornamental grasses, and daffodils blend with the conifers to create an eye-catching display of color. Make a pit stop in the gazebo to rest and enjoy a full view of the Conifer Collection. The Arboretum cannot be completed without mentioning the National Capitol Columns. The permanent installation includes 22 Corinthian columns that supported the east portico of the United States Capitol in 1828. The location of the columns is now one of the most beautiful and Instagrammable spots in Washington DC.
The U.S. National Arboretum also has azalea blossoms, making it one of the best places in the District to see them. The azalea blossoms usually peak later than the blossoms found near the Tidal Basin, providing an additional opportunity to admire the beautiful trees and their scenic flowers. This blossom arrangement is near the Capitol Column Overlook and the Flowering Tree Walk. The unique combination of lush nature and enriching history can provide a vibrant opportunity for everyone visiting here to witness greenery and artistic pathways. The vibrant winter colors at this expansive park provide our DC engagement photographers with unique opportunities to photograph couples against beautiful outdoor backdrops.
The abundance of greenery can create a sense of natural wonder that will keep you returning to this location, making it one of the most incredible choices for DC professional photography sessions. Alisa and Cameron's dramatic winter engagement photography session near DC in February 2022 captivated and enchanted us with the sheer magic they brought to the engagement portraits. This newly engaged couple celebrated love and timeless emotions, and our DC couple photographers did an amazing job capturing some of the most beautiful and iconic moments in frames.
The air was fragrant with nothing but pure love, and nature sprinkled its confetti in the form of bucolic beauty, giving us reasons to celebrate the festive spirit of this late winter season. Alisa and Cameron's glamorous engagement attire made them ideal for our DC professional photographers to capture their couple portraits. Celebrating the vibe of a fun engagement celebration and photography session came to life as the breezy air, relaxing weather, and abundance of winter foliage added a touch of romance and whimsy. The to-be bride's inspirational engagement outfit made our hidden aesthetician happy, as she wore a semi-formal engagement dress code featuring a long black coat with a hood, a crisp white top, a tribal printed short skirt, a pair of navy blue wedge pumps, and let her gorgeous flowing hair speak for her airy spirit.
As part of the perfect engagement photo outfit, our dashing to-be groom flaunted his trendy and sophisticated style. Cameron dressed up in a matching engagement outfit featuring a woolen black blazer, slate gray pants, and a fuzzy sweater with a zipper. Their matching winter-inspired engagement couple outfits were rounded out by their radiant smiles and eternal love. This couple's unrivaled energy and unrivaled passion for each other reverberated throughout the DC engagement photography session, making it easy to capture the perfect engagement portraits. From embracing each other in front of the stately historic architecture and bucolic forest backdrops to striking breathtaking poses in front of the rustic walls and the ever-gorgeous Corinthian columns, every moment of this couple portrait session in DC took our breath away with a sense of romance and passion.
Some of the most coveted and timeless backdrops were used for some of the most unique and timeless moments of this unforgettable DC couple photography session. From the unique couple portraits posed against the grand monumental structures of the United States National Arboretum to the tree-lined winding pathways flanked by an abundance of greenery leading up to nowhere, these locations truly provide us with couple photography goals, making every moment Instagram-worthy. Our newly engaged couple's unique and passionate chemistry provides us with timeless ideas for engagement sessions while also paving the way for more romance-inspired photography sessions that will be a burst of splendid and lovely colors blended against the breathtaking DC backdrops.