A Dreamy Forest Wonderland Engagement Session in San Jose
May, 6 2021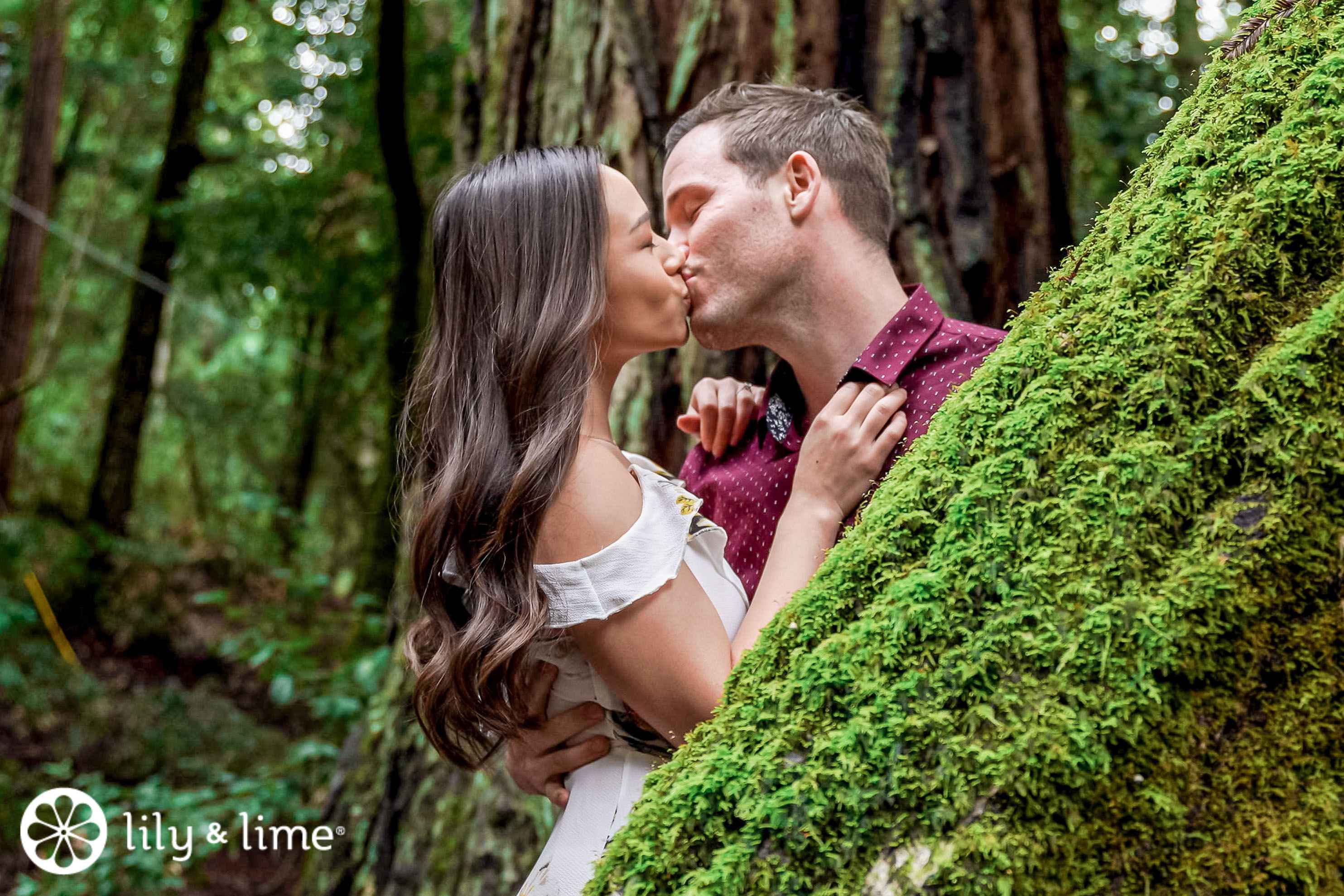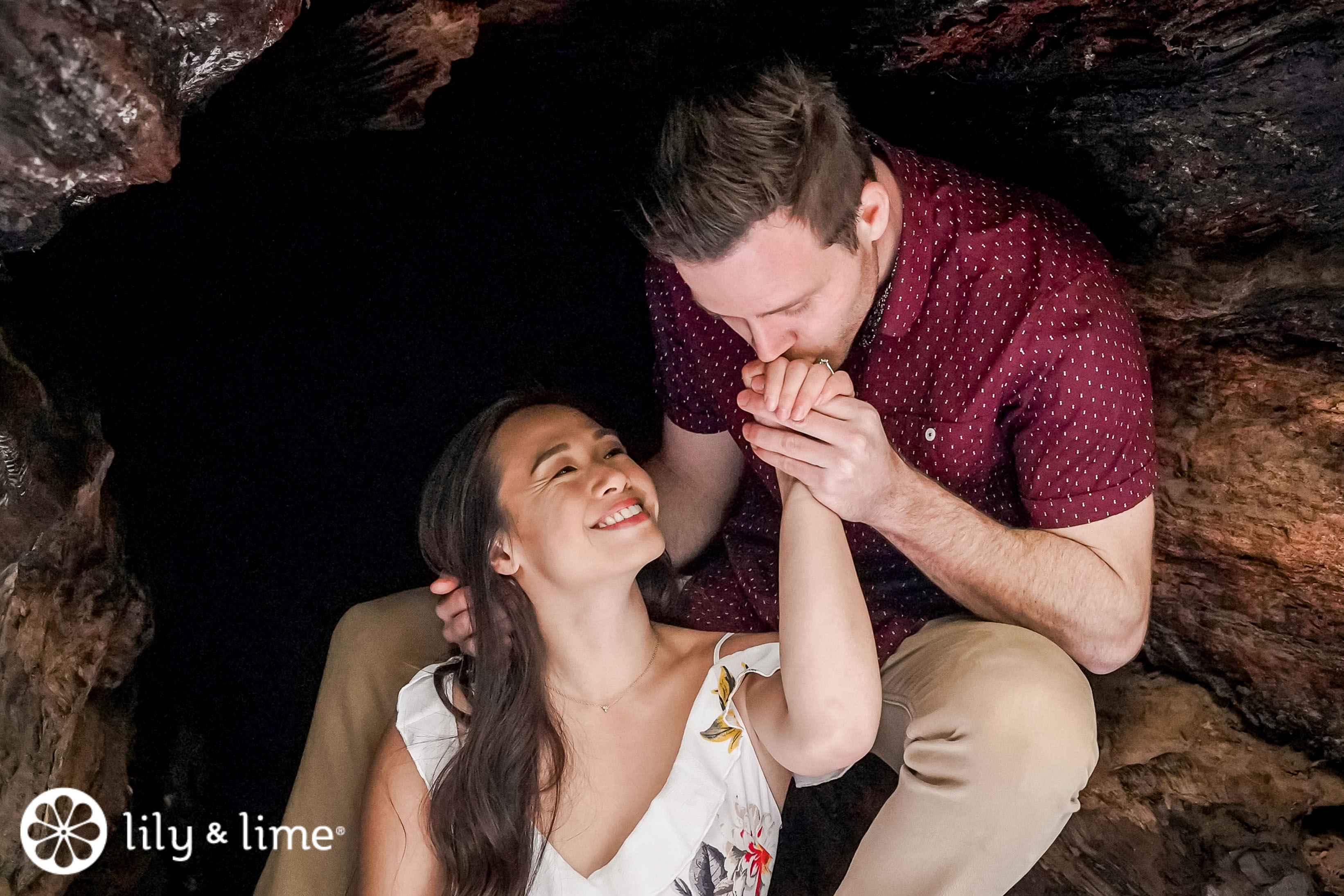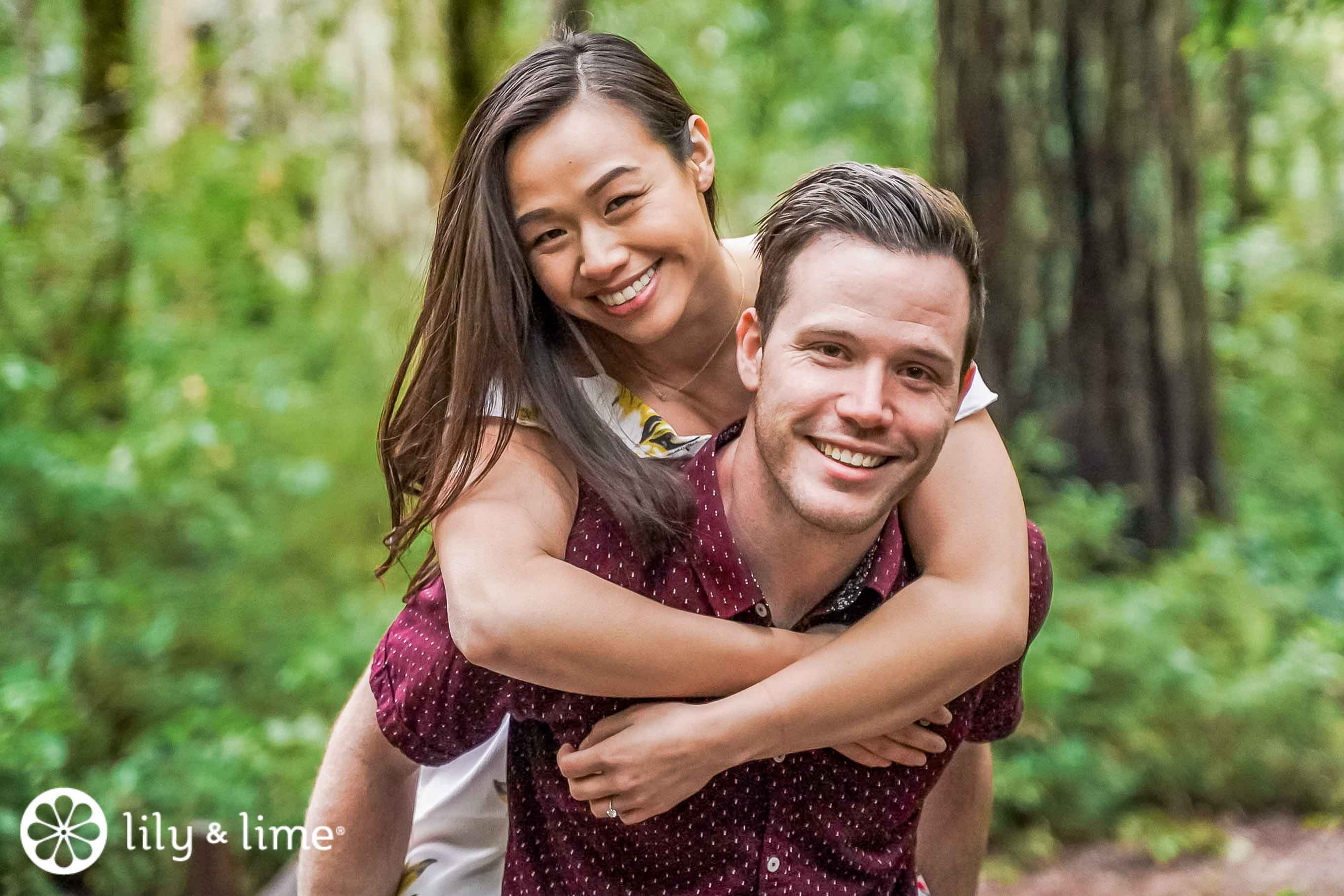 If life is a cookie, love is definitely the choco-chip bits on it that we enjoy the best! The best part of life, love sure adds the much-needed flavor and adventure in the journey! Love is an acknowledgment of a mystery that is greater than ourselves, or anything that we can't even comprehend! It's what has led stoic men to write poems, urged warriors to rage wars, tempted people to write songs and act in a way they never imagined themselves to ever act before! And most importantly, it has enough substance to inspire thousands of classic books and has kept The Bachelor on TV for 21 seasons! So when life makes you stumble upon love, there is nothing else to do but to enjoy the ride. You indulge in the stolen glances, shared emotions, and the walks in the clouds as one is supposed to. And soon when you find your sweetheart asking that magical question, you say "Yes"! As soon as you get engaged, it is only a matter of time until you start getting ready for the big day. There are so many things just waiting to be done. Invites to send out, color palettes to deliberate on and the wedding menu to be decided. Even though it is a busy time, it is also important to take a step back and appreciate the magical time. After all, you won't be getting this beautiful season of life again and you might as well make the best of it. An engagement photo session is of course the perfect way to take a step back and soak in the beautiful feeling of being engaged. Shaun and Cherie's magical enchanting forest engagement photoshoot provides the perfect recluse for them to soak in the newly engaged feelings and get photographed while at it! While every love story is beautiful, there is something about this couple that instantly makes one's day just by their sheer cheerfulness and good vibes. From the littlest of details to the perfect setting for a beautiful love story, this engagement photo session has everything and more! Let us take a closer look at the lovely couple and the photographic retelling of their fascinating love story!

This San Jose couple picked their beautiful city to echo their love story and the results came out to be impressive! Known to be the third-largest city in California and known as the urban hub of Silicon Valley, San Jose is deeply rooted in the magnificent agricultural industry of the bygone era. It remains to shine bright with contemporary cultural outlets in the busy downtown district, mingled with sunny and moderate weather year-round. Piercing right through the heart of the city, the banks of Guadalupe River highlight several waterfront locations and popular downtown destinations for tourists and locals to experience. Ranging from the Municipal Rose Garden that was set in 1927 featuring countless rose shrubs and trimmed green spaces, to the Rosicrucian Egyptian Museum, which is a house of genuine ancient Egypt artifacts, your engagement photography session in San Jose can be loaded with a wide range of varying settings. Also acknowledged to be the 'largest bay area' city, the downtown district of San Jose is always humming and hustling with activities for our engagement photographers in San Jose to seize couples in love placed against celebrated, artistic, and green locations. The aesthetic and cultural appeal of the historic architecture, quaint and cutesy sidewalk cafes and picture-perfect storefronts present numerous photo opportunities for your San Jose engagement photography session to explore. Another notable entertainment district is the Santana Row with its exciting and colorful mix of dining and shopping halts along with the perfect space which makes for a marvelous spot for professional photography in San Jose. Ideal for photography during the daylight hours and shimmering nighttime, this is an outstanding place for our San Jose engagement photographers to catch you, whether you take a stroll with your sweetheart in the sunny daylight or when the sun dims and lights gleam bright and beautiful. Couples who love vibrant and lively backdrops can head to the Plaza de Cesar Chavez that traverses two acres of concrete surroundings and shady trees, while the art lovers can visit the Plaza de Cesar Chavez Park, right at the heart of downtown San Jose highlighting over 2,500 pieces of art.

Our lovely couple chose Saratoga Springs for their engagement photo session and the pictures say everything! Nuzzled in the Santa Cruz foothills, Saratoga Springs presents a peaceful, beautiful, and rustic outdoor environment for your love story to play out! Just minutes away from Silicon Valley, Saratoga Springs' redwood trees and quiet and serene streams instantly make one feel worlds apart from the rest of the civilization. Known as Bay Area's oldest, steadily operating picnic facility, this event space has been family-owned since the late 1800s and its beauty is mesmerizing, to say the least. From bubbling streams winding their way through the green canyon to the lovely peaceful creek showcasing absolute beauty, from towering Redwood trees reaching up to the sky to the web of sunlight filtering through the luscious leaves, the Saratoga Springs experience is the kind to keep you enchanted and enthralled throughout. This location surely makes the perfect backdrop for a fairytale forest setting for two people in love with each other and inspired by nature can pose for some amazing captures. Nature has never provided a more perfect place to acknowledge its glory or to proclaim your love as in Saratoga Springs. And Shaun and Cherie surely made the most of the setting!

Shaun and Cherie dressed up to the nines to pose for their lovely engagement photo session. Cherie wore a beautiful white floor-length dress with tropical floral prints and a romantic drop shoulder design which gave her a playful streak. The ruffled neckline, the high slit, and the deep V neck added to the allure. She paired the dress with a pair of tan booties which worked perfectly to bring the spring look to life. She wore her hair down and her makeup was kept simple, and a minimal pendant and her ring worked as the perfect accessory for the look. Shaun looked dashing in his maroon half-sleeved button-down with its tiny white speckled design and a pair of tan trousers. He wore a pair of brown boots to bring the look together. The couple's choice of outfit was well thought out and complemented each other perfectly while staying in line with the luscious earthy backdrop! From the mossy trees to the contrasting red ground, from the winding walkways looking like it belongs to a postcard, to the hollowed-out trees, every frame looked like it belonged to a fantasy land! We absolutely love the playful energy that the couple displayed and the variable opportunities which were explored by the duo during the photo session. From the cute walks through the boulevard of trees, the lovely textures of the dead trees, from the cutesy bridges with a roaring waterfall in the backdrop to the romantic twirl and the dip down for a kiss, everything in the surroundings was too cute for our hearts to handle. We love how beautifully the San Jose wedding photographers framed the shots, from the textured display of nature in the wide-shot captures to the delicate close-ups and everything in between. Rather than making the beautiful backdrops of the stunning location a part of their frames, they actually allowed the backdrop to share the spotlight equally, creating some truly inspired and magical forest images of two people in love. We love the isolated and alone-in-the-woods feel the couple brought to the frames which truly set them apart!


While the wedding day is the day that we are counting down towards, engagement day is just as much of an important date in the calendar. It is an important step in the journey and should be celebrated on its own account. While a wedding day is beautiful, with a particular theme and a complete color palette, and a whole array of rituals and it being a day designed to honor the promise of forever love with the near and dear ones, an engagement has a beauty of its own. It is a day that is completely the couple's own, and it is not so much about the celebratory event but is rather about the couple and their love, so it delivers a different vibe altogether. It provides a glimpse at the couple's disposition, and how they interact and represent their love for each other and society. While it is natural that you will want to remember how your dress swayed as you swayed to the music or how the flowers looked in your bridal bouquet, there are things that you will want to remember about your engagement too. It is the last time you will be photographed before the wedding, so you might want your engagement photographer to capture how elated and excited both of you are about being newly engaged and anticipating your forever journey to start! Having the right engagement photographer to seize this tender imagery is an essential component of your love story. You will want to hold on to the fresh-faced excitement of your engagement eternally, that you can look back on after decades. The engagement photoshoot also empowers the couple to be their truest selves, and tell their narrative just the way they want. Whether you want a woodsy set-up or a more urban city vibe, whether your style is more vintage or rather rustic, the choice is yours and the options are truly endless! So a couple can actually let the character of their relationship come out to play and have the most amazing pictures to hold on to forever. If you are pondering about getting your engagement pictures taken, we encourage you to go ahead, because the tangible memories you get in return are truly priceless! As for Shaun and Cherie's enchanting forest engagement session, the San Jose engagement photographers did a remarkable job catching the woodsy earthy aesthetics and the uniqueness of the couple and captured them in beautiful artistic frames!

We love love stories if you can't tell! And we are lucky to be in an industry that allows us to witness so many marvelous love stories every day that your hearts are full after every workday! While every love story is heart-warming and just beautiful, there are some which leave a lasting imprint, maybe for their rare likable disposition, or the way they observe life, or by just the artistic presence that they bring to the table! Shaun and Cherie's engagement photo session seems to fit well in the later section, and it's easy to see why. There is a magic that they carry on their shoulders, an obvious adoration that sparkles in their eyes, and something natural and effortless that makes them very easy to work with. They have a magical fairyland vibe about them which makes them quite at home in this beautiful woodsy setting. We love the easy romantic vibe that the couple depicts and how they melt every time they look at each other. We love the sparkle in their eyes and joy in their heart. We also love how nature played along and became a part of their frame quite beautifully, and how the skilled hands of our San Jose engagement photographers captured it all beautifully. There is a bubbling quiet love and grace to the couple which penetrates through the pictures and reaches out to you. We like the light and bright spring aesthetics that the pictures communicate, and the way nature is at her flamboyant best on this sunny day. As the first ray of spring sunlight peeking through the tall forest trees, there is something about this engagement photoshoot that warms our hearts and fuels our hearts with tenderness. From the love in the air to the easy camaraderie that they represent, there is something truly unique about this couple that sets them apart. And as they walk away from this fun engagement session and their wedding nearing soon ahead, they are definitely heading towards a beautiful future ahead of them, and we are delighted to see them walk hand-in-hand towards their happily ever after!