An Unforgettable Fall Detroit Engagement Session
November, 19 2020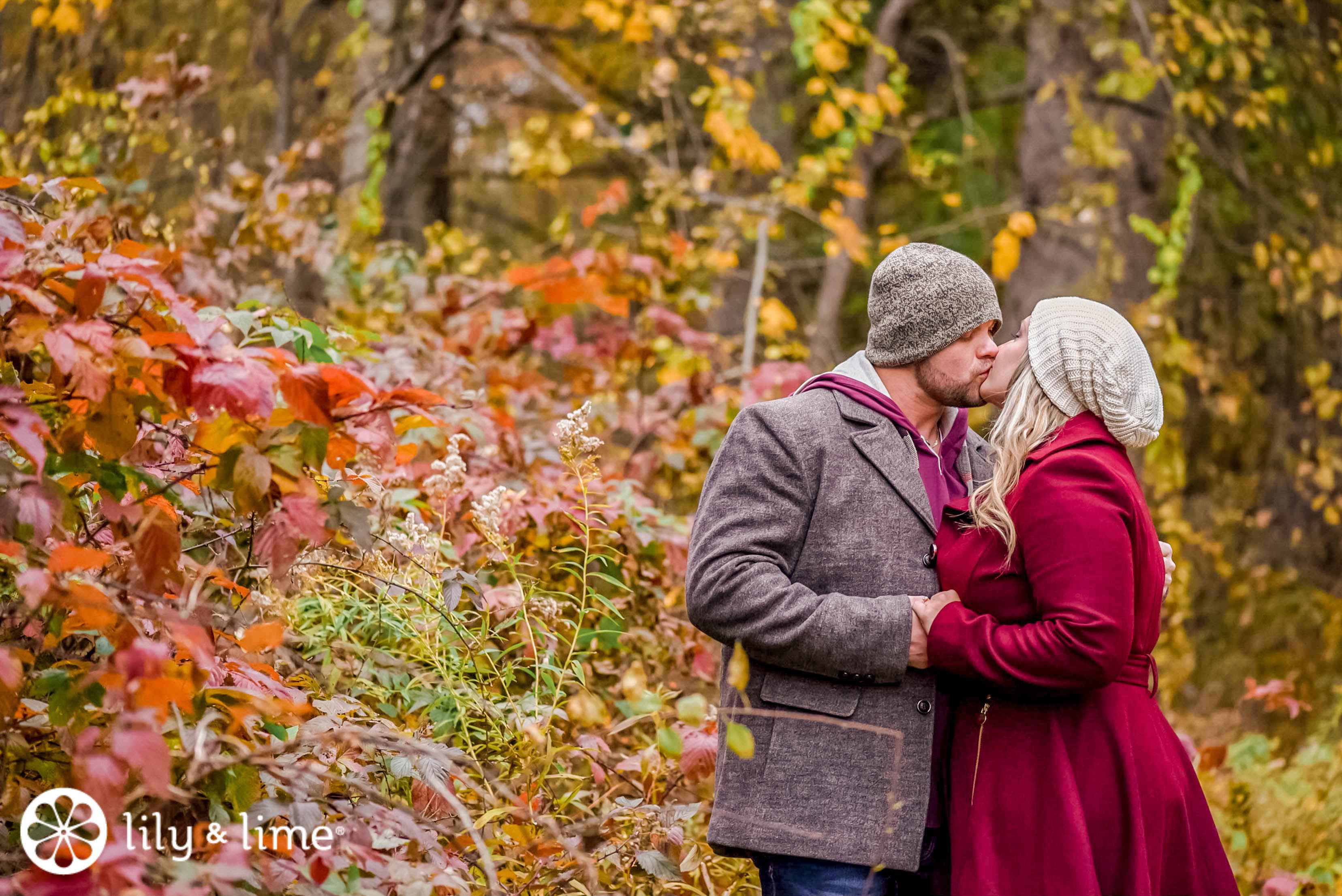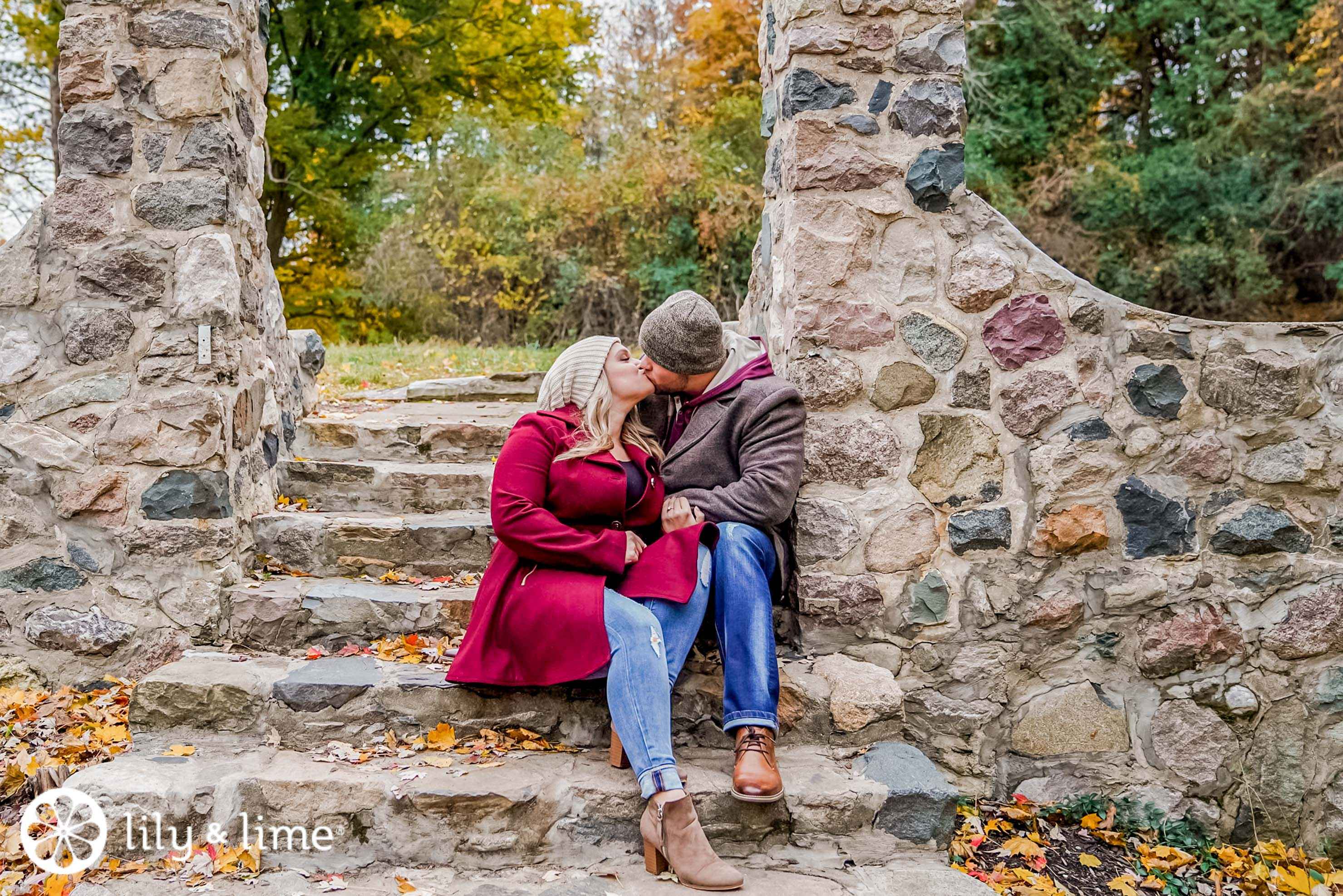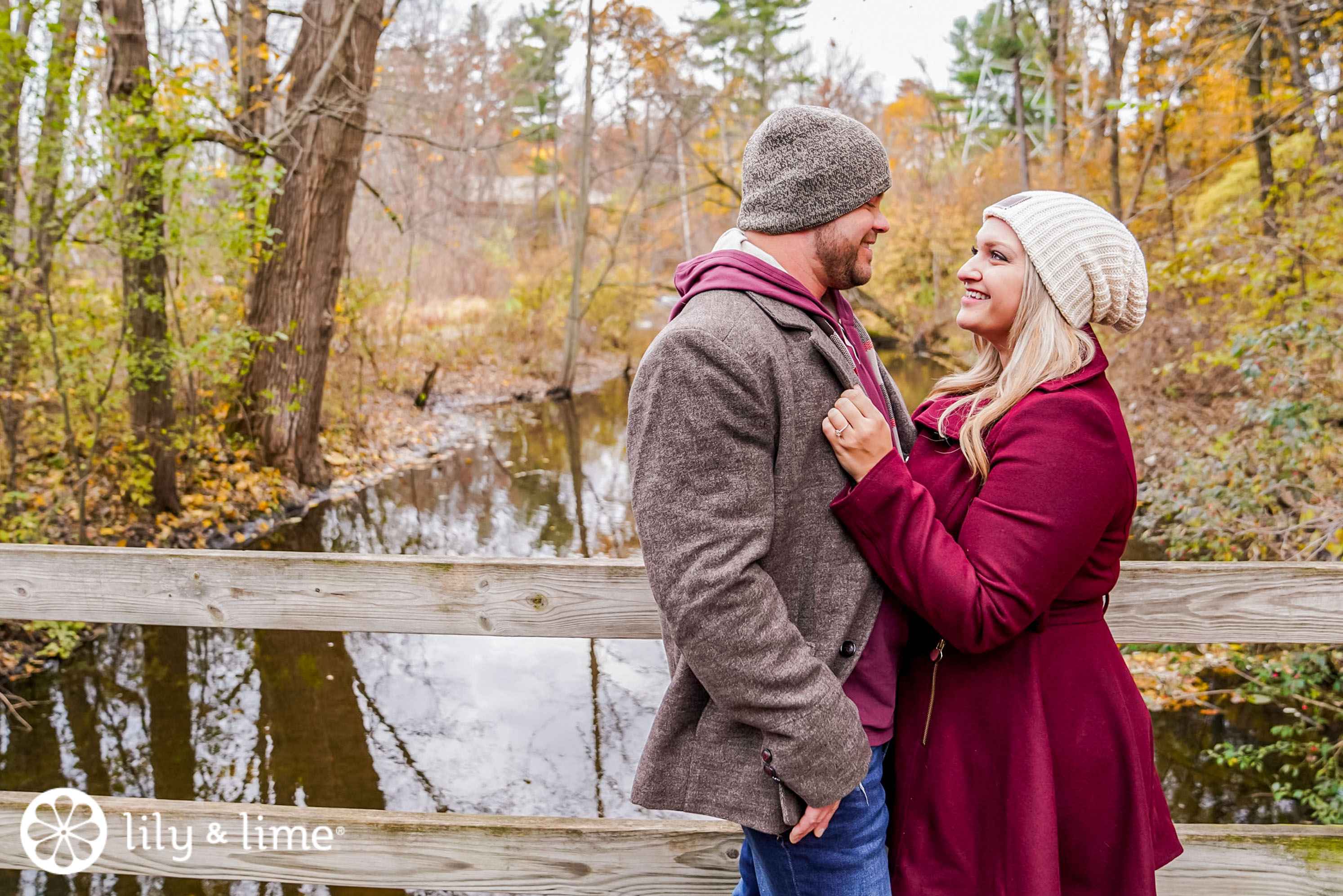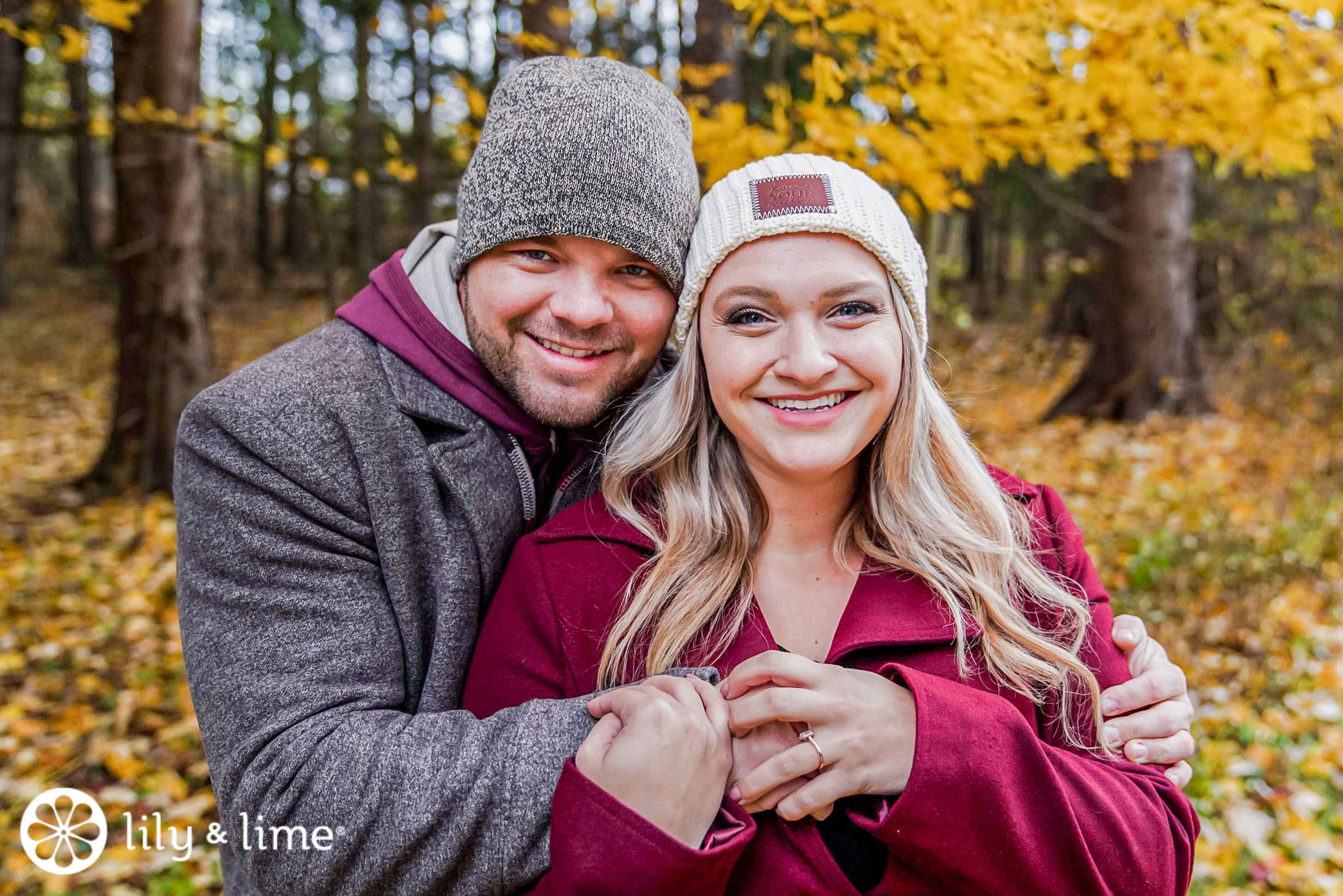 Considered to be nature's confetti with glimpses of nostalgia and warmth, it is easy to see why autumn is considered to be the best season for photography. A season of promise, hope, and glory, when the weather cools down, the foliage of fall season turns into a beautiful palette of earthy and bucolic tones making portraits dramatic. Reflected as one of the most camera-friendly seasons, fall couple photography sessions are filled with dramatically tinged skies and moody-color palettes. With no harsh midday sunlight or humidity sticking out like a sore thumb, dramatic character of deep and dark colors mixing with the feel of melancholy, fall is the best season for couple photography sessions.
Apart from being the season of haunted houses and hayrides, the shorter days of autumn are all about getting chummy and cozy in a warm pair of jammies and mittens and preparing for the upcoming winter season. With the color palettes of natural foliage, the aroma of pumpkin spice and cinnamon latte, and the nip of crisp air engulfing the senses, the lovers of sweater weather prepare for cozy nights by the fire with trailer film collections and seasonal treats. The unique and beautiful backdrops always excite our couple photographers in Detroit when autumn rolls around making it the most favorite time of the year. The weather is absolutely perfect and comfortable for outdoor photography sessions with no sweltering heat or freezing cold, giving our lovestruck couples wear their best photogenic attire out of the wardrobe.

This fall season in Detroit is one of the most scenic and picturesque for professional photographers to capture couples against scintillating backgrounds. When the air is brisk and the leaves are tinging in a bright hue of red and orange, the inspirational engagement photography sessions in Detroit can leave you with a train of options. From going for apple picking at an orchard, that is also considered to be one of the most loved autumn activities in Michigan to visiting the urban green spaces in Detroit with the trees flashing out the riot of colors to shopping fresh produce like final heirloom tomatoes and peaches on a Saturday morning, ideas for a fall couple photography session can take you to one of the most beautiful parts of the country. Coated in multicolor bucolic palettes the wild trails of Detroit are accessible all year long where you can feel the bounty of the fall season, stock up on fresh crisp apples and cider during the local market sprees, and tour the art deco masterworks.

Every season brings us inspirational ideas for unique couple photography sessions, there is something so mesmerizing about seasonally appropriate couple shots in portrait mode during the fall season that convinces us that the best part of the year isn't already over. Looking at the soft sunlight evoking a warm glow vivid colors in golden light when all the foliage goes from almost all greens to beautiful warm reds, oranges, and yellows, our professional wedding photographers in Detroit cannot help but get mesmerized and enchanted. And Michigan is one of the focal points of burnished light and golden trees, which makes it undoubtedly one of our engagement and wedding photographers' favorite destinations for capturing love stories.

There are so many places near Detroit for your inspirational couple photography session during fall that can add more drama and character to all the couple shots. Starting from one of the most picturesque backdrops for engagement photos, Ann Arbor at the University of Michigan is an ideal place in Detroit for getting your couple portraits clicked. One of the most beautiful and scenic engagement spots in Detroit, The Edsel & Eleanor Ford House can be another significant place to capture memories on the gorgeous grounds of Ford's home. The romantic and fitting backdrop for all the water babies The Grosse Pointe Yacht Club is another waterfront destination for engagement photography sessions in Detroit that can look like magic during the golden hour.

Brimming with natural scenery far and wide, Cranbrook House and Gardens in Bloomfield Hills in Michigan is another amazing spot for couple photography sessions near Detroit. The streets of Downtown Detroit are perfect for couples who enjoy the blinding city lights set amidst soaring skyscrapers and architectural buildings. Visit during the golden hour to capture magical photos at the James Scott Memorial Fountain for a romantic engagement photo session in Detroit. For couples looking for something offbeat for their professional photography session, The Illuminated Mural, the public art piece in the north end of Detroit located at 2937 E. Grand Boulevard is a spellbinding photographic spot for the couple portraits. Another less-visited engagement photo location in Detroit, the alabaster-white Beaux-Arts facade- The DIA is filled with Detroit industry murals and a grand architectural hall with vaulted ceilings and historic backdrops for a timeless and unique engagement photography experience in Detroit.

One of the most loved and timeless photogenic locations in Detroit, the Detroit Institute of Arts is considered to be the artistic nucleus for the city with breathtaking historic backdrops frozen in time. Around for more than 150 years and a favorite among professional photographers of Detroit, with over a hundred murals splashed across the neighborhood, the Eastern Market is a bustling center for food, festivals, shops, restaurants, and public art and a definite yes for professional photography sessions. Another downtown gem, the Campus Martius is a lovely urban park with brimming spots for an unforgettable couple photography session ranging from the beach to winter themes sprinkled all across the expansive space.

It was so easy to see why Hannah and Joshua chose Detroit to celebrate their love story amidst the gorgeous grounds of Stony Creek Nature Center with dreamy autumn foliage enclosing them. Describing their love for the city in Michigan, Joshua and Hannah, our stunning lovestruck couple, portrayed why fall is the perfect season for their inspirational Detroit couple photography session. The fall flavors and delights are truly mesmerizing for our Detroit engagement photographers to capture love stories against the quaint scenes of scenic and rustic beauty, and we could see why they enjoyed every moment capturing this amazing duo while playing with their shutters. Set amid the changing leaves and rush of the creek, the fall engagement photography session at Stony Creek Nature Center in Michigan of our lovely couple can give you photography goals.

Autumn in Detroit is a special treat to the senses and considered to be one of the best places in the city for watching the season come to life, Stony Creek Nature Center located in Shelby Township, Michigan, was an amazing choice by this equally amazing newly engaged couple to celebrate their warmth of love. Considered to be the top hiking trail in Southeast Michigan and one of the premier places to get active, a collection of hiking trails within one gorgeous park boasting 27 miles of long and winding pathways offer unique sceneries and breathtaking terrains. The unique blend of ecosystems and habitats at this floodplain can lend a vibrant opportunity for everyone visiting here a rare opportunity to witness both aquatic as well as terrestrial flora and fauna. The brilliant fall colors at this expansive park provide unique opportunities for our Detroit engagement photographers to capture couples against great outdoor backgrounds.

Go for bird watching or get lost in the wild along the waterfront of this amazing engagement spot in Michigan and immerse yourself in the bounty of nature in all its autumnal glory. The rolling hills dotted with breathtakingly bright-hued trees offer a plethora of photo ops for your affordable Detroit engagement photography session. The unique paved walking loops and unpaved forested walking paths can enable you to enjoy your fall color tour in Southeast Michigan. Catch the unique sights of two large permanent vernal woodland ponds adjacent to a crackling creek one hundred acres north end of a pristine lake. A true hidden gem for all the wild and carefree spirits, this engagement spot near Detroit can give you the breathtaking experience of enjoying natural autumn in a picture-perfect way for your professional photography session in Detroit.

The abundance of greenery can spell a sense of natural wonder that will make you keep returning time and time again to this place making it one of the most astounding choices for Detroit professional photography sessions. In the month of November in 2019, the dramatic fall engagement photography session near Detroit of Hannah and Joshua left us spellbound and enchanted by the sheer magic they brought to the lenses. With one of our most favorite fall engagement sessions in Detroit coming to life, this newly engaged couple celebrated love and timeless emotions, and our Detroit couple photographers did a fab job of capturing some of the most beautiful and iconic moments in frames.

The air smelled of nothing but true love and gave us reasons to celebrate the festive spirit of the upcoming holiday season, as nature sprinkled its own confetti in the form of bucolic beauty. The glamorous fall colored attire of Hannah and Joshua made them perfect for getting their couple portraits clicked by our Detroit professional photographers. Celebrating the vibe of a fun engagement celebration and photography session came to life with the exuded touch of romance and whimsy dotted by the crisp air, cozy weather, and falling leaves of autumn. Our hidden aesthetician jumped with joy with the to-be bride's inspirational engagement outfit as she donned a bright burgundy colored wrapped trench coat paired with a deep neck black innerwear, a stunning powder blue distressed denim, and a gorgeous pair of tanned boots. The cream-colored knitted beanie beautifully adorned her elegant blonde hair as it wrapped her shoulder like a snug and tender muffler.

Our dashing to-be groom flared his trendy and sophisticated style as part of the perfect fall engagement photo outfits. Joshua wore a light brown three buttoned linen overcoat, paired with a color-coordinated burgundy hoodie underneath, dark distressed denim, and tan shoes. The matching engagement couple outfits were completed by a beautiful light brown knitted beanie. Getting the perfect fall engagement portraits was easy for this couple because of their unmatched energy and unrivaled passion for each other that reverberated throughout the Detroit fall engagement photography session. From looking at each other with lovestruck and doe-like eyes and stealing a kiss against the brightly hued golden backdrops, from embracing each other in front of the long and winding trails covered in bright yellow foliage to striking breathtaking poses in front of the pristine creek dotted by logs and woods, every moment of this couple portrait session in Detroit took our breath with a sense of romance and passion.

Some of the unique and timeless moments of this unforgettable Detroit couple photography session took us to some of the most coveted and timeless fall backdrops. Ranging from the unique couple portraits posed against the cascading staircase made out of quarried stones to the tree-lined pathway leading up to nowhere, truly gave us couple photography goals for making every moment Instagram-worthy. The unique and passionate chemistry of our newly engaged couple gives us timeless ideas for fall engagement sessions while paving the way for more fall-inspired photography sessions that will be a burst of splendid and lovely colors blended against the breathtaking autumn backdrops.

Tucked between the fiery leaves and cozy wardrobes, the intimate atmosphere created by our to-be married couple in Detroit took us to the bucolic grounds away from the hustle and bustle of daily lives. The effortless chemistry of Hannah and Joshua blended with a showcase of aesthetics gave us a Pinterest board full of fall photography. Just like every fall activity with your sweetheart deserves a picture, this couples' scenic portrait session amidst the natural beauty of the autumn season in Detroit made the dark weather a little less gloomy with a sweet kiss. With some colors, some memories, and a plethora of unforgettable iconic couple moments, our professional Detroit engagement photographers celebrated companionship, courtship, and friendship.