A Moody November Engagement Session
September, 17 2020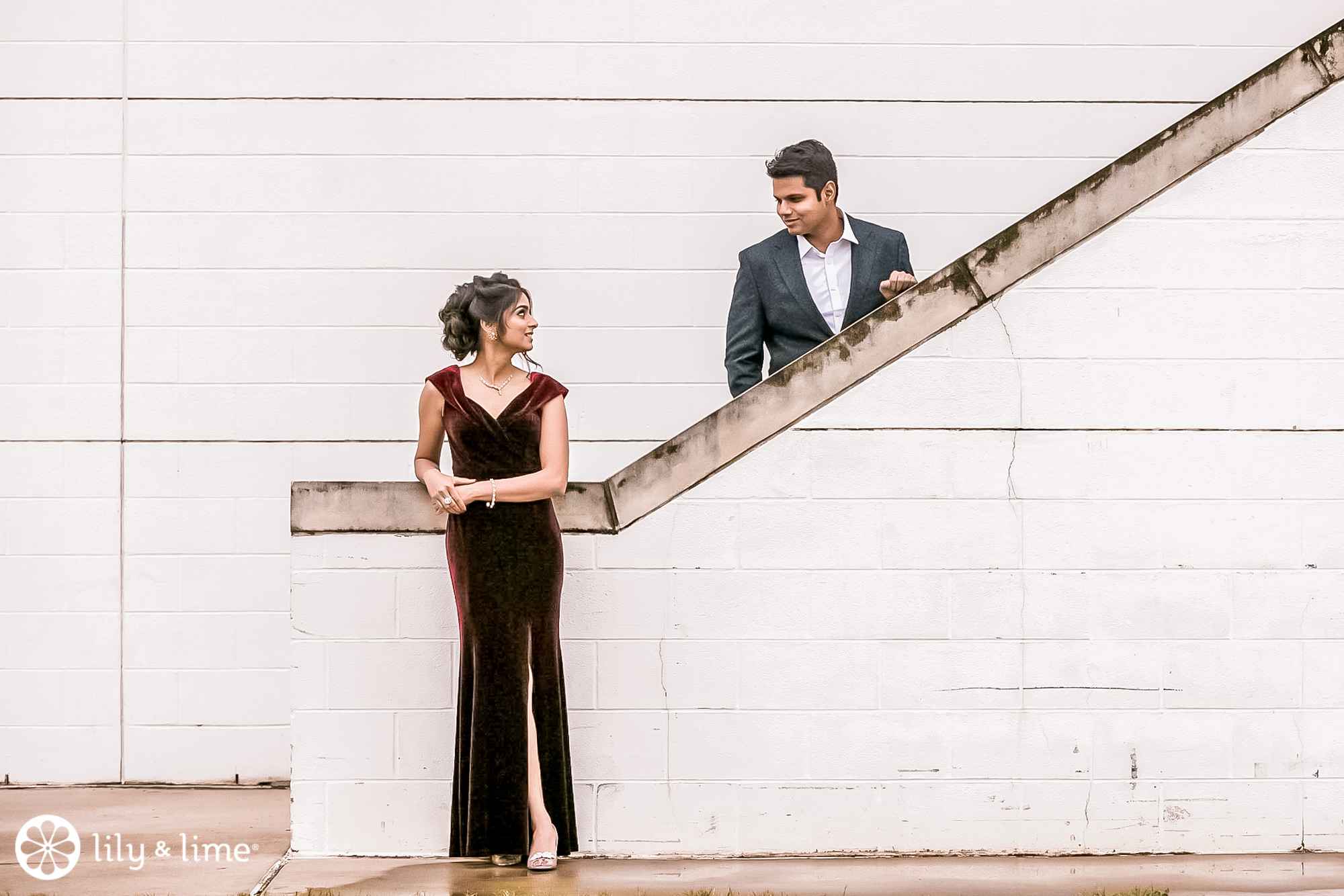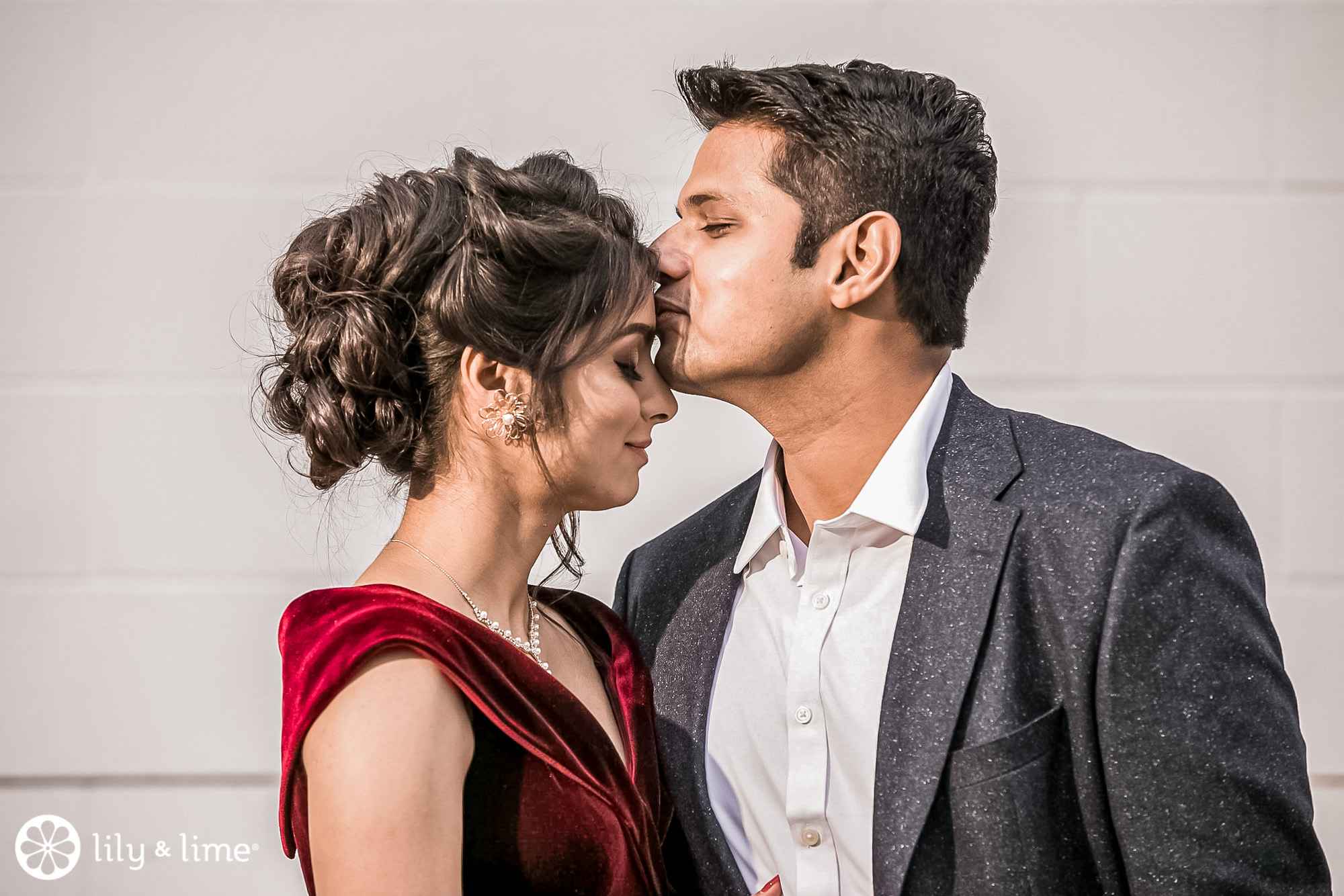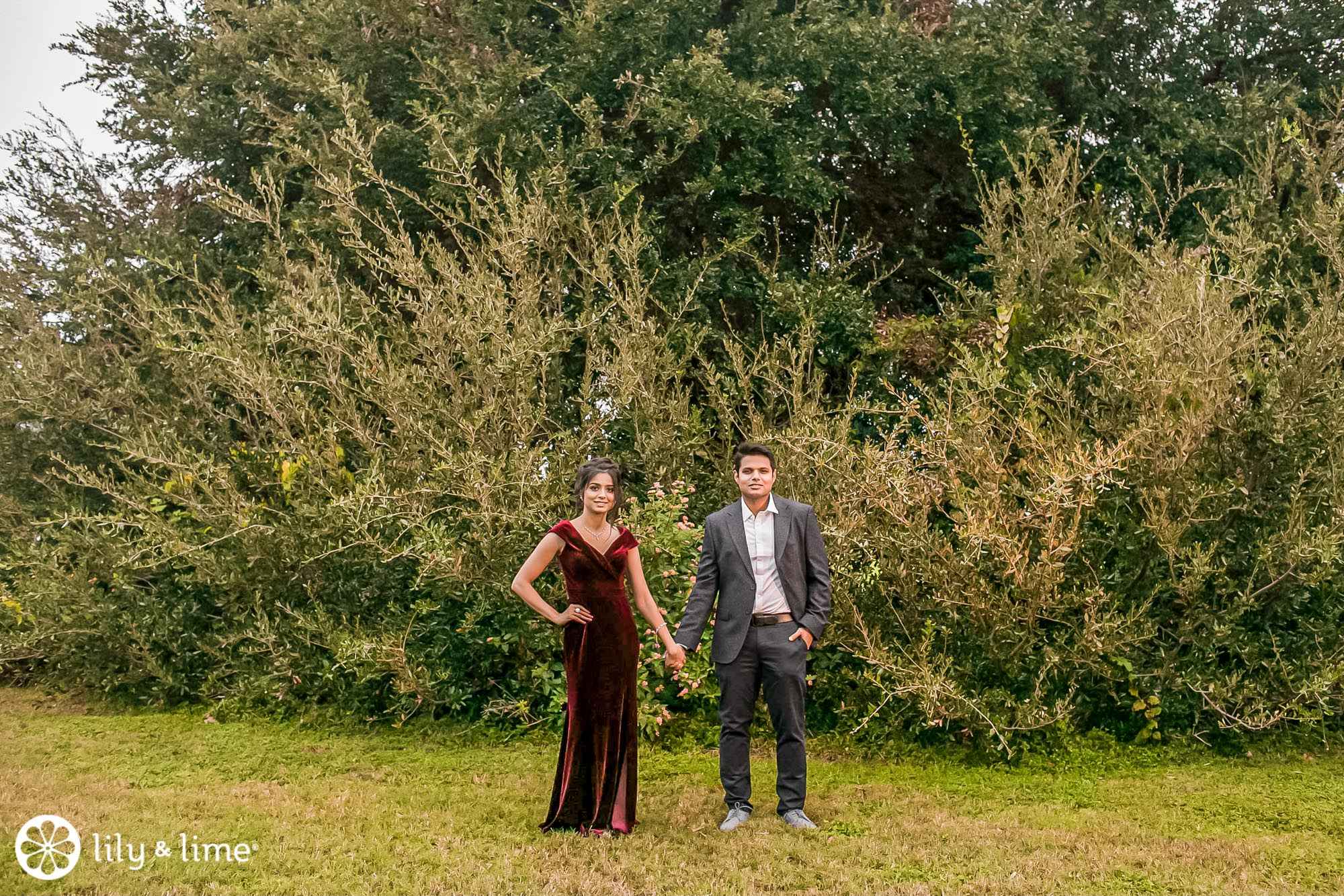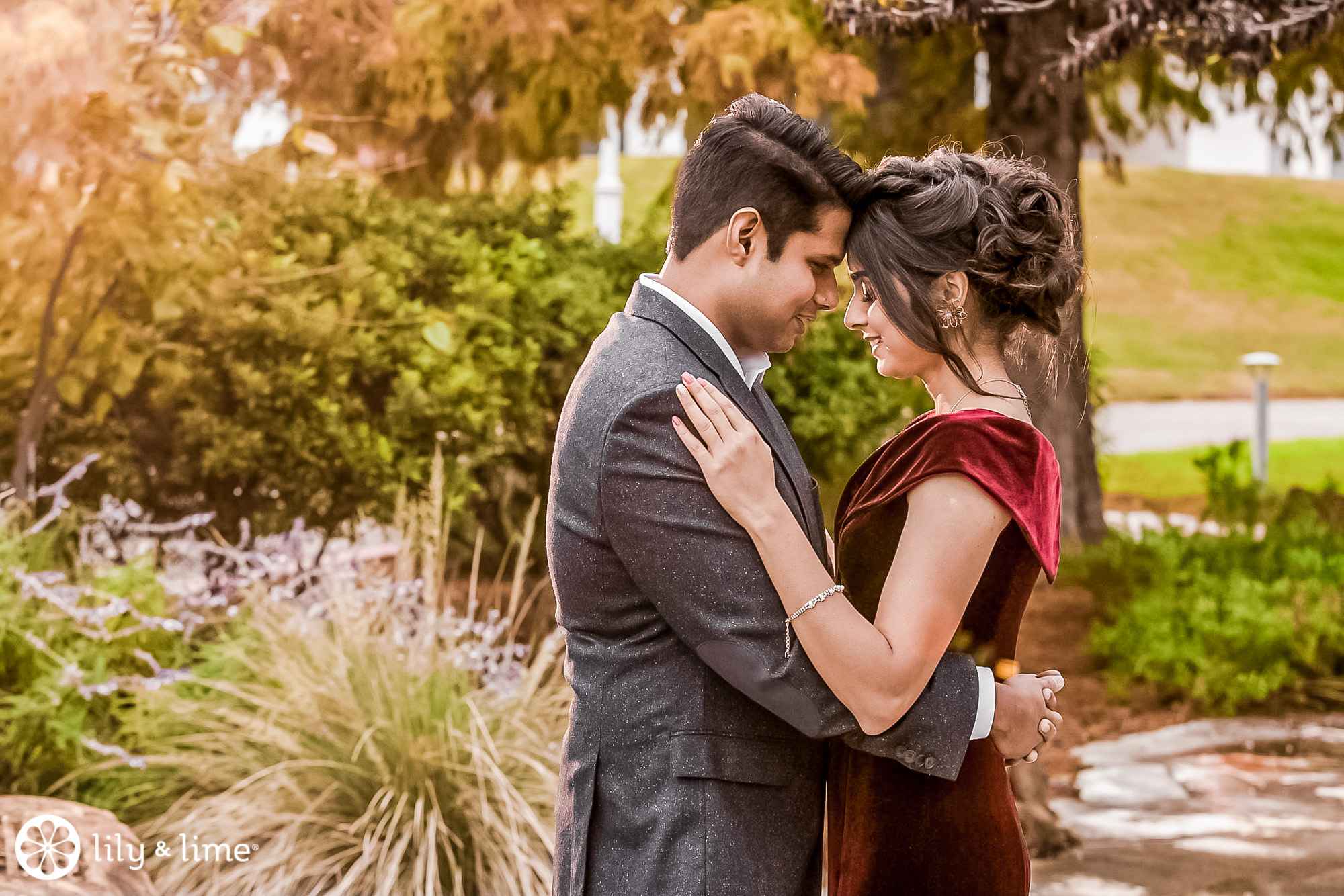 "November comes And November goes, With the last red berries And the first white snows. With night coming early, And dawn coming late, And ice in the bucket And frost by the gate. The fires burn And the kettles sing, And earth sinks to rest Until next spring." These words by Clyde Watson haunt us every time this month rings a bell. Transforming the pumpkin-spiced fall into snowflakes-laden winters. And just like that, November goes by, leaving a new trail of stories full of warmth and transitions.
November of 2018 witnessed a beautiful story of love that etched in the history of this universe. Anupriya and Sanchit chose this day to announce their love to the world and gave us a chance to be the medium. The duo allowed their love to take over as they posed effortlessly in gorgeous engagement locations in Austin, wearing love as an accessory to their stunning engagement attire.
For this fall-winter engagement photoshoot, the duo chose a perfect color scheme for their engagement look. We are absolutely crushing over the burgundy gown that Anupriya chose to wear on this special day. She was looking stunning in a velvety gown in burgundy with a broad V-neck and a knee-high side slit. She accessorized her engagement look with subtle jewelry comprising pearls and diamonds adorned in gold. We loved how she did her hair for the day. It was tied up as a messy bun with little strands falling on the sides. She completed her engagement look with a pair of silver stilettos which added the perfect sparkling of glamor. If you are looking for some inspiration on your engagement attire, click here for some fabulous ideas. In fact, you can also dress up keeping in mind the season of the year.
Sanchit looked dapper in a perfectly complimenting textured charcoal gray jacket with dark gray pants and a crisp white shirt. He finished his engagement look with a pair of gray shoes. The couple looked amazingly in sync, their colors perfectly complementing each other. We believe that the fall and winter months are perfect for trying out various colors in engagement and wedding photography. Jewel tones, seasonal colors, and festive elements look stunning and exquisite during these months.
Their lost-in-love expressions, the romantic deep colors, and the colors all around, all looked like a scene straight out of a storybook! Our Austin engagement photographers captured their chemistry brilliantly against the backdrops of lush greens and serene whites.
This Austin engagement photo session began with the gorgeous couple posing against the bridge. The pillars added a beautiful dimension to the background as the cityscape shone gloriously behind it. The photography looks as if it's a scene out of a Bollywood movie with the actor and actress dancing to a song! We are still swooning over this fantabulous moment captured by our Austin engagement photographers and don't think we'll be over it any time soon!
Anupriya and Sanchit struck beautiful romantic poses for their engagement session. Lost in each other's embrace while the cityscape peeping onto them from behind. Their photos are picture postcard-worthy as the colors of the couple are blending in with the lush greens and concrete grays in the backdrop. The lovely duo moved towards a rustic looking staircase and we are absolutely loving the vibe of it. It's a great mix of elegance and rusticity. They can't take their eyes off each other and we can't seem to take our eyes off them! The shape of the staircase added a unique element of asymmetry and geometry to the photos. And the abstractness of it all has given us some seriously unique engagement goals.
Anupriya and Sanchit also posed against the white wall - as simple as it can get - but the results are absolutely stunning! How can we ever recover from the whirlwind this color combination has caused in our minds? We are totally loving the vibe of the colors and greatly recommend it for fall or winter engagements. You could even incorporate these colors, especially burgundy in a fall or winter wedding for trendsetting wedding photography. We love the way our engagement photographers have captured Anupriya in a gorgeous solo portrait. She looks stunning and so-in-love! Love always brings a different kind of blush on your face, and that's beautifully visible on the bride-to-be's face.
The newly engaged couple decided to head for the lush landscapes and we can't hold back the romance in our hearts just looking at their Austin engagement session photos. The verdancy of the backdrops adds to the whimsy of the photos while the rustic walkway adds an earthy vibe. The background is lush with the glory of fall, various colors give a unique beauty to nature around. With colors varying from the lightest of greens to the darkest of browns, nature tells us it's time for a change. A new season is knocking the door, with new opportunities and excitement. And Anupriya and Sanchit's anticipation for great times makes these photos high on love quotient!
The couple explored the surrounding areas and posed effortlessly for our Austin engagement photographers while the nature around them worked its magic! With so many shades of greens as far as the eyes can see, the engagement photos are a soothing treat for us. As the couple posed against the huge bushes, some adorned with flowers, our engagement photographers captured all the intimate moments between the two and transformed them into memories that can take them back in time. We absolutely loved Anupriya and Sanchit's photo amidst the water fountains which touched the golden hour. While the water element adds a unique dimension to the photos, the lights around make them iconic. We loved the effect of the fluidity of water on this Austin engagement photography with subtle lights adding glitz from behind. Golden hours and night times give rise to many-an iconic photographs! See what we mean here. We also love the water element when it's added to photography especially when it's in motion, like the rain. If you're looking for ways to turn around a rainy engagement day, here's some inspo for you.
Austin is one of our favorite cities to photograph newly engaged couples. With 300 days of sunshine, Austin, the capital city of Texas, is a major hotspot for engagement sessions, especially carrying a spring vibe. From vineyards to luxurious hotel ballrooms to historic mansions to barns and ranches, Austin also is known as Violet Crown City and is filled with endless locations that excellently suit your taste and style and will make your celebration a memorable event!
This city is sprinkled with endless scenic outdoor engagement locations and quirky engagement locations and we have curated the perfect list to offer you a few stunning venue options to choose from! Are you planning to announce your engagement through some impactful and unique engagement photography? If you are looking for some engagement inspiration regarding the various engagement locations in Austin, we're happy to help! We have handpicked some of the most beautiful engagement locations in Austin to shoot your engagement. Take a peek to explore more.
Mount Bonnell in Austin allows you to enjoy a panoramic vista of the area's highlights: the city, Lake Austin, and the surrounding hills. Seated 775 feet above sea level, you'll see nothing but vast blue skies at this limestone height which is a prominent point alongside the Lake Austin portion of the Colorado River. Just picture that moment when you two are lost in each other while rolling tiers of densely packed trees are at your feet and our skilled Austin engagement photographer is capturing every moment! If you wish, you could incorporate various festive props for a fall engagement session. Click here for inspiration.
We absolutely recommend hitting this place around the golden hour! As golden hour gives way to dusk, the limestone and cedar reception pavilion with a 2,300-square-foot deck at the Kindred Oaks looks enticing with the ceiling fans and luminous sconces. Similarly, two waterfalls flank a gorgeous cedar and stone gazebo, that make a gorgeous focal point for the Kindred Oaks engagement photo session. You can see the city lights twinkling in the distance while enjoying a tranquil stroll with your partner. A few architectural elements that come in between give an artistic touch to your Austin engagement photos. You could carry various props to add a fun element to your engagement photos. Click here for some inspiration.
This is the perfect spot to capture the Austin skyline in your engagement photographs, with a simplistic feel of a park with a blend of contemporary and urban. We totally recommend reaching here for a breathtakingly Butler Park engagement photo session during sunrise. Also, the beauty of your engagement photos will multiply when captured at night when the cityscape glittering behind you and giving competition to the stars above them. Looking at the fountain at night is a lovely plus that makes for an interesting spot for some good engagement photography of you two while you both are adoring the park's lake. Summing it up, you won't regret picking this place for your engagement photoshoot. If you wish to include your furry little friend into your engagement photography, click here for some inspo.
Providing a unique and wide collection of extraordinary photo ops for couples with an adventurous spirit, this boutique hotel is a refined riff on Austin's music scene mecca. The dark and moody and effortlessly cool ambiance of Kimpton Hotel Van Zandt allows our professional engagement photographers to snap up some iconic engagement photographs while capturing the funky character of this proudly weird and wonderful city. Stroll arm in arm in front of the contemporary facade to include it as your backdrop or cozy up near the wood-paneled outdoor fireplace on the rooftop pool deck gazing at a striking skyline view of Austin. If you are planning to incorporate some spring colors into this indoor engagement location, you could take some inspiration from here. Or if you wish to have an engagement attire that perfectly suits the elegance of this place, you could take a cue from Maria and Laith's engagement session in D.C. - you can never go wrong with black!
As a perfect location for the Texas couple to announce their save-the-date, Le San Michele is the perfect blend of romantic and one-of-a-kind! It is a rustic, sun-bleached building where the Mediterranean meets Southwest. Moreover, the gorgeous decor is perfect for a beautiful and dreamy Le San Michele engagement photo session. You could keep it casual like how Yanni and Mil did or romance the place elegantly like Rebecca and Donnie. You could even incorporate the elements of your culture as Erica and Jen-Kei did in their Austin engagement session at the Seaholm District of Austin.
If you don't wish to venture out, you can even make your own home a cozy engagement location. After all, there's no place like home. Grab your doggo, and snuggle with your partner over a warm cuppa hot chocolate while wrapped in a blanket. Nothing says romance better than this. Or chill on your beg, with string lights adding to the whimsy as you both say cheers over a glass of champagne, announcing your engagement to the world! If you are a newly engaged couple based in Austin or its suburbs like Round Rock, Leander, Cedar Park, Lakeway, The Hills, West Lake Hills, Rollingwood, Bee Cave, Buda, Pflugerville, or various others, and wish for your wedding photography to have a touch of this quirky weirdness of Austin, Lily and Lime is the studio for you.
For more inspiration on engagement photography, check out our blog. Not just that, you can get ample inspiration for your future wedding as well, for instance, cozy backyard weddings, creative escort cards, warm tones for an autumn wedding, how should your fall wedding decor be like, how can you add jewel tones to your wedding, and so much more!