Month-End Wedding Resources: September 24th, 2021
September, 24 2021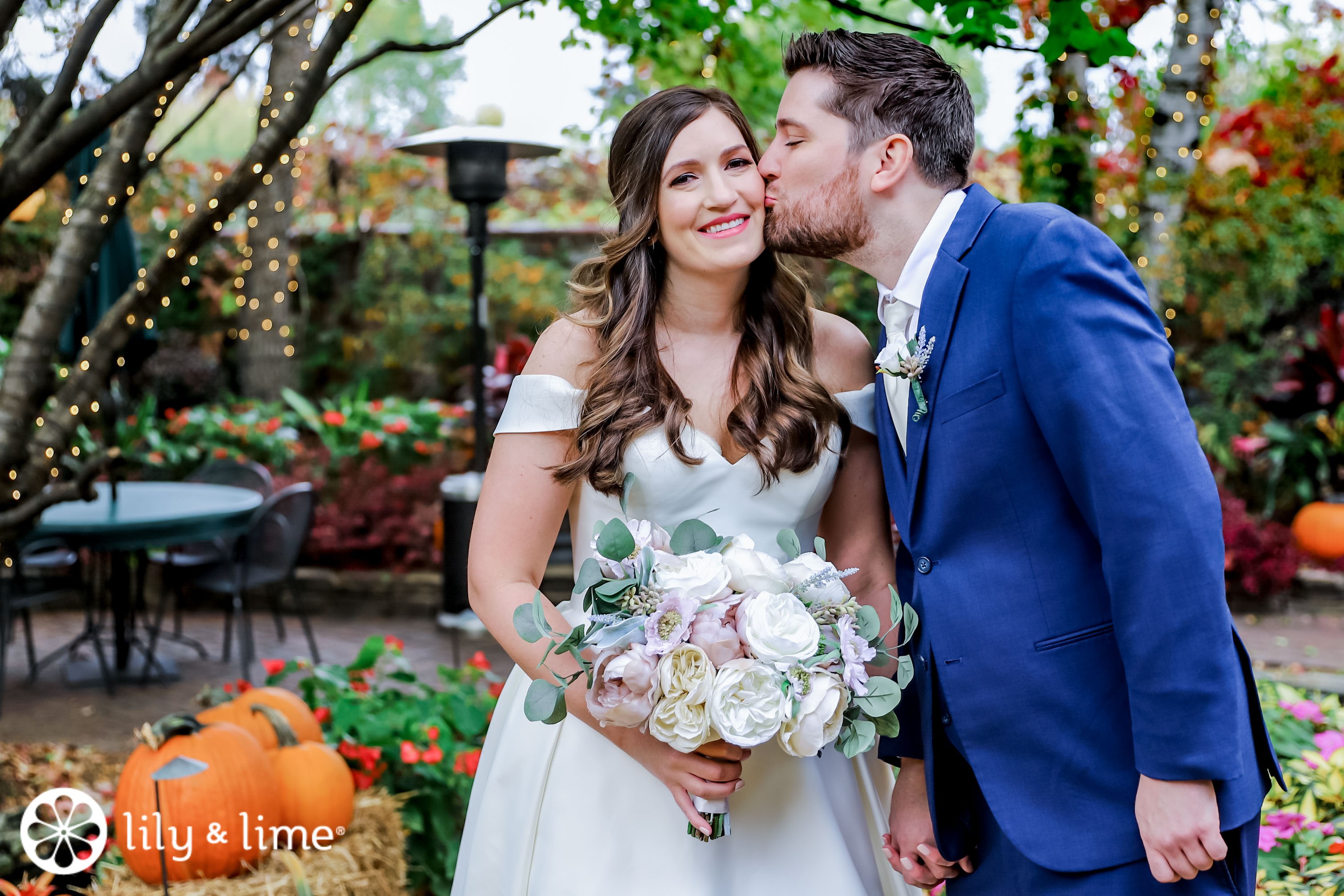 Autumn is here and we can just feel it in the air! The sudden smell of pumpkin spice and cinnamon coffee, throwing a party for the senses has officially dethroned the heat of summer with the spell of sweater weather. The sudden influx of assorted and unique fall wedding invitations and "save the dates" in your mailboxes and email inboxes are strong indicators of the most popular month for getting married. The quintessential fall fête engulfing us with changing leaves and crisper air, October being the start of the holiday season, brings the spectacular festive spirits to the table for celebrating new beginnings. And for all the brides who are planning a fall fête, this is your chance to go all out and all in and bask in this gorgeous season of love set in bucolic tones.
From the endless lists of seasonally-inspired décor of fall weddings to the possible off-season discounts, we have come up with some of the most useful wedding planning resources that you might want to read while planning your wedding. Ranging from adding sparkles to your cocktail bars and wedding dessert stations to some of the sweetest fall wedding cake trends that will be sweeping the internet next season, your wedding planning resources will be engulfed in the sheer gorgeousness and timeless wedding inspirations.
We all love glamorous sparkles everywhere as they can add a little effortless shine to every surface they touch. Sprinkling glitters throughout your wedding celebration can take your wedding details to another level. We aren't just talking about old-school glitter and sparklers. This next article from Green Wedding Shoes tells us how the new wedding trend of using glitters to sparkle wedding details, particularly cocktail bars and dessert stations is incredible. Glittery cocktail bars and sparkling wedding dessert stations filled with edible sprinkles of bright gleaming dust can be a great way to dress up your wedding food and drinks. For instance, the use of glitter can transform regular champagne glass into an Instagramable moment on your new year's eve wedding! Fancy sparkle wedding details are being used in almost every wedding idea as the use of glitter is trending in the wedding world. Glittery wedding details are fancy and using them to dress up wedding desserts and cocktails can call for a bit of magic in all your wedding celebrations from rehearsal dinners and engagement parties to wedding receptions and cocktail parties. For instance, winter holiday cocktails for your wedding can have edible glitters as a nod to the cheerful spirits.

Here's How to Add Some Sparkle to Your Cocktail Bar or Wedding Dessert Station
via Green Wedding Shoes
Who wouldn't love to take home a beautiful and thoughtful gift from a wedding to remember the beautiful day by? One of the prettiest things about weddings is wedding favors or thank-you wedding gifts for your guests which day can take home as a token of appreciation and gratitude. This next article from Green Wedding Shoes shows us how even the smallest trinket that fits with the wedding theme can not only signify the special couple getting married but also help everyone to remember the wedding in a beautiful way. Looking at a table full of leftover favors that none of the guests took home can be a real bummer! This creative list of unique wedding favor ideas that your guests are going to love and use can be the ultimate list you have been looking for. This list is all about your creativity and using it to surprise your loved ones with an expected gift to remember your wedding. Since micro weddings are still growing in popularity there might be an extra wedding budget to accommodate wedding favor ideas.

39 Creative and Unique Wedding Favor Ideas Your Guests Will Love
via Green Wedding Shoes
We couldn't have completed the list without mentioning our favorite wedding fall details! The fiery autumn color scheme and crisp cool air of the fall season make it a very popular time to tie the knot. And what can be more popular than serving fall-inspired wedding cake to your guests as a nod to the season of pumpkin spice and mulled wine. This next article from Martha Stewart Weddings takes us through a wide range of autumn-themed wedding cakes that includes fall flavors like caramel, nut, and maple as well as pumpkin spice and rustic wedding color palettes like red, yellow, orange, and green. The deep, warm, and shimmering shades of the season have been used in the dressing details and are induced as flavors in the decadent wedding dessert options.

49 Fall Wedding Cakes We're Obsessed With
via Martha Stewart Weddings
Stylishly dressing up your wedding tables can require a lot of homework! Filling up your wedding day with details that play both big and small roles like location, altar ideas, and seating options need strategic planning. And while planning your reception décor, the range of possibilities from the bar to the catering table settings, there are a lot of options for a couple to make a statement. Wedding flower details that can make a statement can start with swapping traditional floral centerpieces with something rustic or a more interesting, textured look, and command attention. This next article from Brides takes us through tree centerpiece ideas. From celebrating with citrus tree centerpieces for a summer statement to bringing the whole nature indoors by arranging short floral arrangements paired with tall incredibly textured statement pieces, this article is a one-stop-shop for everyone looking to create a statement with their reception tables.

20 Tree Centerpieces to Bring Your Reception to Life
via Brides
One of the most creative wedding stationery details are wedding guest books that are often included and reception plans. Typically placed near the gift table or the card table, wedding guest books are a great way to remember your wedding day and all the loved ones who became a part of it. Although it is known to be standard wedding stationery, you do not have to be part of the mainstream idea. You can bring in your own imagination and ingenuity to create a creative and personalized DIY wedding stationery and design a wedding guest book that looks amazing. From popular wedding guest book alternatives which couples can hang in their new homes to eco-friendly wedding guest book options like writing on reusable paper, there are many concepts when it comes to unique guest book ideas. This new article from The Knot takes us on a journey that elaborates some of the best tips for choosing guest book alternatives. From syncing the wedding guest book with your selected wedding theme to having good quality pens on hand to creating a balance between practicality and creativity, these pro tips for choosing an unforgettable alternative wedding guest book are amazing if you want to play with your creativity.

24 Wedding Guest Book Alternatives You've Never Seen Before
via The Knot
As strange as it may sound, but hosting a wedding without flowers is definitely possible. The choices for wedding blooms are incredible whether your bridal bouquet features a spring theme with dahlias and hydrangeas or cosmos in summer. With so many aesthetic flower combinations one can truly find a match for any wedding theme. But what about the wedding without flowers? It might be because flowers aren't your real thing or you want to incline towards hosting an eco-friendly wedding day. This next article from Brides takes us through some of the best wedding flower alternatives which might give you something beautiful to carry down the aisle on your way to say "I do" instead of a traditional bridal bouquet. As it is completely fine to ditch wedding traditions that involve flowers and opt for something more unique that will last longer and serve as a memento for years to come. This article showcases several bridal bouquet alternatives - from cotton flowers posing as wedding bouquets to silk flower wedding bouquets that are made up of entirely silk flowers in pretty hues of pink, coral, and white, the options are endless when you decide to have a flowerless wedding.

26 Alternative Wedding Bouquet Ideas
via Brides
Let the romance of the fall season be the reason to celebrate your union while smearing the most gorgeous shade of blush and romance. Whether you are looking to hire a professional to manage all the wedding plans or you are a DIY bride who would love to personalize your wedding to the littlest of extra details, we have something special and unique in-store for brides from all walks of life. From setting your wedding budget and constructing a list of wedding day priorities to determining the bridal style and organizing the guest list, in every step of your wedding planning session, we are here to back you up with endless inspirations. You will be faced with decisions and questions, and amidst this just remember your happy ending, the person who will be waiting for you at the end of every aisle you take in life. So get started for your weekend wedding planning session with a pinch of salt and a tray of 'drunken pumpkin latte', and do not let your queen crown slip!