Romantic Proposal Ideas At Home
March, 23 2022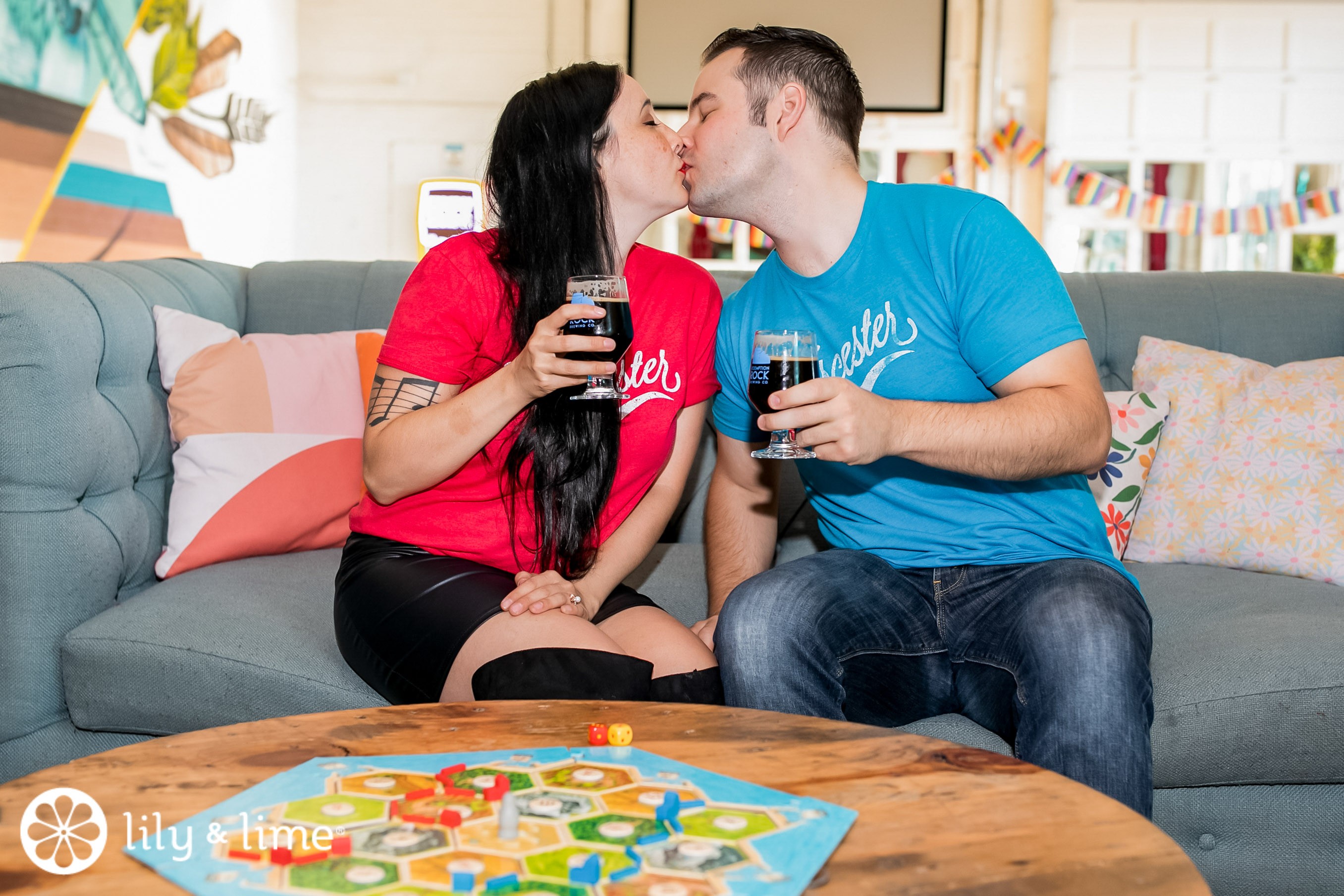 No one ever said that love is easy. But we all know that it is the best feeling out there; something that makes you feel more than alive. You can find it anywhere and everywhere – in a wordless conversation between strangers on a bus as they bare their soul out through their eyes. In the rocking chairs of an 80-year-old couple, creaking a love story older than them. In the hopes of a boy and a girl who've envisioned a world for themselves and jotted down every little detail in their 3 am conversations. Love is everywhere; in places, in people, in memories, and in the envisioned futures. All one needs to do is look, and maybe they'll smell it in the air or see it sitting in front of them in the shape of someone looking directly into their eyes.
And when you find love, whatever be your definition of it, it's advisable that you hold on to it. And what better way than to seal it with a nice romantic proposal. While romantic movies have led us to believe that love has to be these grand gestures, flying your sweetheart to exotic islands, scribbling the blue sky with the question, or asking in front of all your loved ones, sometimes the gestures don't have to be so huge, it just has to be heartfelt. Sometimes the emotions surge and bubble when you are in your comfiest best, at a place where your heart is at! Sometimes you realize your "forever" person is sitting right beside you, as you are watching Bachelor reruns and shoveling down chips on your couch with your sweetheart. Sometimes intimate and cozy is enough! If you and your sweetheart are homebodies and love to keep it low-key, laidback and simple, here are some amazing home proposal ideas from which you can get inspired. So take notes, lover!
1: The Extrovert Special: Organize a party at home and surprise them. If your significant other is an extrovert, and they love partying with people, then it might not really be a bad idea to propose to them during a house party. All you need to do is to come up with an excuse to organize a house party. Invite all of their friends (of course, make sure that you ask them who they want to invite), and some of your mutual friends. Order some pizzas or whatever you see fit. Once everyone is vibing and the party is at its peak, get on one knee and bring out the ring. You can also get creative and put the ring on their glass or hair, but there's always a risk of losing it during a house party. The idea here, however, is to make sure that both of you are in your senses while the proposal goes down. Thus, make sure that all of your friends and you've had only a couple of drinks. That way, your friends will witness it too and you'll have a lot of good memories during the proposal. It's the best way to surprise them with the proposal and make them feel good as they'll be in the limelight.
2: A Warm and Fuzzy Winter: How about a proposal by the fireplace? Nothing spells 'Romantic' more accurately than cuddling with your loved one in the blanket as both of you look into the fire burning in the fireplace. If you live in a cold region and it often snows, this might be the best romantic proposal idea for you on this whole list. After you propose, you can get all snuggly and cuddly in the blanket. It's perhaps the best feeling in the world; holding the one you love in the warmth of the blanket and your own, as it snows outside. Of course, you'll need to get something to eat and preferably some rum, to keep things warm. If you and your partner don't drink, hot coffee or tea would suffice too. In fact, any warm beverage will help you set the mood right. Make sure the lighting is proper, not too bright, and not too dark. It should just be dim enough to create a sense of warmth. If possible, try and get dark yellow light bulbs that don't glow too much. Set everything up according to your partner's preferences – if possible, you can watch their favorite movie too. Once the moment feels right, you can pop the question along with the ring. If executed perfectly, it can be one of the most romantic moments in your as well as your partner's whole life. After that, you can snuggle together and finish the rest of the movie. This kind of proposal will be something that both of you won't easily forget.
3: The Candlelight Dinner: A candlelight dinner in a fancy restaurant is nothing out of the ordinary. All you need to do is spend some cash and outsource all the work to the restaurant. However, creating a candlelight dinner experience at your home requires skill, dedication, and hard work. This proposal will not only be romantic, but it'll show that you care about your significant other so much that you can outdo yourself. A good tip – if you don't know how to cook, start by practicing your favorite dish a few weeks before the proposal. You can also join a cooking class. But just don't let them know, or they'll get a hint of what's to come.
Once you're well-equipped, cook a fancy meal – something that they like. Other than that, you can decorate the room with special lighting and have fancy cutlery at the dinner table. Ensure that there is some wine to keep things classy and of course, candles. You can take more inspiration for this from the internet and tweak it a bit to recreate an experience that will exclusively be for you two. A custom candlelight dinner at home can be far more romantic than a traditional one at a restaurant if done right.
4: Adrenaline Rush: Organize a treasure hunt and the reward can be the engagement ring. Of course, this proposal idea is more fun than romantic, but it's the best way to surprise them. If they don't expect the proposal, they'll probably be very surprised. So, it's advisable that you keep a chair near the reward as they might want to sit down. Apart from this, it's up to you how creative you can get with the treasure hunt. But also, don't make it too hard, so they end up giving up midway. That can ruin the whole experience. The best way to organize a treasure hunt is to leave clues at various places, and they'll have to follow a trail. You can also give them a hint if they get confused midway. Make sure that the ring is stored in an appropriate place and decorate that little space as much as you can. For instance, if you've kept it in the closet, decorate it with glitter and handwritten notes. Once they find it, you can pop the question then and there.
5: The Writer's Way – Poems, Haikus, Clues, and Blues: If you and your partner don't believe in the material and are often surrounded by books, then you might want to take a different route altogether. The first step is to find the perfect book that your partner will definitely love. Wrap it up and save it for later. Now, write them a heartfelt poem or story. The more time you invest in it, the more heart-touching it will be. Even if you are not a professional writer, then you can make an impact by being true to yourself and your relationship. You can make a game out of it too; for instance, a quiz. Then, you'll have to create a magical experience for your partner. Read them a book with some scented candles nearby. Read them your poem, and they'll probably know what's coming next. Most people who are into books and Literature really love a good build-up. Once you've read your poem or story, you can bring out the ring. Alternatively, you can incorporate a hint in your poem itself and your partner will probably figure out where the ring is. This way, you'll have more creative control over the experience that you end up creating. Just make sure that you keep it a bit romantic and not too intellectual.
6: The Afterparty Cocktail Special: The afterparty cocktail special is completely different from any of the romantic proposal ideas mentioned above. It's a bit similar to the house party one, but there are no people or friends involved. All you need to do is buy a lot of booze for your partner and lots of food. Say what you feel for them in your heart, and wait for that much-awaited "yes". Once they say yes, you can bring out the booze and get the party started. Of course, don't drink too much, but you can just fool around and have the celebration of your life with your partner if that's the way you both like celebrating. Ensure that you have a music system too because you'll be wanting to dance a lot after downing multiple vodka shots lined with lemon and salt.
7: Family Get-Together: If you're on good terms with their family, and they're on good terms with your family too, you can just propose to them at a family get-together. It is not advisable for everyone as it can get a bit awkward. But if both of your families know that it will happen eventually, then you can savor this moment with each other's families. Organize a family dinner and pop the question then. But make sure that they'll definitely say yes. Otherwise, it can be very awkward. Get a little bit of wine and some good food. Once the whole family is done with the dinner and are at the same table, you can make a toast. Then, bring out the ring and make a gesture. If everything goes right, you will not only have a good memory of your romantic proposal at home with your partner but also with their family.
8: Put up a Performance: If your partner loves when you act a bit extra, then we have an amazing idea for you. This romantic proposal idea will require you to make use of your skills. If you sing, play an instrument, can act, or make something on a computer, do it for them. You can use this material during the performance and right after that, you can propose. For instance, you can act out a whole romantic play or dub a romantic movie. It's up to you how you want the performance to be. Do you want to keep it fun or do you want to make it somber and sober? Do you want to sing them a song with your guitar or do you want to play them a rendition of your own on a piano? You can even make a proposal PowerPoint presentation (but try to keep it funny). Alternatively, lead them into believing that you're showing them a PowerPoint presentation about your work and you want their advice. Now, make sure that the PowerPoint presentation gets a bit weirder slide after slide, and at the last slide, you can ask them to marry you. When it comes to putting up a performance for your significant other in order to propose to them, the creative potential is unlimited.
9: Photoshoot, Decorations, Pets, and Fun! A photoshoot doesn't necessarily have to require a professional photographer, or you can even get one! If you have a decent phone camera, you can do one of your own. Just make sure that you watch a couple of videos on the internet and know what you are doing with the camera, in case you're not that great of a photographer. You can pop the question over dinner and drink some wine. After that, you can do a fun photoshoot with your partner. If you want, you can decorate your house too and use props for the photoshoot. Apart from that, if you have a pet, include them too! This romantic wedding proposal at home will be unforgettable, literally, as you will have all the memories captured. The upside of this kind of proposal is that you can upload all the pictures on your social media pages too.
10. Game Night: If you and your sweetheart like playing games together, you could use this moment to propose. One alternative is to create a bespoke jigsaw puzzle, which will allow your loved one to see the question take shape as they put the puzzle together. You might also play a game of trivia together. Instead of asking "Will you marry me?" when it's your turn to ask a trivia question, say "Will You marry me?" Keep the engagement ring close by so you can flawlessly finish the moment. Another fun approach to propose is to use a Scrabble board, especially if you and your spouse already enjoy playing this game together. You can surprise them by putting letters on a new board so that when they open the box, they see the question.
In the end, romantic proposal ideas at home all stem from your own creativity. You will have to incorporate elements from your own personal relationship with them. That is something you cannot get on the internet. But you can use the aforementioned ideas to get inspiration and recreate these experiences according to your preference, whether it is with the fur babies, a game of scrabble, or an evening by the fire. Before you go forward with these romantic proposal ideas, make sure that you've thought everything out beforehand as the proposal stage is very crucial to a healthy and loving relationship.