Unique Ways to Incorporate Your Cat in Your Wedding
August, 10 2021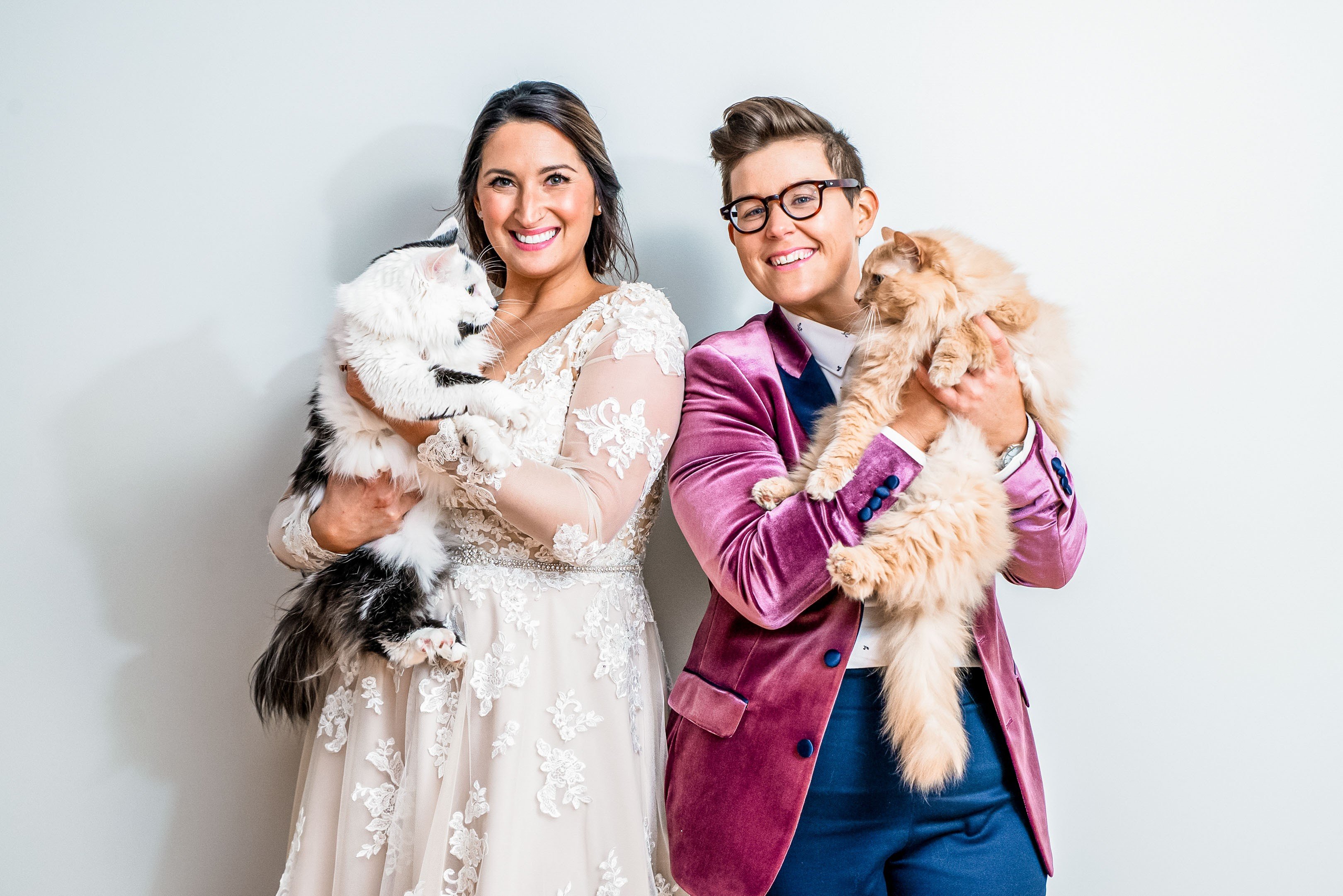 Who makes a better pet, a cat or a dog? This is a forever and ongoing debate that never ends with any kind of conclusion! No matter what four-legged baby you have, we are pretty much sure that you love them endlessly and want them to be a part of your everyday life and celebration! Well, this blog is especially for all those couples who own a cat and recently got engaged and have started planning the most beautiful day of their lives! Read on to know how you can make your fur babies part of your important and memorable celebration!
It's time that you should forget having a "man's best friend'' as your best man! Well, bringing your cat to your wedding day celebration will bring a huge amount of good luck, and there is no reason why feline fanciers can't have a bit of cattitude at their ceremony! There is no denying the fact that cats are a popular choice when it comes to pets! In fact, as per the American Veterinary Medical Association, on average, about 25 percent of the American households have these cute, furry felines as their live-in friends! Well, it is absolutely true that they are mischievous at times, and they might also love to lay across your keyboard while you are working or might be enjoying smacking things off your desk for no specific reason. But, trust us, if you ask, that is entirely a part of their adorable and cute charm, and that is one of the big reasons why we believe that you too love them so much!
Cats are indeed one of the best pets one can get! They are utterly sweet, quiet, and independent, and there is no doubt that after a bad or hectic day hearing a cat's purr can easily melt anyone's heart! Not only are they beautiful, stunning, and adorable (because seriously, they are so dang cute) they are also fiercely independent, curious, and loyal and can make an amazing lifelong partner for you or for your family! Just like cute adorable dogs, cats can do anything that dogs can… but always better! From cake toppers to "save the date" pictures to even being the showstopper of the bridal party, you can include your cat in any of your wedding celebrations!
So, kind attention parents of fur babies: In this blog, we have compiled some of the most incredible and unique ways to incorporate your cat into your wedding so that your beloved four-legged BFF makes it to your wedding celebration! There is an endless way to have your cat place a special role in the big day! And one of the greatest perks of bringing your cat to your wedding day celebration is that all the pet portraits clicked by our affordable and professional wedding photographers will be nothing but an incredible inspiration for the couples who are looking ahead to bringing their cats to their wedding day!
Before you consider the following pet wedding ideas, the very first thing that you need to take into account is your cat's personality and whether your wedding venue allows pets on their premises or not! There have been many couples who prefer to have their charming furry companions present for their 'I do' moment and then in the wedding reception! Have your cat, walk down the aisle with your lovely and gorgeous bridesmaids, or just if your partner owns a cat they can stand with the groomsmen as you both announce your love for each other in the presence of all your loved ones! You can get your cat dressed up for the occasion too! Give your cat a bowtie that perfectly matches with those of groomsmen or can also have your cat cut a dash in a cute little dress, so your cat can be an honorary flower girl!
In an ideal world, every couple wants to have their pet, looking nothing but stunning in a delightful miniature formal outfit and accompany them up the wedding aisle (because they are nothing but a part of their family, after all!), but there are times when it gets a bit overwhelming because pets at weddings pose many, many challenges, so couples usually are forced to get creative in how they will include those probable little creatures in their wedding day! If by any chance you happen to be getting ready at home for your big day, you can have your beloved cat appear in a few of your bridal photos without much fuss (just make sure you add this to the wedding photo checklist you give to your professional photographer!), but if not, a fun photo display or cake topper will do the trick and will make your wedding photo album a treat for the eyes!
No matter which route you are choosing for your big day, all you have to do is notify all your wedding vendors so that they can also help you in planning ahead and can also ensure a pet-friendly environment for your wedding day! From furry and stunning flower girls to kitty cocktail napkins, here are some of the best and unique ways to incorporate your cat into your wedding!
Play up the Cat Theme at Your Wedding
A cat-themed wedding is super dope that all your wedding guests will be left in great amazement! Trust us, you can really play it up to your cat-themed wedding in the best way possible!
There are various ways to bring in the cat theme to your wedding day decor! You can opt for centerpieces and make them look like giant yarn balls and "Hiss" and "Purrs" chairs for your wedding guests' seating arrangement!
Or you can just go to the flea-market chic, and you will be surprised with the options available there for your cat-themed wedding! Trust us, you would be surprised at how many vintage (and affordable) cat figurines and collectibles you can find at thrift and consignment shops. A little rummaging here and there, and — voila! — you have a cake topper and maybe a few centerpieces, too.
Wedding Invitations
One of the easiest and simplest ways to incorporate your cat into the wedding is to have them be a part of your wedding invitation! There are endless ways to include your cat in your wedding invitation. Either you can have a picture of you with your kitty or just a kitten picture on your wedding invitation! This will not only make your wedding invitation extraordinary but will also show your love for your beloved pet!
Walk Down the Aisle Together
Your pet is your all-time favorite and ultimate feline companion who has been there for you throughout all the thick and thin! So, why not have them accompany you when you walk down the aisle towards the love of your life? Adorn her in an alluring frock or even a bow-tie will work, and make her walk through the aisle with you and ask our talented and creative wedding photographers to capture beautiful candid pictures in the best of frames!
Ring Bearer
In most cases, couples usually put their dogs as ring bearers, but the great thing is that you can also try this with your cats! Making your cat your ring bearer will be a fantastic option as this will gracefully highlight in all your wedding photos that your cat is nothing but your family member and the other thing is that your cat will look utterly cute and adorable while doing it!
Well, you can also ask our professional and cheap wedding photographers to snap a well-timed photo of your wedding ring resting on your cat's nose or paw!
Incorporate Your Cat into Your Wedding Vows
Mentioning your lovely cat in your wedding ceremony or somehow incorporating them into your wedding vows will be one of the most romantic and loving ways to include your cat in your wedding ceremony! Mentioning your cat into your wedding vows not only means that you are committing to each other for the rest of your lives, but you are also promising to commit to your furry members the lifelong love and care for the rest of your life together!
Cat Stickers
You can garnish all the wedding favors with custom stickers featuring your pet's face! This way you will have a lot of DIY elements introduced to your wedding day decoration and your cat will be the main focus of your entire celebration (of course after you and your partner!).
Cute Kitten Bouquets
There is nothing cuter and eye-catching than cute little kittens! Pretty much nothing! Kitten bouquets is a new trend that you can introduce to bring your cat to your wedding day and set your followers' Instagram feeds on fire! Kitten bouquets instead of flower bouquets will surely leave all your wedding guests in great amazement and will have all the eyes glued on you!
Cat Wedding Cake Topper
This idea is nothing but incredibly unique and just ah-dorable! This is one of the unique ways to include your cat in your wedding day celebration without actually having them be 'in' the wedding! There are endless ideas and inspiration which you can consider for cat wedding cake topper options! From things like couple's silhouettes with pets on the side to cats as the people on the top of the cake, every option is absolutely out-of-the-ordinary! It is one of the best and very subtle ways of including your cats in the wedding day celebration while adding a loveable touch of animals, without going overboard!
Kat Koozie
Koozies, complete with an illustration of your beloved cat, will surely make for great wedding favors that, we can tell, all your wedding guests will love and actually use! For a more personal touch, you can add your and your partner's names on the other side of the koozie!
Pet Pocket Square
If due to any reason, your cat can't make it to your big day celebration, you can always find other creative yet adorable ways to bring them with you down the aisle! Your partner can have a customized pocket square adorned with a cartoon caricature of your cat that will help you and your partner to keep your adorable pet close to your heart throughout the whole celebration!
Cat Table Names
Cat table names are actually a genius idea to make your cat the center of attraction of your wedding day! There are multiple ways when it comes to cat table names! You can do different breeds as table names, or famous cats, or can even consider the trending "cat memes" for the table names! You can simply make your tables as a unique cat or pet-related as you want for your wedding day decor!
Cat Guest Book
Adding your cat to your wedding guest book theme is one of the funniest and amazing ideas! There are multiple ways to incorporate your cat into your wedding guest book. It can be anywhere from a simple sign with your kitten on it or even a cute cat-shaped guest book, there and endless unique ways to incorporate cats in your wedding guest book! It is surely a romantic and heart-warming gesture as everyone at your wedding will see this, and it is something that you will be able to keep long after your wedding day is over and cherish for the rest of your life!
Cat-Themed Jewelry
If your wedding venue does not allow pets, you have other ways to sneak them into your wedding (no, we don't mean physically sneaking your kitty into your wedding). We simply mean that you can have pieces that are important to you and that will remind you of your cat on your wedding day, like some cat-themed jewelry that gracefully goes with your wedding dress!
When we say cat-themed jewelry for your wedding day bridal look, we mean those cute little cat earrings, or a beautiful locket with a lovely picture of your cat around your neck, which will surely make you feel close to your cat on the wedding day! With these little accessories, you will actually be able to feel your cat's physical presence throughout your wedding day! Cat-themed jewelry for your wedding day is actually so unique because it is something that can be special only to you if you want!
There are various online destinations where you will find cat-themed jewelry for your wedding day like Meowingtons! They actually have a huge collection of jewelry that you can easily and gracefully pull off for your big day!
Props for Photobooth
Well, this one is as simple as it sounds! If you are planning to install a photo booth for your guests to enjoy every moment of your wedding day, then here is one thing you can do to bring in those catty vibes!
You can simply bring in the cut-out of you and your kitten or even a giant printout of your cat to pose along! By doing this, you will have too many DIY elements incorporated into your wedding day decor!
Cat-Shaped Cookies for Dessert
There is always a way to add a little something special to your treats and stand out amongst the ordinary couples who are getting married soon! As our modern-day brides are always up for something unique and out-of-the-box for their wedding day, they are ditching the wedding cakes and going for cookies or donuts or some other form of dessert for their wedding day! And brides who are looking to incorporate their cat into their wedding day can consider cat-shaped cookies! It is indeed a great option for doing something that is not traditional and will also bring your personality to life in the best way possible!
Thank-you Notes
Just like your wedding invitations, you can always incorporate your cats into your thank-you notes! There are endless cute thank-you notes that exist. All you have to do is find your perfect kitty version and once you have found it, voila, your wedding will be left in deep awe-ment!
You can add a picture of your cat as it will add a humorous spin on the traditional notes along with some personal touch!
There are buckets full of unique ideas to incorporate your cat into your wedding day! Even more than those mentioned above! But before you plan to bring your kitty to your wedding day, all you have to do is talk to your partner and family members to see what they expect from the day so that you can plan for that, or you never know maybe they also have some great ideas for your cat to be there in your wedding day!