Groomsmen Trends for 2022 Weddings
May, 13 2022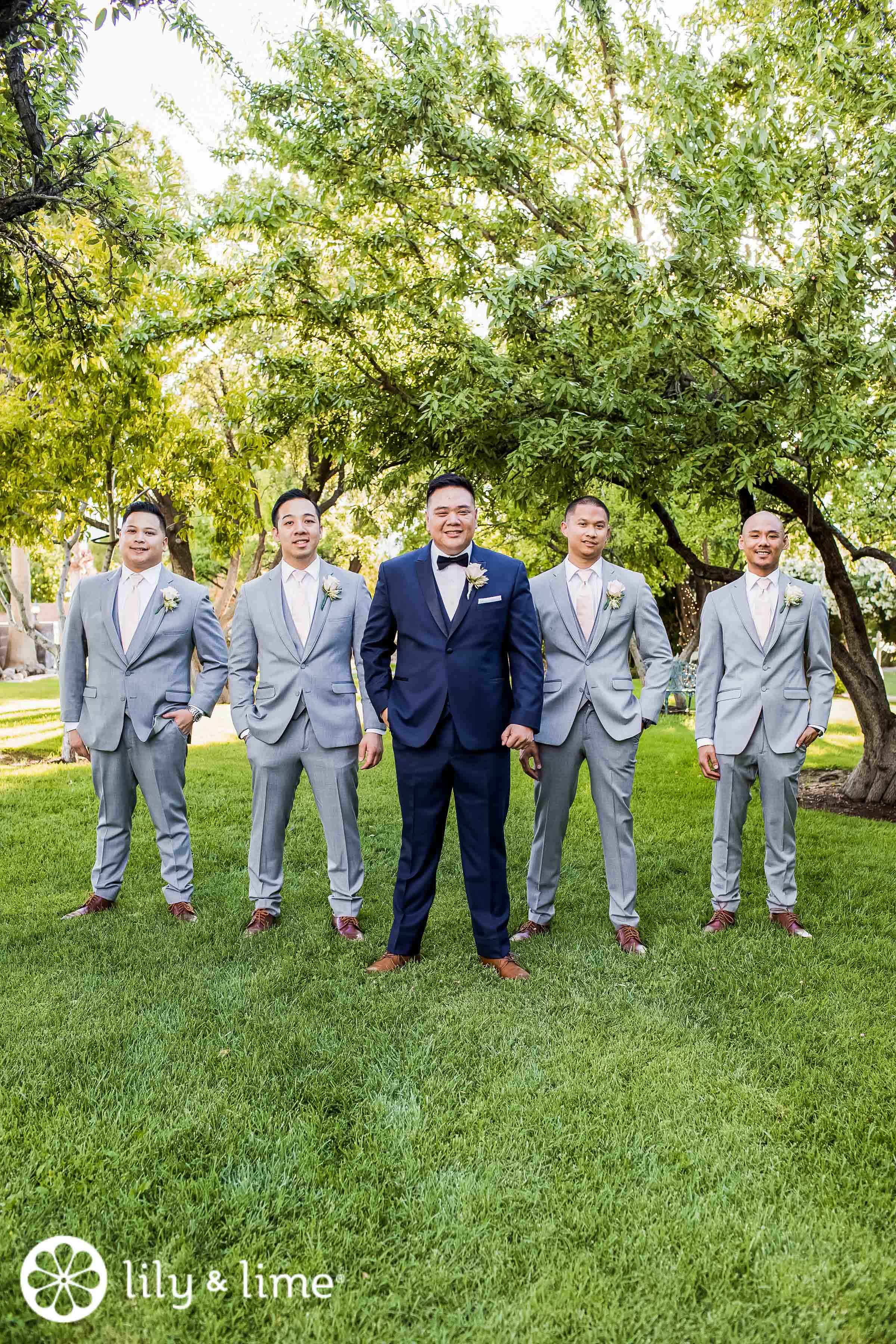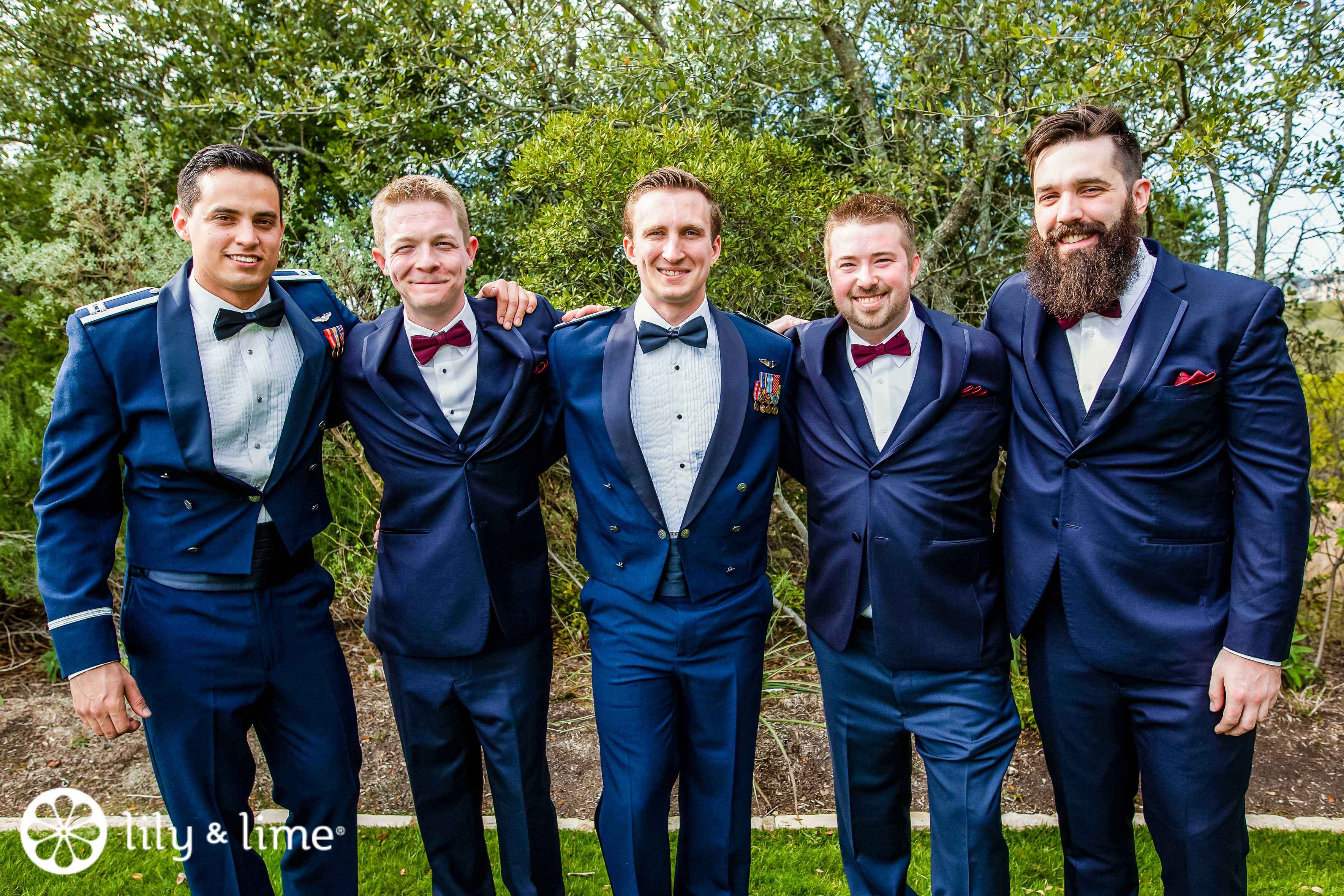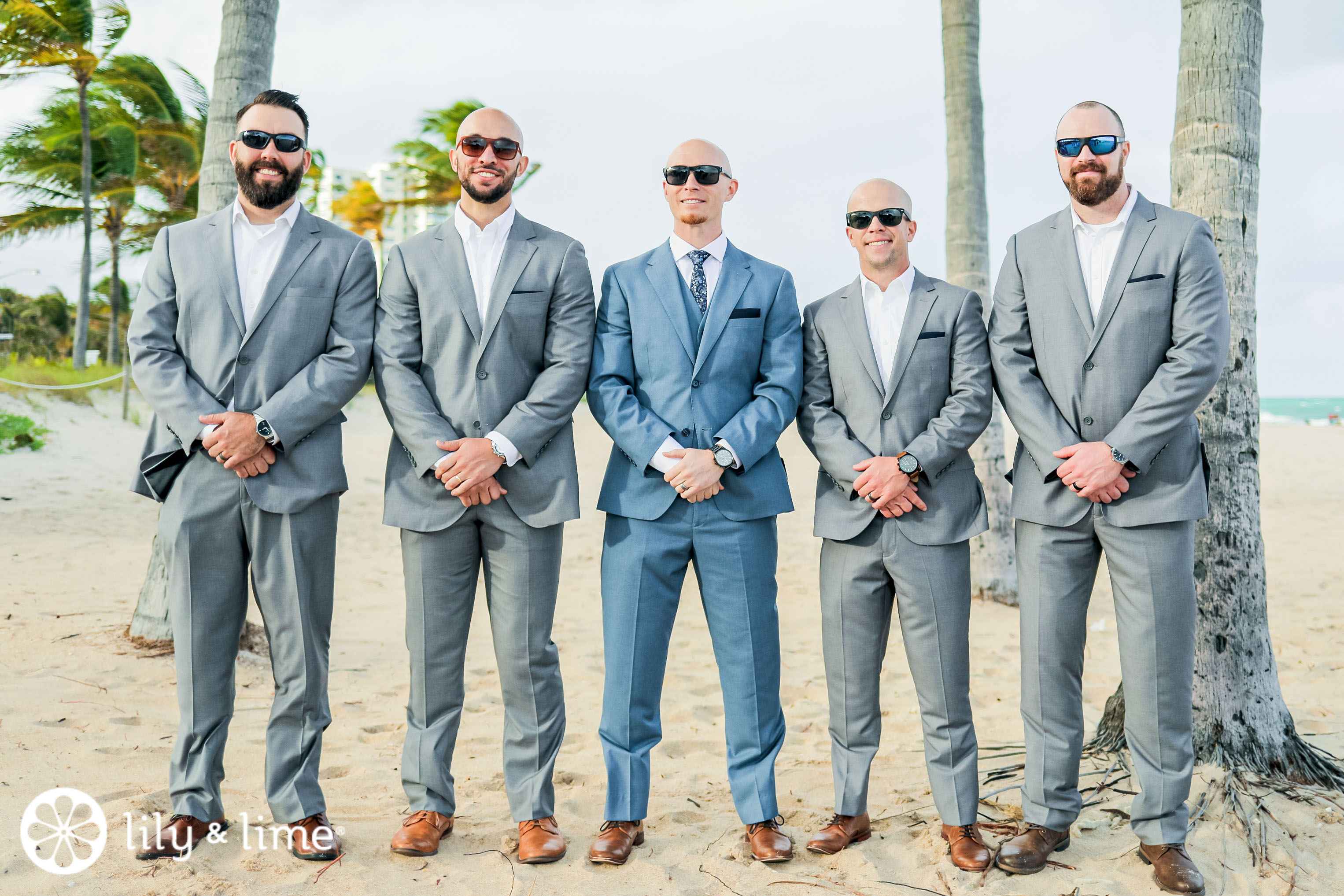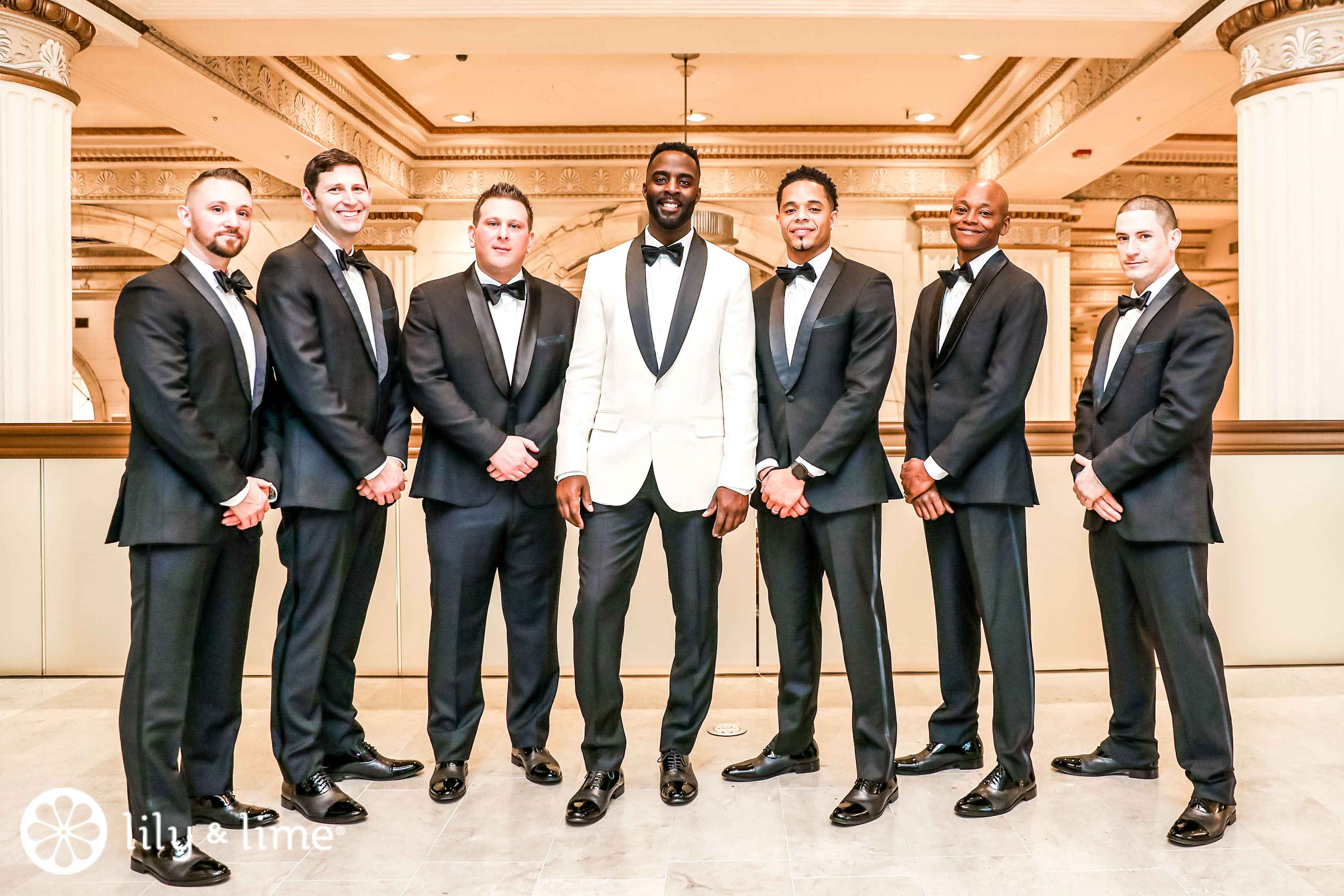 Once in a blue moon, we all stumble across a trailblazing groom and groomsman who go all out with their look on the wedding day making a unique and remarkable statement. There are times when groomsmen have chosen to wear a velvet jacket or a suit with bold floral, making a stunning statement that is perfectly highlighted in all the wedding party photographs. But, over the years, we have learned and observed that the majority of groomsmen are looking for a stylish suit without being flashy and over-the-top. And that is why we have come up with our list of the biggest groomsmen trends for 2022 weddings so that our groomsmen can also enjoy their share of attention on a wedding day! We have made sure to select styles that handsome groomsmen will feel comfortable, and confident in while wearing and walking around in style. As there is no denying that groomsmen's wedding attire has come a long way over the past couple of decades, and formal wear, in general, has become much more modern, chic, and yes, approachable! Today's groomsmen are talking about the control of wedding day trends, they choose to wear something that showcases their personality style while making them look exceptional and charming!
Simplicity Will be the New Style
Simplicity is something that never goes out of style. With big, luxurious, loud, and extravagant weddings going out of season due to the current COVID-19 health crises, our handsome groomsmen are now choosing simplicity over anything! Simplicity always shines bright and makes a remarkable statement on the wedding day. These days groomsmen are just ditching the all-out tux and going for luxe for simpler, lighter, and breezier outfits. Seeing groomsmen in simple and chic attire will surely make a wedding portfolio look incredible and stunning.
Classic Geometric Knitwear
Geometric knitwear is something that is in fashion these days. From brides to grooms to groomsmen, this fashion trend is being liked and chosen by all. Groomsmen will be rocking geometric knitwear instead of traditional wedding wear and will make a stunning statement not only in the fun-filled wedding party photos but will also rock the wedding photos where the groom is posing with his handsome men! Apart from being classic and in trend, geometric knitwear makes a whole lot of sense from a practical point of view. If the couples have decided to have a classic winter wedding celebration, then knitted jumpers in graphic design and striking colors will be nothing but just a perfect groomsmen trend that guys will love wearing not only to keep themselves warm but to rock their wedding day groomsmen look!
Being Bold is the New Charisma
If we are pretty sure about one fashion trend that is not going anywhere anytime soon and will continue to trend flawlessly even into 2022 is the bold aesthetic. This stunning and sensuous fashion trend is an ideal choice for our handsome groomsmen who just wanna look heart-throbbing on their wedding day. In this statement-making category, groomsmen will find charming suits and dinner jackets in mesmerizing and eye-catching patterns like paisley and jacquard. Well, if you are a guy whose tastes lean a bit more into traditional than whimsical, you can consider grounding a printed jacket with elegant and simple black evening trousers. Trust us, this combination when worn at a wedding will surely leave all ladies in the audience spellbound. This combination is best either for summer, spring, or fall weddings.
But, if it is a winter wedding that you are supposed to attend and want to leave a remarkable impression, then you can consider getting dressed up warmly and distinctively, by going with velvet jackets and tuxedos to strike out the perfect balance between bold and classic.
Earth Tones and Soft Neutrals are Big Groomsmen Trend in 2022
With so many trends in the wedding celebration, these days outdoor wedding venues are growing in popularity as the majority of newly engaged couples are choosing open and spacious locations filled with endless greenery to have their wedding celebration. Apart from endless wedding photography opportunities offered to professional and affordable wedding photographers at these kinds of locations, there is a lot to work around when it comes to having an outdoor wedding ceremony. As outdoor wedding ceremonies and wedding receptions are gaining popularity, with that, comes new trends in groomsmen attire. To complement a wedding theme, decor, and surroundings in the best possible way and also to make a remarkable statement on the wedding day, groomsmen are going with the rich tonalities of browns and tans, off white/bone, and olive green for 2022 weddings! Earth tones and soft neutrals are making a huge and most desired fashion trend for groomsmen for 2022 weddings.
Well, there is no denying that the classic black tux will forever stand the test of time, but neutrals are definitely on the rise when it comes to the groomsmen trends for 2022 weddings. These kinds of men's attire encourage groomsmen and grooms to step out of their comfort zone and go for the nontraditional and chic soft neutral look on the wedding day while making a huge and enchanting statement.
True Blue Always In Trend
Just like the always-in-trend black tuxedo, one can never go wrong with a classy and elegant blue suit for a wedding day. No matter whether a groom is wearing it or his groomsmen, slipping into a blue classic tuxedo will always leave everyone in the audience feeling mesmerized. Since the lovely shades of blue run the gamut from tried and true navy to bold and bright royal, if you are a groomsman who has chosen to wear a blue tux for a wedding, we are pretty much sure that you would be hard-pressed to find a suitable blue suit that does not speak to you in the best way possible. Another great reason for going for the shade blue is that it is indeed a great alternative to black for a fall or a winter wonderland wedding as it is soft and perfectly plays with a wide range of colors. For groomsmen, blue suits and tuxedos look especially sharp in the wedding photos and are typically flattering on every skin tone. So, all the groomsmen out there, go for this shade and witness ladies losing their hearts for you the moment you will make a dramatic entry into the wedding venue!
Getting Personal with the attire is Also a Great Way to Create a Trend
For all the charming and alluring groomsmen out there who are in love with classic aesthetics, it is always a great idea to add accessories to the attire to give it a more chic and classy look for the wedding day. Adding some accessories is indeed a fantastic way to inject some flair and personality into your overall groomsmen's wedding day look! No matter what you are adding, it will surely elevate your look and make you appear charismatic in all the wedding party photos. Whether you are planning to go with a lovely floral boutonniere, a pocket square, or some whimsical cufflinks, there are some unique and chic ways to accessories and light up a traditional tux or suit making it more attractive and trendy for a 2022 wedding.
The Return of the Three-Piece in 2022
Gone are the days when three-piece was not considered a great fashion trend. This timeless fashion trend is making its comeback again in the year 2022. The ultimate classic three-piece suit-jacket, trouser, and matching waistcoat is indeed an elegant and elevated choice for a formal wedding when it comes to trendy groomsmen attire for 2022 weddings. Elegantly sophisticated and gracefully refined, a three-piece suit is just perfect for a groom and also for his groomsmen who have a penchant for traditional formal attire and want to rock the look while keeping everything very subtle and simple. That being said, there is no denying that a three-piece suit can gracefully evoke a sense of old-world charm, there are plenty of styles on the market that perfectly feels fresh, modern, and always in trend, especially when done in dark, solid colors. It is a great choice for summer, and spring weddings!
Bold Pops of Color is Just Wow!
Talking about groomsmen trends for 2022 weddings, then here is one thing that we wanna tell you! Color is back in a very big way when it comes to wedding trends in 2022. Not only in floral decor, and all the general wedding aesthetics, but it is gaining popularity in men's fashion trends. Groom and his charming groomsmen are going for suits in various tones of blue from medium to dark navy, deep greens, and also burgundy/purple hues. Well, there are guys out there who prefer these same shades, whereas there are others who prefer to tone it down with navy or black pants and allow their blazer to steal the show and also the hearts! Men's fashion does not end here with an elegant tux or suit, but the groomsmen accessories and shoes are also of utmost importance when it comes to groomsmen trends for 2022 weddings.
Pocket Square Boutonniere
Why should brides and bridesmaids have all the fun when it comes to weddings! Wedding accessories are not only limited to brides and their lovely and gorgeous-looking bridesmaids. Our grooms and their handsome groomsmen can also get playful with wedding accessories. Just like bridal accessories, there are options available for groom and groomsmen wedding day accessories. The options are indeed limited, but yes, they are alluring. Boutonniere, pocket square, or both? Groom and all his dashing groomsmen can consider going for both options for the wedding day. The pocket square boutonniere moves the floral accessory from the lapel to the pocket, creating a unique look that is not only fresh but is also fun, stylish, and charming. All at once!
Micro prints are a Big Yes!
It's not only us or our professional and budget-friendly wedding photographers, we think everyone just loves an oversized pattern (we are pretty sure more on that to come!), but miniature prints are due to have their moment in the sun in 2022! These adorable and chic teeny tiny patterns add instant luxury to a groomsmen's wear look. This fashion trend is one of the most wearable trends for 2022 weddings, as we are thinking they are going to be everywhere. Appearing on jackets, ties, trousers, waistcoats, and everything in between, this men's fashion is making a great appearance in 2022. To rock this look most stunningly is to keep the rest of your outfit look simple and subtle. Like, if you are planning to wear a microprint blazer for your dearest 2022 summer wedding, you can consider pairing it with black color trousers and a waistcoat to rock the look!
A Sexy Tailored Fit is every Groomsmen's Choice for a Classic 2022 Wedding!
When it comes to groomsmen's fashion trend for 2022, slim-fit suits are being too popular amongst grooms and their groomsmen. And in 2022, it is going to be all about the classic and sexy tailored fit. Yes, we are talking about a snug yet comfortable fit that gracefully tapers slightly at the waist and ankle giving a perfect gentleman look. The resulting look is absolutely neat, sharp, and just a little bit retro. Trust us, with this kind of groomsmen attire, there are 100% chances that girls will be wearing their hearts on their sleeves. Need some inspiration for the look, then look no further than Don Draper in Mad Men and you will be on the right track!
Final Thoughts!
2022 promises to be a year full of hope, great fashion and wedding trends, and also the year when all the uncertainties will go away! Hence, weddings are returning to being extravagant, fun, playful, and creative. Here are some of the biggest groomsmen trends that are going to be huge in 2022. We hope that we have helped you gather all the scoop on what styles will be trending, what is going to look hot and fabulous, and what won't fit in a trendy wedding that groomsmen are going to attend this year. So, all the groomsmen out there, let's get set to go and dive right into the details, shall we?