Summer Suiting for Your Groom
May, 13 2021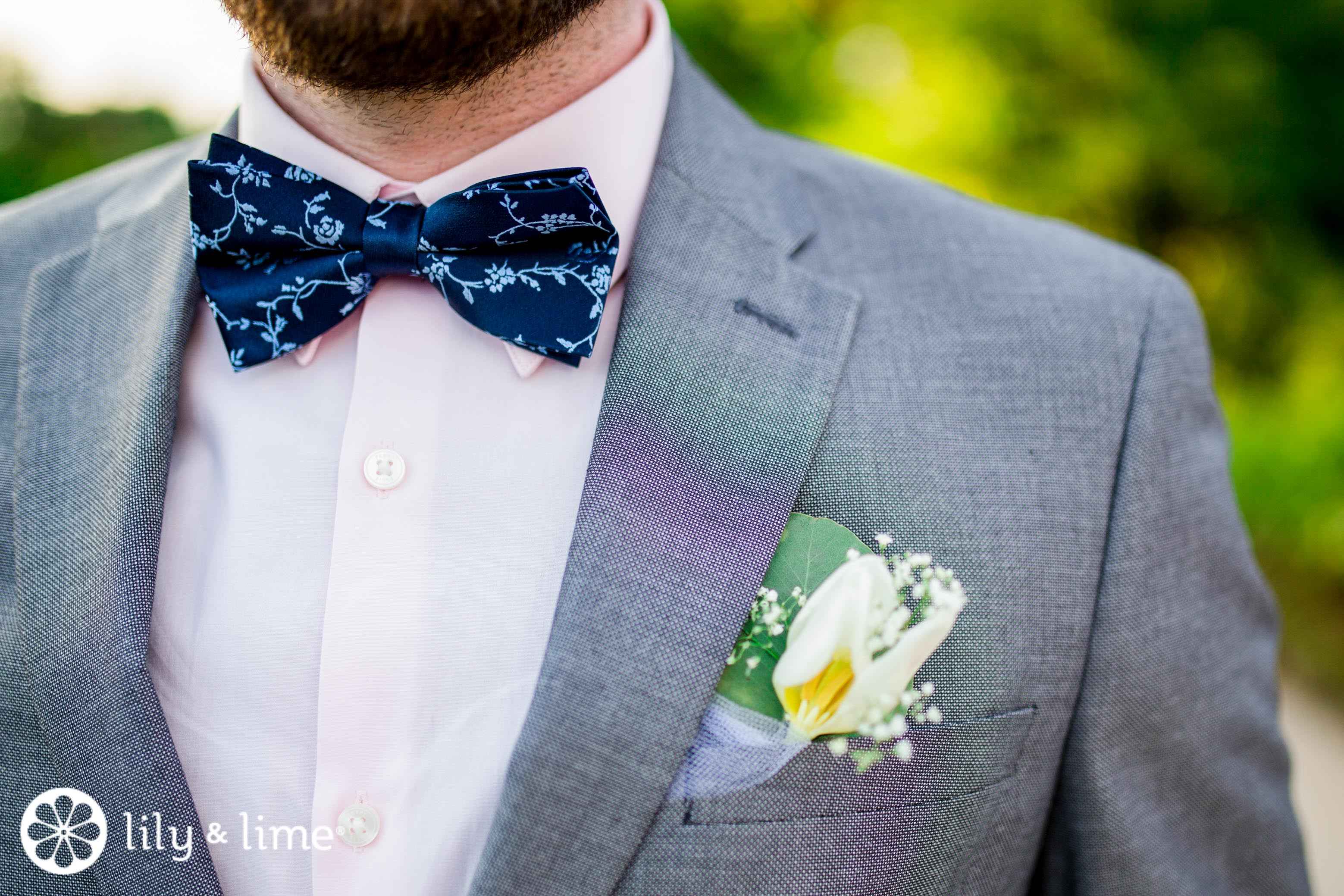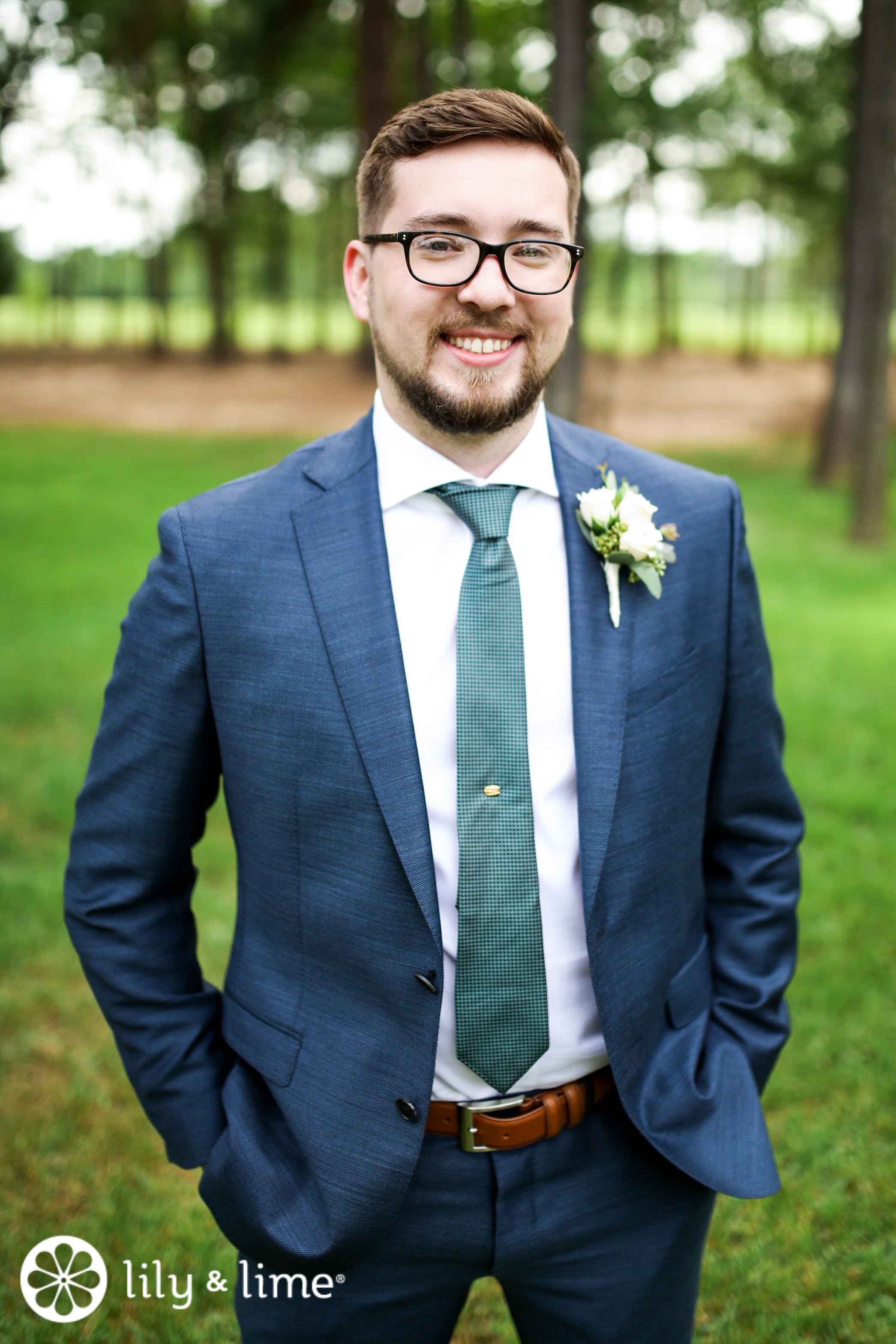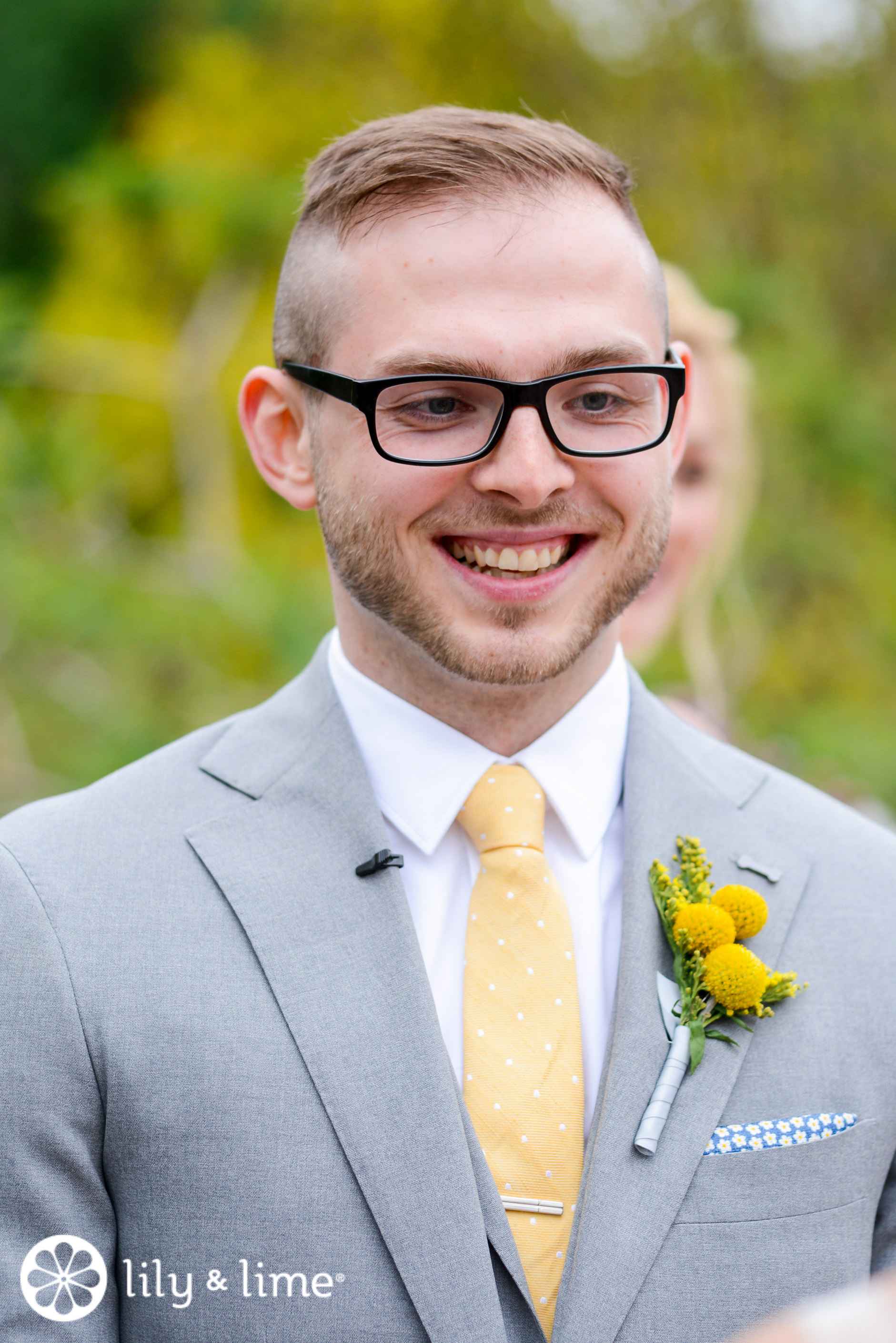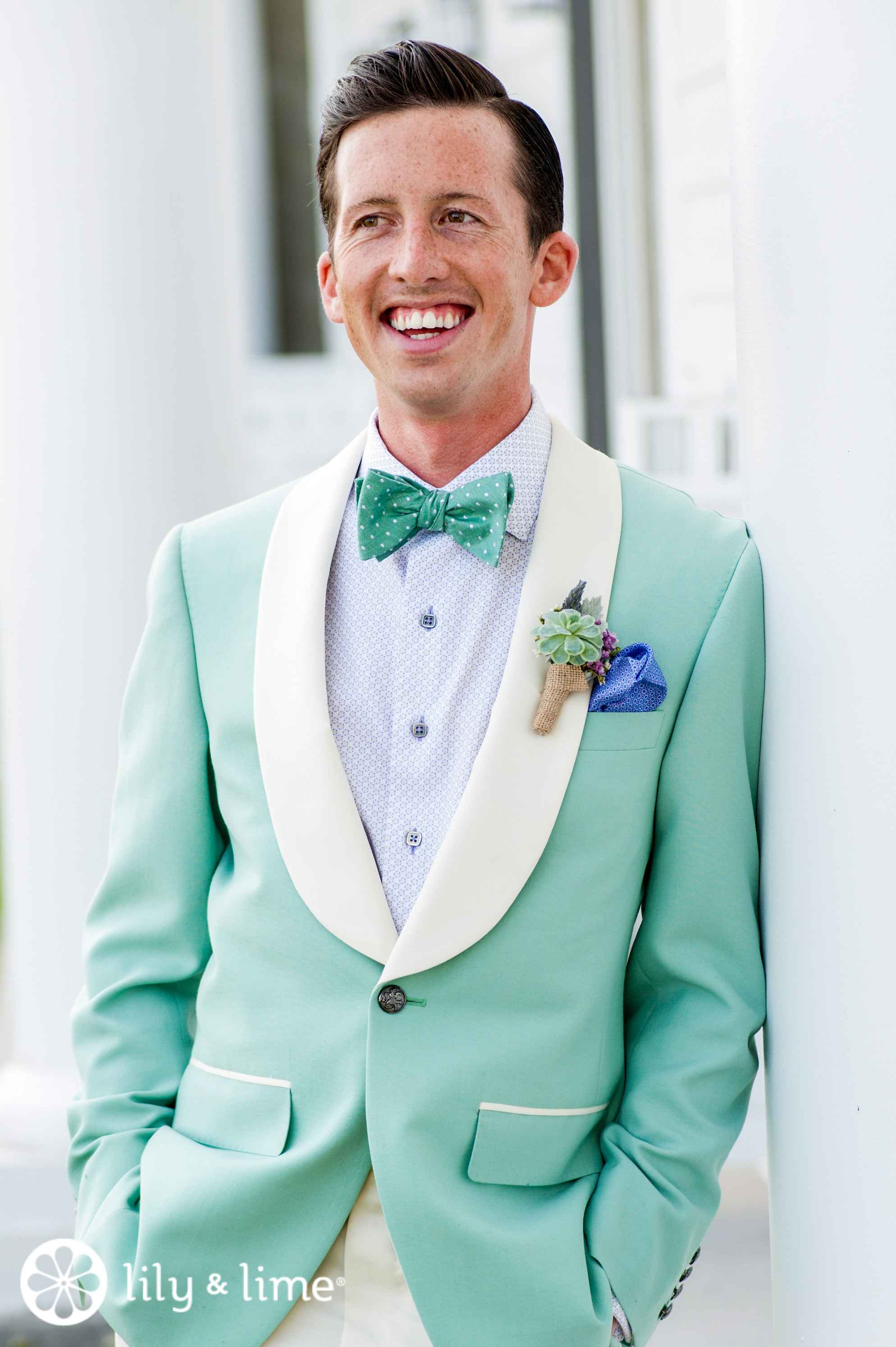 There is a reason why summer is the most popular time to tie the knot! From implementing fresh and blooming floral ideas and colorful reception decor details to introducing your guests with light reception bites and creative signature cocktail ideas, summer weddings are a sight to behold when everything around turns flowering and bright. When we imagine sunny nuptials, our minds quickly wander off to people dressed up in summer wedding attires, sitting under shading canopies, and sipping popsicles in Prosecco and edible flower garnished Cosmo! A summer wedding is a perfect occasion to be outdoors and dress comfortably while enjoying the best of what the season has in store. Just like weddings in any other season, the wedding attire of the bride typically gets the sartorial spotlight, but a summer wedding equally offers the best chance to a groom to don an elegant boutonniere and take his casual groom attire style up a few notches and shine fairly as his partner on their wedding day.

Men's casual summer wedding attire also depends on where the couple is getting married or the choice of wedding theme for telling the love story. Choosing the perfect casual wedding suit out of all the trendy summer groom suits will definitely require a certain level of homework. From reflecting your personality, the wedding location, and the vibe, your choice of casual wedding attire for the groom should most likely evoke a more casual aesthetic or the poppy and colorful side of summer aesthetics. We have rounded up some of the best wedding suits for groom and groomsmen for summer weddings along with a comprehensive guide or rather a rulebook for choosing the ultimate groom and groomsmen attire for unforgettable sunny nuptials.

Our favorite summer suiting ideas for your groom:

Light and breezy wedding suits
Wedding groom suits made out of light and breezy fabrics like cotton and linen, which do not require a tie or boutonniere to complete the look are perfect for summer weddings. Black and navy blue groom suits are considered to be classic choices but since these color combinations are known for retaining heat, light-colored wedding suits especially in light pastel shades like powder blue, light pink, mint green, cream, gray and beige are considered to be perfect ways to keep cool at your summer wedding. These light men's summer wedding attire ideas can be completed with styling techniques like no tie and desert boots.

Bold colored looks
Colorful and bold blazers are a great groom look for outdoor weddings. Modern grooms are embracing colorful looks and summer seems to be the perfect season to go bright and bold. Some of the trendiest groom looks display colorful flashes crossing over the divide between formal and casual, like grooms wearing pants in bright pinks, oranges, blues, and greens paired with solid light shaded shirts in white, cream, and light beige. Choosing contrasting colors or complementary shades in the same color family is the perfect choice of casual wedding attire for bride and groom in summer weddings. If your groom is not confident enough to wear a suit in the bright tropical shades, you can incorporate pale colors, such as gray, sky blue, or lilac, paired with a poppy accessory like a bright pink tie or neon boutonniere or trendy patterned groom ties, which can keep any groom's attire looking light and airy, stylish and practical, without looking overwhelming for a summer wedding. For a groom with confidence and swag, rocking the summer wedding look with a unique and colorful suit is the best option, not only because colorful outfits are on-trend, but also because they are a pretty good barometer of where groom fashion and formalwear is heading. Bold and solid-colored wedding suits are also perfect for a formal summer wedding without giving away a traditional formal black tuxedo look.

Stone colored suits
Probably one of our favorite grooms and groomsmen suits ideas for summer weddings, stone-colored suits especially in linen fabric will have your partner and his best friends looking and feeling cool. One of the most popular and classic groom attire options for spring and summer weddings, the timeless gray suit is a great one because it's not too flashy and it is considered to be the sedan of suits! If you want to forgo the jacket, do it. Ditch the traditional groom jacket and simply pair it with a stone-colored waistcoat with trousers or rock braces, shirt, and bowtie. That doesn't mean that it needs to be a boring summer wedding suit choice, as you can go crazy with your choice of accessories and add some suspenders and a bowtie to keep the look smart or even roll your sleeves and undo the tie for an ultimate relaxed reception look. Perfect for laid-back themed outdoor and garden parties, this summer groom look can also include short sleeves as it is not a castle or grand ballroom affair.

Tanned suit
If you're exchanging vows under the summer sun, things can get pretty toasty. And if going bold and bright is just not your thing to look stylish and cool on your big day, an old-school tanned suit or trousers and waistcoat will look gorgeous especially when mixed with a splash of summer details like rolled-up sleeves and loosened ties. The earthy and neutral tones can be perfect for a backyard wedding, a wedding on the mountaintop, a summertime beachside wedding, or even a good choice for a perfect fall engagement session. It is one of the most trending grooms looks for 2021 as the neutral undertones play nice with any color combinations, especially with the bright wedding colors that are popular this year. Like tuxedos and formal suits are considered the gold standard for black-tie weddings, a chic and sophisticated tan suit is considered a nice change of pace for casual vows. It is also a perfect idea for groomsmen attire as it will make your gang of groomsmen stand out in a sea of black and white, and give you the perfect opportunity to pose for incredible and memorable groomsmen photos.

Floral and chequered wedding suits
Wedding suits with patterns like plaids and pinstripes are a way to dress down a wedding suit without being overly informal. But a Hawaiian print wedding suit or a wedding suit with floral and chequered prints are sure to show your guests your groom's style and personality. Perfect for highlighting the husband-to-be in your summer wedding, the casual and bold floral, checked and striped wedding suits when paired with a coordinated waistcoat or a contrasting patterned tie will turn your vehemently casual and informal look into something trendy and romantic. There are several options like lightweight silk knitted ties or a patterned dress shirt, to tone down the informal and cheeky look and create subtle textural differences, that make your outfit look premeditated.

She just said yes to the magical proposal and you are looking forward to a memorable wedding! Now it's time to find the most popular casual wedding attire for men that can inspire your 'trendy groom look' for the big day. Gone are the days when grooms used to wear traditional dark suits in dark gray, navy, and black regardless of the season they were getting married in. Modern grooms are more experimental in nature and love to get inspired by trendy wedding day details for men. While many old-school and formal wedding suit rules are being broken, modern-day grooms love to ditch traditional groom suit ideas and instead enrobe a light blazer and trousers, or skip wearing a jacket altogether and simply rock a shirt paired with a waistcoat or braces. Whether you are looking for floral blazers as an inspirational beach wedding attire for grooms or double-breasted vintage suits that is straight away inspired by the '60s and '70s, take the opportunity to focus on creating your presence at the wedding by following some of the basic rulebooks to find the perfect summer wedding suit that can inspire your summer wedding.

Basic wedding etiquette for groom dressing:

Understand the theme of your wedding
Your groom's wedding attire should be appropriate for your venue, season, and overall vibe of the entire celebration. In the case of daytime or an outdoor wedding in the summertime, go for something more casual like poppy colors and chequered prints suits, and in case of all the evening wedding celebrations, you can go for a light or pastel color tailored suit or a tux. Determine whether your wedding is going to be super traditional, black tie, casual, or trendy, and dress accordingly. Once you know the vibe and theme of the wedding, get into the specifics about how you exactly want to look. There are options and choices in different styles, colors, and patterns to choose from, along with alternatives ranging from herringbone or plaid to navy blue or red.

Co-ordinate and match with your partner
Whether you are looking for a perfect fall groom attire or something casual for your beach wedding, know exactly what your partner is wearing and work your styles together to match each other. Your wedding may be the first and only opportunity to show off your sense of style and reflecting your unique personalities as a couple is crucial on your wedding day. For instance, if you decide to show up in shorts and a striped T-shirt for your casual wedding and your partner dons up a beautiful and vintage cathedral train wedding dress, you might give away a very confusing look like a 'newly married' couple on your wedding day, and these are some of the biggest wedding attire mistakes that you should avoid. Wearing a tailored tan suit to match with her rustic lace gown for your bohemian wedding in the summertime or a streamlined city-chic gown with a slim-cut gray suit in a black-tie setting will look more ideal and appropriate.

Matching with your groomsmen
Your groom and his gang of best friends should be able to create some of the most timeless groomsmen wedding photos on your big day. Traditionally a groom used to wear the same attire as that of his groomsmen, but with changing times and ever-evolving fashion, couples are experimenting and bringing new things to the table when it comes to wedding fashion. Just like bridal attires are matched with bridesmaid dresses, your groomsmen outfits should match in style and feel with yours so that the whole wedding party has a cohesive style to create group photos that look straight out of a runway fashion magazine. You can also aim to pair your groomsmen style to that of the bridesmaids, and the options for coordinating the wedding party outfits are truly endless.

The fit matters
The key to looking sharp on your wedding day is dressing according to your unique body type. Once you have selected your wedding suit, make sure the tailoring is done up to the mark so that you not only feel comfortable but the wedding suit also complements your body type. There are three types of suit fits - classic fit, slim fit, and modern fit. Choosing a wedding suit according to the body type will make you feel and look confident. For instance, you can go for a double-breasted wedding suit to add bulk and look broad and try a fitted suit with a little bit of a nip in the waist to give the impression of a leaner silhouette. Classic suit fit is usually less constructive and more comfortable and allows more room for movement, whereas slim fit wedding suits are considered to be typically trendier and associated with European cuts. A modern fit is a blend between slim fit and classic fit and can complement every body type.

Accessorize your groom outfit
Accessories can make or break your groom's outfit! Styling your groom and groomsmen's look will help you to achieve a totally unique look for your big day. From spicing things up by wearing a special boutonniere, which is also a family heirloom to donning a bow tie, vest, necktie, cummerbund, or cuff links can give life to even a boring wedding suit that your mother picked out for you. Do you want to opt for something more traditional or playful? Consider adding a splash of color or a fun pattern to your tie for a summer wedding or inject your unique personality into the groom's outfit by adding a treble clef to your boutonniere or Star Wars–inspired cufflinks.

Warm weather and sunny skies call for style upgrades to the traditional groom attire and the stylish summer groom attire ideas are perfect for inspiring the to-be-married grooms. All eyes will be on you and your partner on the wedding day, and being the groom you would love to find out that there are many trending groom attire ideas to make you look sharp and dashing for the big day. From the light and fresh fabrics featuring a burst of color explosions to the forever chic beach wedding groom attire ideas perfect for outdoor weddings, these contemporary groom wedding attire inspirations are perfect for influencing every kind of wedding theme whether you are looking for "boho," "shabby," "country," or "hippy" style, which will be celebrated in a garden, on the countryside or even on the beach. Celebrate your big day under the sunny and blue skies with your closest family members and everlasting friends with these casual groom attire ideas ranging in very light qualities like cotton, linen, or shantung silk, which can be coordinated with some of the most favorite accessories for the wedding men like bow ties, suspenders, and colored socks.