Winter Wedding Cake Ideas We Love
December, 8 2021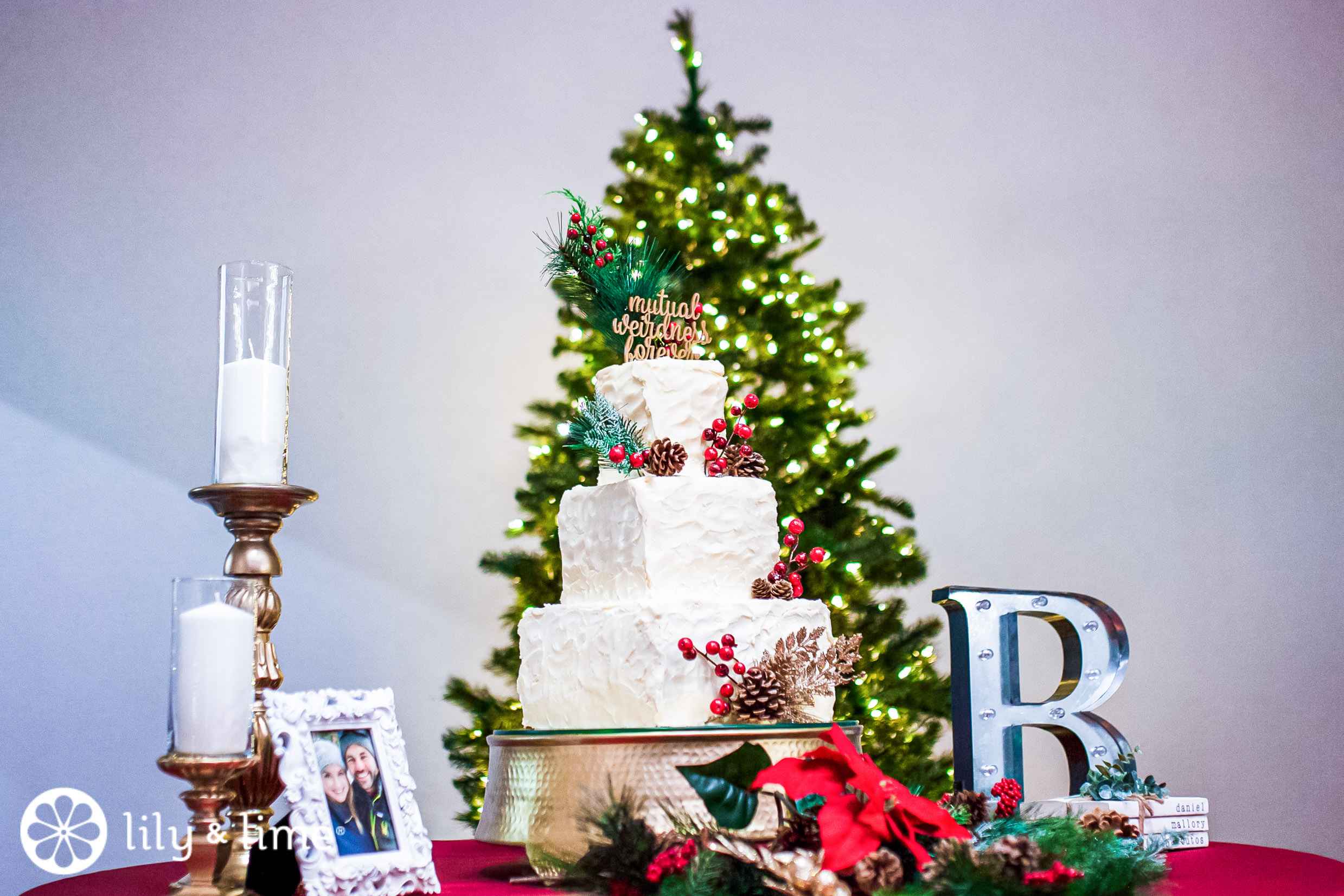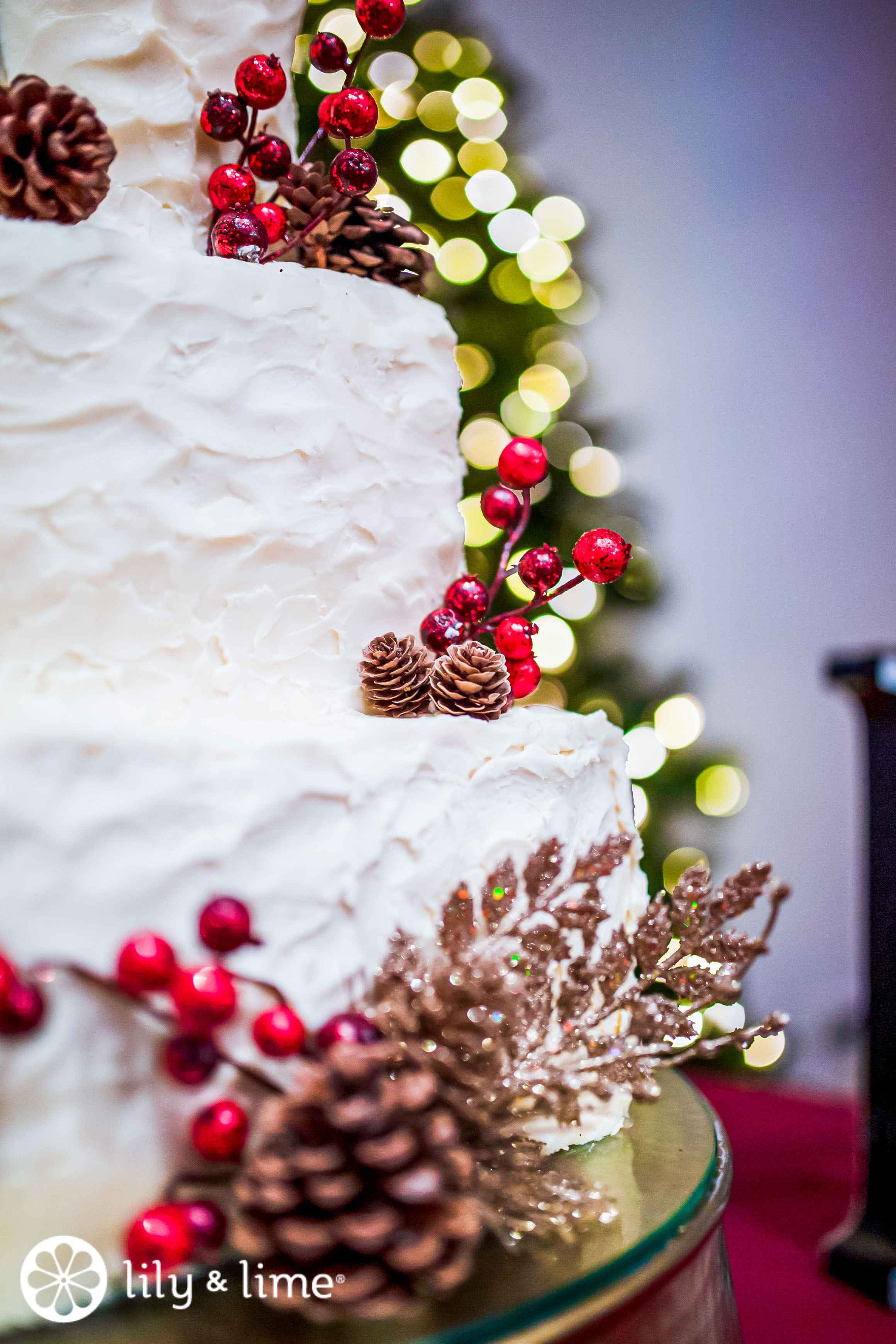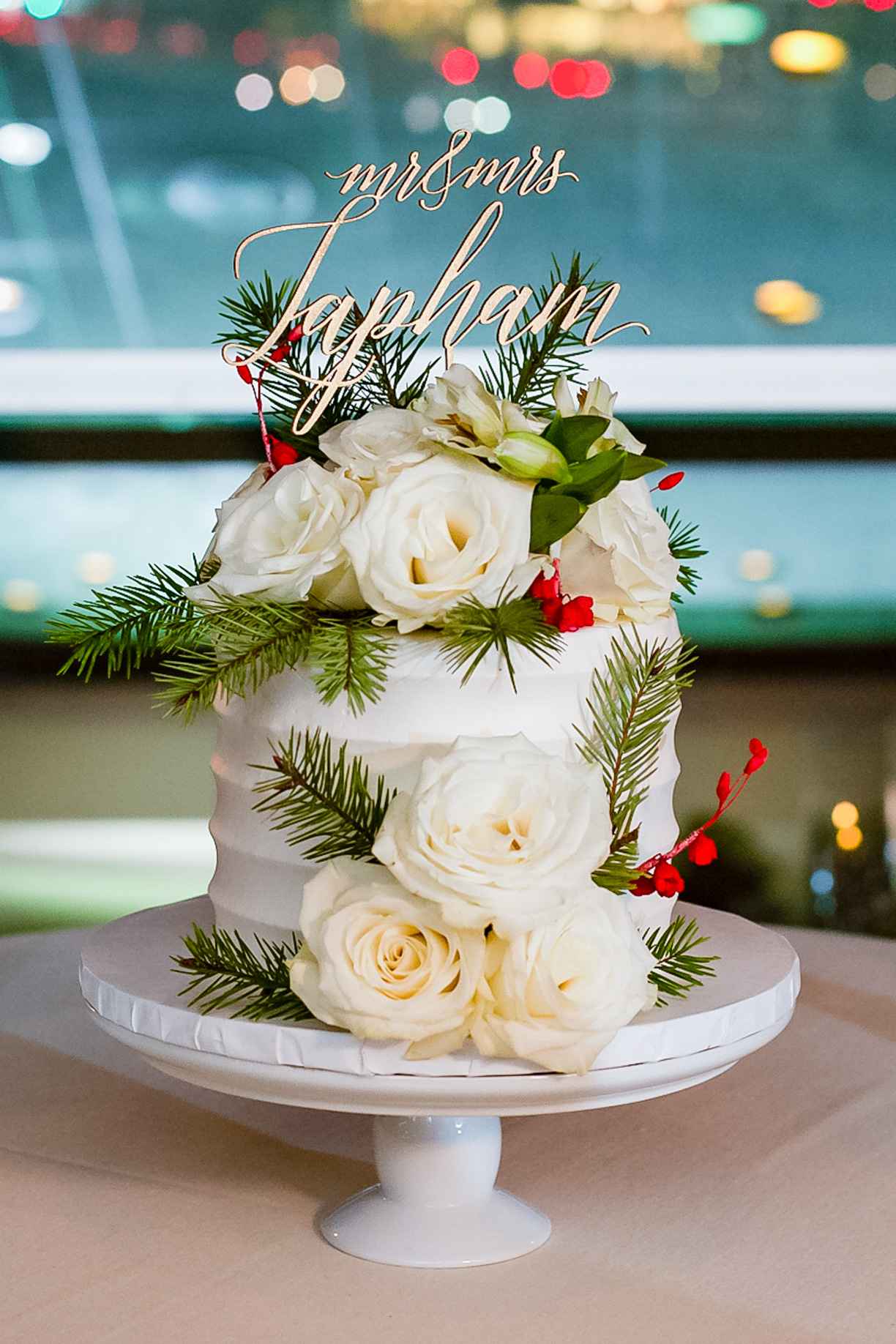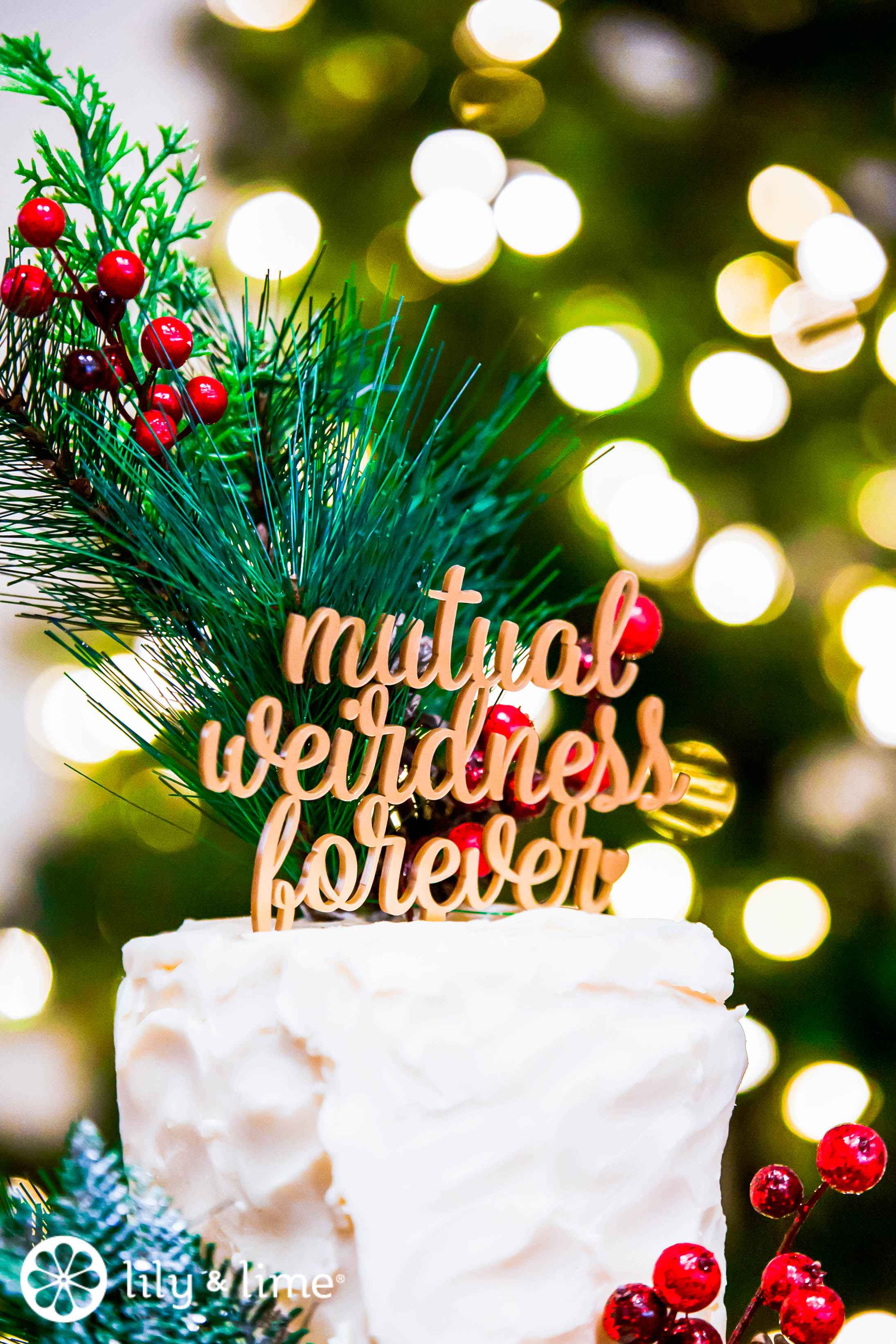 It is no doubt that everyone will obsess over a timeless, seasonal approach to the wedding cake, especially when you are planning a romantic and chilly winter wedding celebration! There is something unique, special, and incredibly romantic about winter weddings! From freshly fallen snow to cozy hot chocolate to keep everyone warm, everything about winter and especially winter weddings is special and incredible! In fact, our affordable and professional wedding photographers are always in great excitement when it comes to documenting a winter wedding!
One of the greatest perks of hosting a wedding in the month of December, January, or February, is that there are endless fun and romantic seasonal touches to bring into your wedding day celebration. Everything about winter weddings is remarkable as there is nothing more festive and scrumptious than a winter wedding cake! Talking about the wedding cake, then there is one thing that you should know! Your wedding cake is going to be the most talked-about and most cherished confection of your entire life! So, it has to be nothing but excellent, delicious, and mouth-watering that may leave your wedding guests wanting more! This blog is especially dedicated to all the brides out there who are planning a classic and romantic winter wedding and looking forward to extremely unique and out-of-the-box winter wedding cake ideas to incorporate into their winter wedding! One look at these winter wedding cakes that we love, we can assure you that you will be blown away and just think how beautiful and thematic wedding cakes can be!
Throughout the blog, you will see that winter wedding cakes come in all shapes and sizes, henceforth, you will have plenty of room to get creative and experimental with your winter wedding cake completely depending on the style of your wedding celebration! It's your wedding day, and you have complete control over the creative part! So, wear your creative hat and let your wedding imagination go wild with the dream of your wedding cake! When it comes to planning a winter wedding couples think of including holiday-themed desserts to their wedding day dessert table, like the rustic Christmas wedding cake, and other creative ideas! Well, there is no such rule that says that if you are planning a winter wedding your wedding cake needs to resonate with the season! Turning to the month in which you are getting hitched to the love of your life is definitely a great and exciting way to get inspired and seek ideas when it comes to your wedding day cake design! From bright winter whites to textured showstoppers, there is a classic and romantic winter wedding cake design out there for every couple who is getting married in winter! From metallic reindeer cake toppers to intricate and detailed cable-knit style piping, there are endless winter wedding cakes ideas that will just fit right in at any kind of winter wedding celebration!
Let your wedding guests and our talented and creative wedding photographers marvel over the unique styles of wedding cake that you are going to introduce into your wedding day celebration! Here are some of our favorite winter wedding cakes and ideas that you will love and your wedding guests will swoon over for sure! And our experienced wedding photographers will have a bucket full of sweet treats to capture in the best of frames!
Winter Wedding Cake Colors that We Love
Nothing matches perfectly with the chilly and romantic winter season than the dark and metallic tones! These stunning shades not only gracefully embody the festive season in every possible way but also get along with the cozy and romantic vibe of the season! If you are planning a formal celebration or a glamorous-themed winter wedding, you can pick colors like navy blue, purple, silver, copper, and gold to adorn your winter wedding cake! Well apart from these stunning and trendy winter colors, there are the obvious winter color palette available that includes red and green, which will immediately without even wasting a second will give your winter wedding cake a true Chsirtmassy feel! If none of these resonate with your taste, style, and personality, you can always go for classic white! A white wedding cake is always a safe option as it lends a perfect blank canvas for seasonal winter flowers, greenery, and almost any type of decoration you want to work around your winter wedding cake!
Classic Winter Wedding Cake Flavors That We Love
Depending on your taste, you can choose the flavor of your wedding cake. But if you want to introduce that real, classic, and authentic winter flavor to your winter wedding cake, then you must check out the savory wedding cake flavors, like salted caramel, red velvet, chocolate, spiced apple, and all-time winter season favorite and most desired hazelnut! These are some of the most desired and liked seasonal flavors that brides are crazy about! We can assure you that these flavors will undoubtedly leave all your wedding guests craving for more. But if you are thinking that it's not an easy-peasy task for you to choose the best flavor for your winter wedding cake, you can always work in collaboration with your wedding cake baker to figure out a tasty and utterly delicious combination of two or three flavors mixed together in the best way possible! This kind of cake flavor will definitely leave your wedding guests licking every bit of the cake on their spoons! And with those expressions, our affordable and talented wedding photographers will have so many beautiful moments to capture in picture-perfect frames!
Winter Wedding Cake Decoration Ideas That We Love
The options are endless when it comes to the decoration, especially of a winter wedding cake! It completely depends on your wedding aesthetic and your personal preferences! You can simply add elements from mother nature like the pine cones, evergreen springs, tigs, sticks of cinnamon, or even a bit of foliage will do wonders to your winter wedding cake overall look! The traditional winter wedding cake is usually adorned with snowflakes, ribbons, pinecones (faux or sugar), piped frosting trees, and holly berries! All these elements add a true classic winter seasonal look to the wedding cake! If you are thinking of hosting a rustic winter wedding, then you can ask your baker to deck out your wedding cake with burlap ribbons, antlers, or a faux bois pattern! Even a bit of herbal foliage will bring out the authentic rustic vibe in a graceful way to your wedding cake! Fresh seasonal blooms, greenery, and thematic cake toppers are some of the incredible cake toppers that will help you to personalize your winter cake in the best way possible! If you are planning a fun-filled wedding celebration, you can bring in the humorous touch by adding penguins or snowman cake toppers and have fun!
Well these days, naked wedding cakes are being so in demand and trendy at the same time! They are the latest trend in the wedding world! A naked wedding cake when garnished with some berries and sugar powder is nothing but a great piece for a stunning and memorable rustic winter wedding! Another cool rustic variant is a berry-colored cake decorated with twigs or coniferous branches. These kinds of cake decorations will definitely make your wedding day a memorable one and will leave a lasting impression on the hearts and minds of your wedding guests!
Now, let's focus on some of the most incredible and amazing winter wedding cakes that you will definitely want to include in your winter wedding! Grab on your tissues, because it's going to be a sweet roller-coaster ride!
Gold Painted Winter Wedding Cake
There is no denying the fact that a plain white fondant cake is a perfect base for any type of wedding cake decoration, including the edible gold paint! Ask your baker to adorn the white wedding cake by using some creative and abstract gold brush strokes and it garnishes with pink flowers and some seasonal winter fruits, like bright red pomegranates! Trust us, this kind of winter wedding cake will suit your classic and subtle wedding theme in every possible way! Gold-painted winter wedding cake is an ideal and perfect choice for brides who want more of a monochromatic-themed wedding!
Winter Wedding Cake with Fresh Berries
Talking about winter fruits, then nothing fits better than berries! You can always decorate your winter wedding cake with a smattering of berries, like blueberries, raspberries, blackberries, or even diced strawberries! Berries and cake always make a classic combination together and also look good in wedding photos too! For the final touch, you can ask your baker to finish with a dusting of powdered sugar, fragrant rosemary, and cinnamon sticks for a graceful decor idea! Trust us, we can smell this yummilicious cake from here and just can't stop craving it!
Caramel Drip Icing Winter Wedding Cake
Want to grab your wedding guests' attention in just a blink of an eye when it comes to your winter wedding cake, you must try this incredible and damn yummy drip icing cake! This kind of dripping icing look will work gracefully with naked wedding cakes, fondant wedding cakes, and buttercream cakes! The best part is you can use any type of glaze as per your desire! But, if you have decided to get hitched to the love of your life during the winter season, then caramel drip icing is the best and ideal choice for your winter wedding cake! It is not our bride's favorite but our wedding photographer's favorite pick for winter weddings too! Apart from caramel drip icing, you can use green accents to garnish the cake and introduce the rustic and cozy winter vibe!
Dark Floral Winter Wedding Cake
Well, we can't deny the fact that a dark floral like a black wedding cake matches every couple's taste and style! But, trust us, there is no denying that it always makes a remarkable and major statement for a classic and memorable winter wedding celebration! All the newly engaged couples out there who are planning to work around a moody theme for their winter wedding must consider covering their winter wedding cake with black or dark blue fondant, and then adding sugar flowers or even real seasonal flowers in burgundy, blush, and purple tones to create wonders! A dark or we say a black wedding cake for your winter wedding will leave all your wedding guests swooning over it and our creative wedding photographers will have enough opportunity to capture fantastic pictures of your wedding cake in the best of creative frames!
Seven-Tier Winter Wedding Cake
Couples who have always dreamed of having a grand and royal wedding should consider a seven-tier wedding cake. Trust us, this style of wedding cake will look like something straight out of Buckingham Palace! A seven-tier wedding cake for your winter wedding will definitely give you a huge canvas to get more creative with your wedding cake decoration ideas! In fact, our winter wedding photographers will have endless possibilities to capture this grand and statement-making winter wedding cake in the best of frames! Best choice of wedding cake for all the couples who are planning to have a large, luxurious, and grand wedding in the winter season! There is no doubt that your seven-tier wedding cake will have endless attention from your wedding guests but to make its appearance more alluring and breathtaking, choose a base color palette, like blush, mint, and gold, and then play along with different textures and motifs on each tier of your wedding cake!
Winter Wedding Cake with Cute Deer Toppers
Adding seasonal toppers to your wedding cake definitely brings in the seasonal vibes in the best way possible! Adorning your winter wedding cake with cute and adorable deers will be a perfect example for a winter wedding! You can add some seasonal flair to your all-white wedding cake with other woodland animals that remind you of the winter wonderland!
Cable-Knit Winter Wedding Cake
Words like delicious, yummy, mouth-watering are majorly used to describe a wedding cake! We are pretty much sure that cozy isn't the typical word that can describe wedding cakes! But now, you can use the cozy word because we are going to introduce you to the stunning cable-knit design wedding cake whose classic and elegant knit design will make you feel nothing but cozy and comfy! You can simply draw inspiration from your or your partner's favorite oversized sweater or blanket and then adorn your winter wedding cake with a knit-inspired pattern! This style of winter wedding cake will definitely help you get along with the chilly surrounding!
Chocolate Oreo Winter Wedding Cake
Hot chocolate is everyone's all-time favorite winter drink! So, how can a chocolate oreo not be? All the chocolate lovers, this is for you! For your winter wedding cake edition, choose to have chocolate oreo cake and rejoice in every bit of it! Don't just stick to a plain vanilla or buttercream frosting when chocolate is there to garnish your winter wedding cake! Chocolate indeed makes the best flavor when it comes to wedding cakes for winter! There is no doubt that chocolate ganache and chocolate-covered cakes are just as pleasing to the eyes as they are for the tastebuds! Trust us, a chocolate oreo wedding cake will be a great addition to your wedding day!
Chic & Modern Gray Winter Wedding Cake
Trust us, your wedding guests will be head over heels in love and will be blown away when you will serve this gorgeous and delicious-looking gray winter wedding cake. It will be a perfect addition to your winter wonderland-themed wedding! You can ask your baker to create pussy willow branches as they bloom in late winter and in early spring and adorn the whole cake with a lovely silk ribbon as it will gracefully balance out the edginess of the dark color palette!
Gatsby-Inspired Winter Wedding Cake
Couples planning a winter-themed wedding or a New Year Eve wedding celebration can consider opting for a Gatsby-inspired wedding cake! It will not only make a remarkable impact on your wedding guests but will also bring out your personality in the best way possible. You can simply use the combination of fresh fruits, flowers, marble fondant, and golden accents to bring the feel of luxe and exquisiteness to your winter wedding cake!
All-White Winter Wedding Cake
A winter wedding is incomplete without white tones! And when it comes to winter wedding cakes, white wedding cakes are the most preferred wedding cakes for the winter season! Nothing can ever beat the subtleness and charm of a white wedding cake offered to couples and all their wedding guests on their wedding day! An all-white wedding cake is a perfect example of sleekness and sophistication. If you want to break up the monochromatic color palette, you can consider adding molded fondant leaves or petals!
Summing everything in a nutshell, we just want to say that winter is all about rich, deep flavors and decadence! Consider bringing all that lovely and creative concept into your winter wedding cake and let your guests leave your wedding celebration on a deliciously sweet note!