Color Collection: Sunflower Yellow
July, 8 2021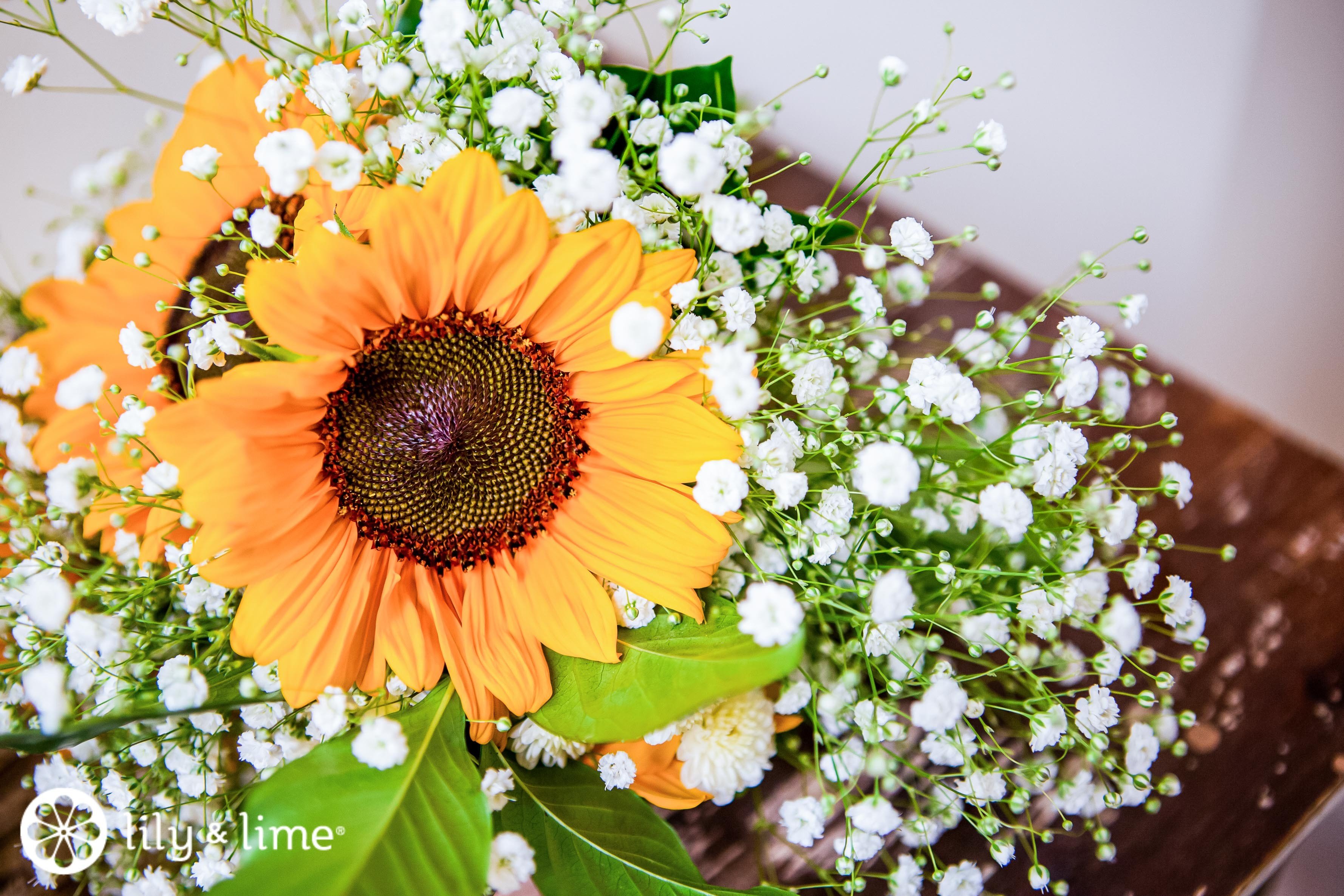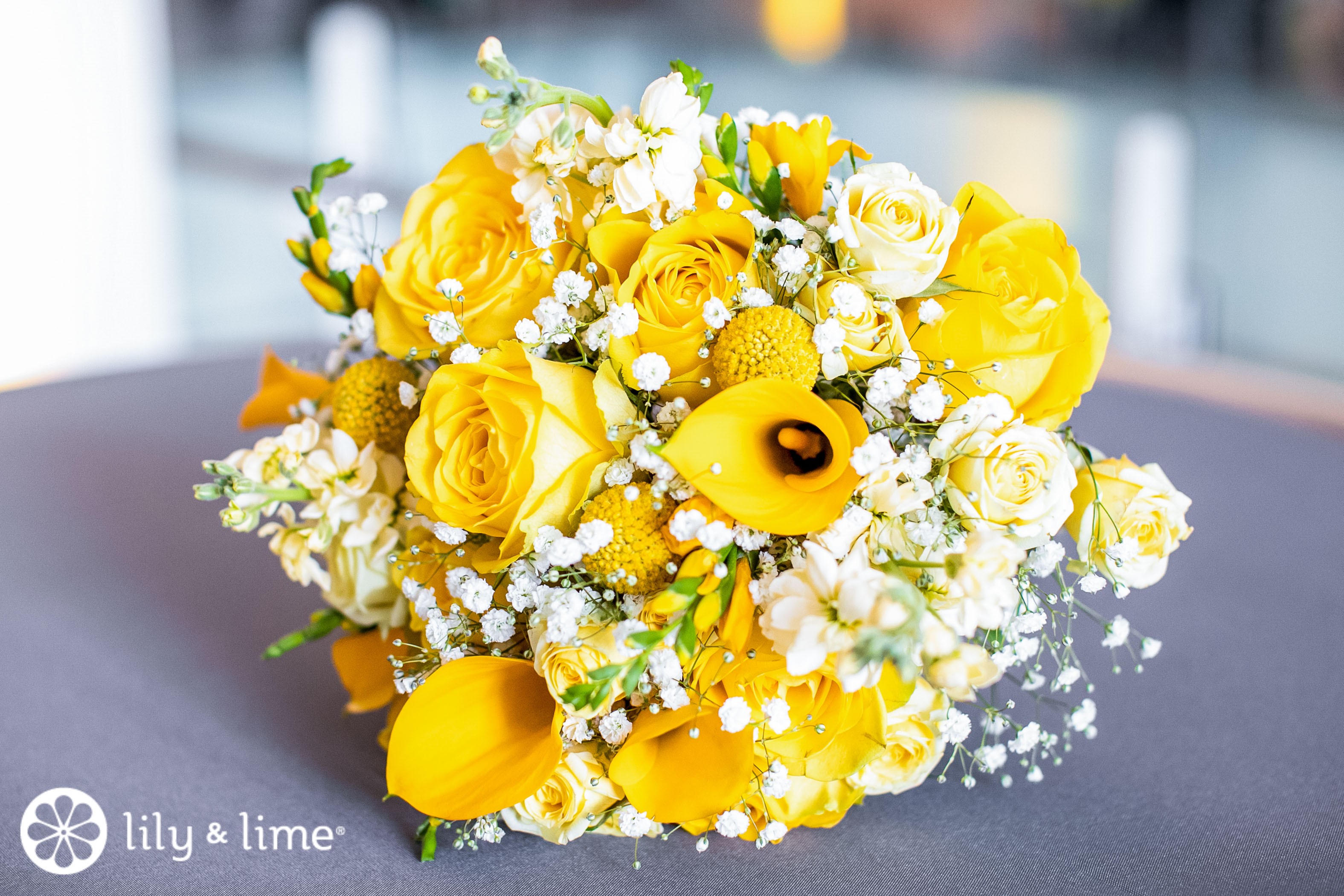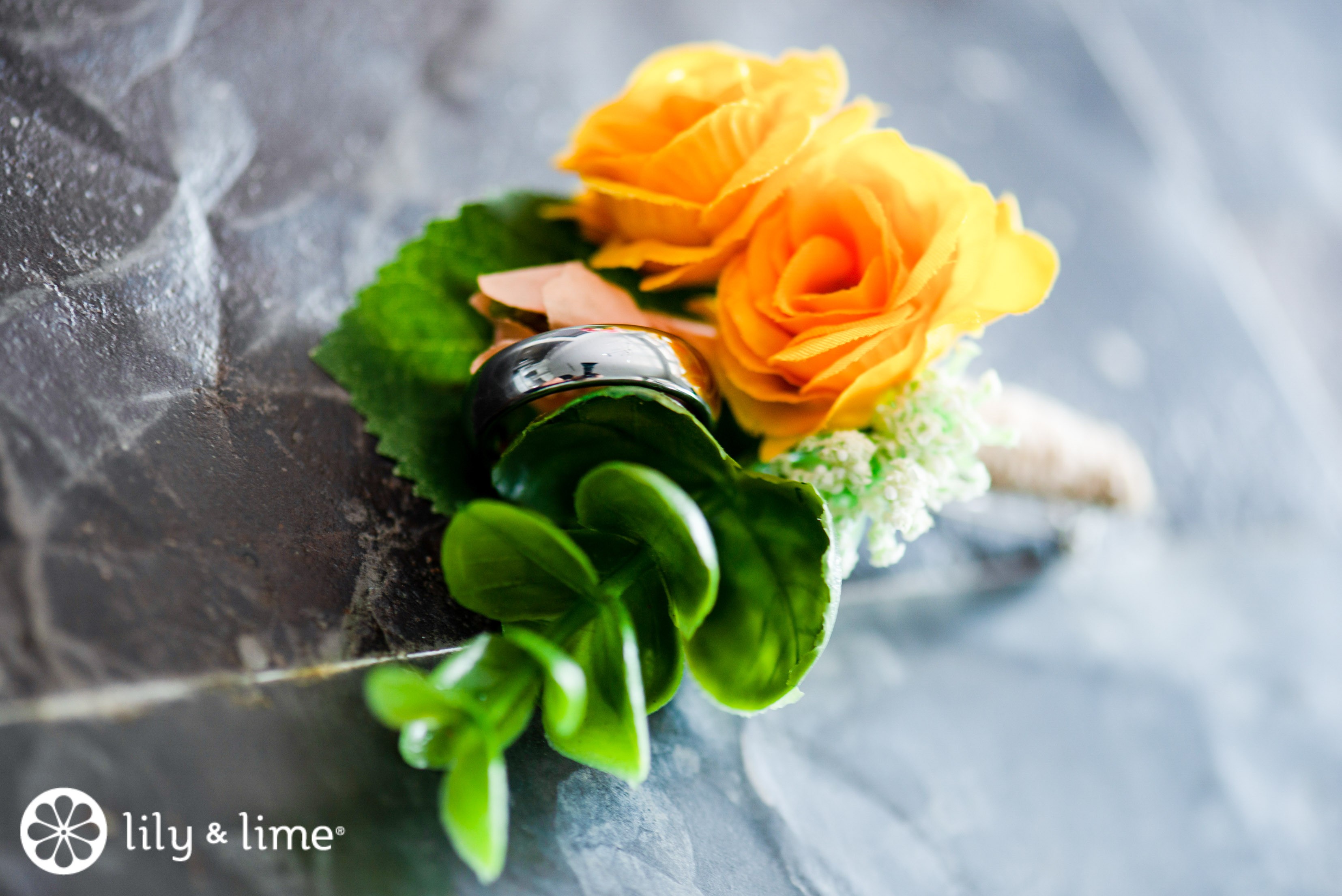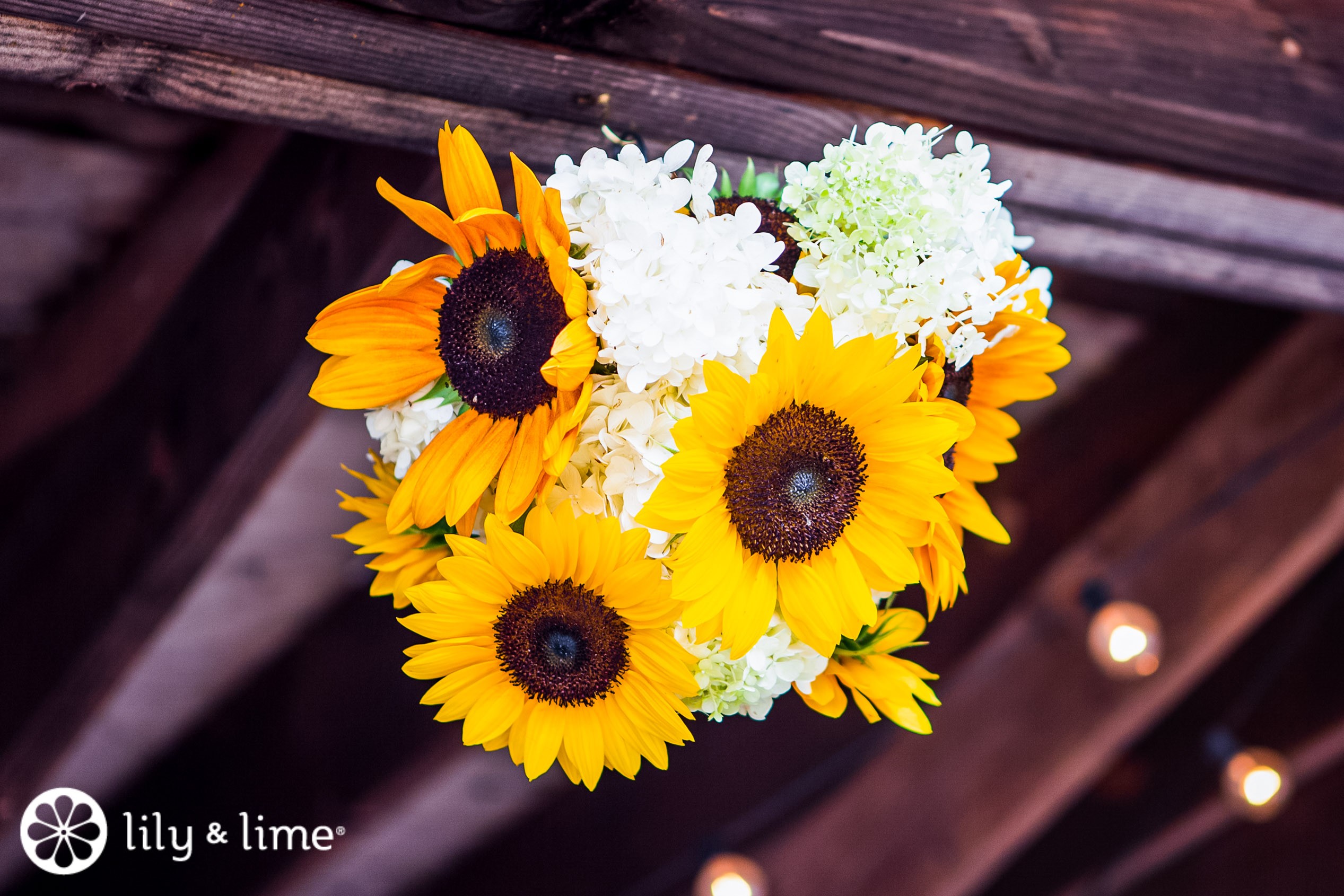 You might not look directly at the sun, but what about sunflowers? If happiness were a color, it'd definitely be sunflower yellow! And what better way to bring some naturally lit sunny vibes to your wedding day than with thousands of sun-like flowers!
Say the word "sunflower" and a vision of sunflower fields in Tuscany, Italy dancing to the tunes of breeze morning, noon, evening immediately springs to mind. A sight to behold! A sunflower field is nothing but a spitting image of a sky with a thousand suns! Funny enough, these sunny summer blooms don't actually smell like anything but inspire us like nothing in this world. They always make one smile and never complain despite having a bent stem, petals too long, or a center too fat but shine! They grow facing the sun and teach us that actions that are done with light and love come to fruition. Named after the popular annual species Helianthus annuus, the sunflower has some magic in it that it not only resembles the sun but also turns to it! From being used as sunflower fragrant oil and edible oil to appearing on taxi's number plates to accentuating kitchen towels, oven mitts, and cookie jars, sunflowers, if not physically (as flowers and seeds) then virtually (as a print or image, a color, or a fragrance), are omnipresent!
Why sunflower yellow?
Sunflower is probably not the most loved flower in the world where millions of aromatic and beautiful flowers like roses, cherry blossoms, tulips, etc. exist, fair and square! TBH, even we would prefer roses to sunflowers if we had to choose one between two! But when it comes to the color yellow, we don't think yellow roses but sunflowers. The color that sunflowers have added to the fabric of Mother Nature is incomparable indeed! And we can understand why you would want to pick the yellow-centric wedding color palette for the happiest day of your life. Yellow is a bright, creative color, and we can't think of a bolder or brighter yellow than sunflower, not even daffodil. It is the color that is probably most associated with happiness, positive energy, and sunshine. This happiness-invoking, creative color can therefore be used effectively to spruce up the wedding decor that evokes feelings of happiness and clarity. Be it the most trending Pantone color (since 2019) or the most energetic sunflower color, yellow hues have a degree of activity that they can pass along in the wedding details. It can be used to create enthusiasm and enhance areas in your design that need action to be taken. You can't deny that sunflower yellow is the brightest and most eye-catchy of all the colors. It immediately takes us to the world of summer, sunshine, vacation, fun, and generally pleasant thoughts. It's a happy color with many positive associations. There are endless reasons what make it an excellent pick for a wedding color palette.
Ideas to incorporate sunflower yellow in wedding decor
Wedding gift table: Thinking of a wedding gift table that can put your guests in awe? Just a few hot and trendy sunflowers, turquoise flowers, and your choice of ribbon colors, and voilà! Spruce up the two stacked wedding card boxes by wrapping them up with heavy embossed white paper and embellishing them with silver bling mesh. Put a gift tag with your names and wedding date printed on it and a matching 'cards' sign on top of it. This lovely card box can hold about 80 cards.
Light lightful wedding favors: We all love those cute glass miniatures full of life and light! Sunflowers can wonderfully contribute to your yellow wedding as guest favors. A single sprig of sunflower placed beautifully in a tiny terrarium or mini capsule-shaped glass containers complete with a 'thank-you' sign bearing the host couple's names and the wedding date is definitely a gift that the guests will love to keep on their coffee table, cabinet, desktop, floating shelves, and windowsills.
The sky's the limit if you want to incorporate sunflower yellow into wedding guest favors, from beach bags with sunflowers printed on them for your destination wedding to yellow Pendleton blankets or cup-and-saucer (or a mug) you love with your favorite teas at your cozy wintertime fête in mountains to chic yellow fans to keep the guests cool at your summer wedding to mystery gifts of yellow crackers opening to reveal a paper crown, fortune-teller fish, and a thought-provoking question card to spark a conversation at the dinner table. Or cut to the chase, and gift your guests their favorite (if not soon-to-be favorite) dessert - Ladurée macarons, obviously yellow ones. Whether you include the sunflowers or just the color or print of the sunny flowers, do not forget to personalize your send-off gifts.
Dessert table: Ladurée macarons or French Macarons, pretty mini macaroon treats are taking over the wedding dessert tables by storm! A perfect balance of color, flavor, and texture, all encapsulated in a delightful bite-size package, Ladurée macarons are not only scrumptious but, with their stunning shades, can match any wedding palette. Yellow can quickly grab attention, but it can also be abrasive when overused. Consider arranging a monochromatic macaroon tower or one featuring yellow, orange, pink, and orange delights on your sweets table to avoid visual fatigue while welcoming some joyful inspiration! A tower of these dainty and beautiful treats can also make a fabulous cake alternative.
Sun-flower girls: Yellow yellow, sunny fellow! Your cute flower girls will steal the show at your fall wedding if appears in a warm and bright sunflower flower girl dress. Or dress them up in a simple yellow-white flower girl dress complete with a sunflower headband and give them gathering baskets loaded with sunflowers and sunflower petals to throw down the aisle. Not only your flower girls but also your bridal party can kill it in sunflower yellow. From sweet lemon to sunflower, marigold to mustard, chartreuse to canary, yellow bridesmaids' dresses teamed with yellow and white bouquets add a perfect dose of sunshine to your red-letter day, no matter what the weather is.
Sprinkle yellow on wedding day attire: A sunflower boutonniere for the handsome groom and his dashing groomsmen or a sunflower corsage for the wedding moms are the yellow wedding ideas that can spring to any bride's mind! But have you ever thought your furry dapper naughty boy can really look like a gentleman in a bright yellow tie? Oh, so dang cute (OwO!). Let your bridesmaids (all Autumn's sisters!) wear the same gray lace dress and their own cowboy boots and hold gorgeous sunflower bridesmaid bouquets similar to yours! The groom and groomsmen can tuck a sunflower boutonniere to the lapels of their jackets or tuxes and club it with a yellow pocket square, not to mention, for a color-coordinated look! If you are a yellow-loving bride, you may unapologetically skip the poufy white wedding dress in favor of a sunflower yellow wedding dress as Amber Tamblyn did when she said "I do" to David Cross or simply don sunflower yellow pumps underneath your gorgeous white ball gown adorned with yellow floral appliques if you are not that non-traditional and dress your crew in sunflower yellow bridesmaid dresses for those swoon-worthy wedding group pictures! Your big day color scheme should speak to both you and your partner. Get inspired by these gorgeous wedding colors that go right with sunflower yellow.
Colors that get along with sunflower yellow well!
Colors act as the glue that binds all the details of your big day together. So you have to be mindful while choosing your wedding colors by keeping the season, theme, location, venue color, etc. in mind. Dark blues, greens, plums, and browns are some colors that pair beautifully with sunflower yellow. It also looks incredible with other bold and bright colors like maroons, pinks, reds, and oranges! You can never go wrong by choosing sunflowers for your wedding decor, particularly for outdoor whimsical winter weddings or rustic spring weddings. They also fit the bill nicely if you are yanking a farm or barn theme wedding. And the best part is it can likely be sourced locally in most rural environments! From dogwood branches to roses, you can find this hearty yellow almost anywhere you look. Not only they make an excellent choice for wedding flowers but also are a dime a dozen. But there is a cartload of ways to include sunflower yellow in your wedding decor without even incorporating sunflowers looking equally romantic and aesthetically pleasing. And we will talk about both the rustic wedding color ideas!
Most trending sunflower yellow wedding color combos!
Sunflower Yellow+Burgundy: This color combo is perfect for fall weddings, making it warm and meaningful! White bride with sunflowers, burgundy bridesmaids, wooden and sunflower table decorations and also some pumpkin decorations, gray groom and groomsmen' suits with burgundy ties… A sunflower wedding arch with some burgundy flowers will add to an autumn wedding more sunshine.
Sunflower Yellow+Mint or Greens: Talk about a wedding that mirrors the vibrancy of spring? Bright yellow and greens combine fabulously to enkindle the happy and cheerful emotions of springtime. Take your guests to a world where they feel rejuvenated and energized with these frisky colors! These will provide a magical frame to your wedding photos. These happy hues are a winning combination for a bride who is a lover of all things pastel. It's hard not to fall in love with a gang of bridesmaids holding sunny flowers wearing a mint-hued or sage green dress, short or long. Want to play up the color pairing even more? Choose a mint-hued tie and sunflower boutonniere for your groom and his gang, too.
Sunflower Yellow+Any shade of blue: Sunflower yellow would go fantastically with the shades of light and dark blue, from powder blue to bright blue to cornflower blue to navy blue and bride's white dress complete. If you want to inject an extra dose of excitement into your loved ones for summer, mesh cool, watery blues and sunny brilliant yellows together. It will surely offer a balance of bright colors to reflect some of the summer's greatest pleasures. Another way to stun your guests is- create a summery theme using various shades of hydrangeas (including sapphire and sky blue) paired with white and gray and then finishing it off with some pops of sunflower yellow for light and bright vibes. Your seaside wedding is the perfect chance to have colors like navy, yellow and blue. Navy against a light blue will imitate the natural colors of the ocean, and the yellow will draw from the sand and sun around it. This is a yielding palette since the second blue can be any shade of your choice. Or set the scene for your big day before it even starts with an impactful invitation in yellow tones! Classic Blue is a deep enough hue that you can use it for either the text or background on your paper suite. We're smitten with this blue jean-and-yellow sunflower wedding invitation.
Sunflower Yellow+Blush: We're besotted for this color combo! When paired with sunflower yellow, blush can make your bohemian gathering or sunny romantic wedding notches higher! Vibrant yellow and blush lend themselves to outdoor settings. The brighter your color palette, the more classic your wedding will look. On the other hand, if you want your venue space to resemble the inside of an Anthropologie store, accent muted colors with natural, grassy plants, cozy seating areas, and tons of warm lighting.
Sunflower Yellow+Peach: Your wedding colors influence the way your day looks and feels. The alliance of soft and romantic peach and bright and playful sunflower yellow can add much-needed sweetness and warmth to the ceremony. Outfit your lovelies with yellow and peach bridesmaid dresses and let them kill it with a voluminous or mini bouquet flourishing with sunflowers and peach roses, deck out the table setting and confection with sunflowers and peach roses, and don peach shoes underneath the white wedding dress, to take your wedding to the next level!
Sunflower Yellow+Black: This unique wedding color palette is a game-changer if you're looking for something that's entirely unexpected. Black is a sophisticated and timeless wedding color in all seasons, not to mention. And, in alliance with the sunflower yellow, can do wonders! Sure, the dark details tend to be a little dramatic, but we love how they can add a bit of edge to the occasion while still maintaining a classic look. There are myriad interesting ways to incorporate this unexpected wedding color combo into your summer or fall season-inspired special day! From tying together black roses with freshly-picked sunflowers for wedding day bouquets to having a wedding black wedding cake embellished with sugary sunflower details to dressing your groom and all his attendants in black suits and bridesmaids in jet black dresses paired with bespoke sunflower yellow face masks to black and bright yellow wedding invitation suite. The sunflower yellow looks outstanding against the black and hence can be used in every detail of the wedding.
Sunflower Yellow+ the trio of red, white & blue: The trio can easily remind one of the 4th of July. But when sunflower yellow is sprinkled here and there, it will take the guests to somewhere they would not want to come back from. By subtly tweaking your hues with splashes of sunflower yellow will not only keep your colors from reminding the guests of their favorite holiday (unless, of course, it's a holiday-themed wedding) but also will be a treat for the senses. Add subtle variants of vibrant yellow to your bouquet, cake, backdrop, linens, or bridesmaids and flower girls' attire to add dimension to red, white, and blue - it'll come forward as a snazzy, vibrant primary color scheme instead of a Fourth of July bash.
It all comes down to execution. A palette with more than three or four hues can also help you create a specific scene - like an English garden blooming with green, sunflower yellow, pink, red, and cream, or fall in New England with orange, red, sunny yellow, brown, and gold. We just adore these color combinations!