Unique Additions to Bridal and Bridesmaid Bouquets
July, 20 2021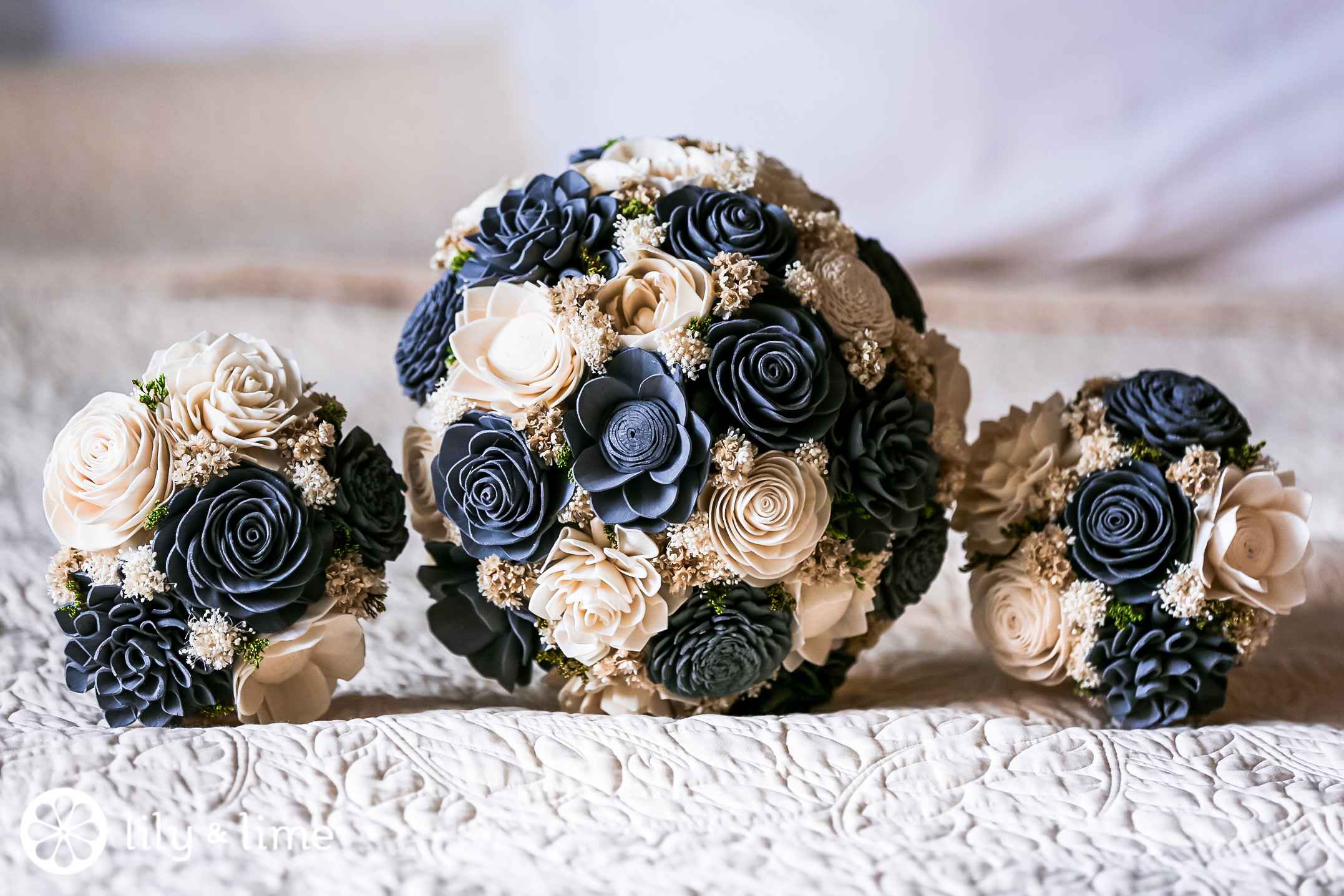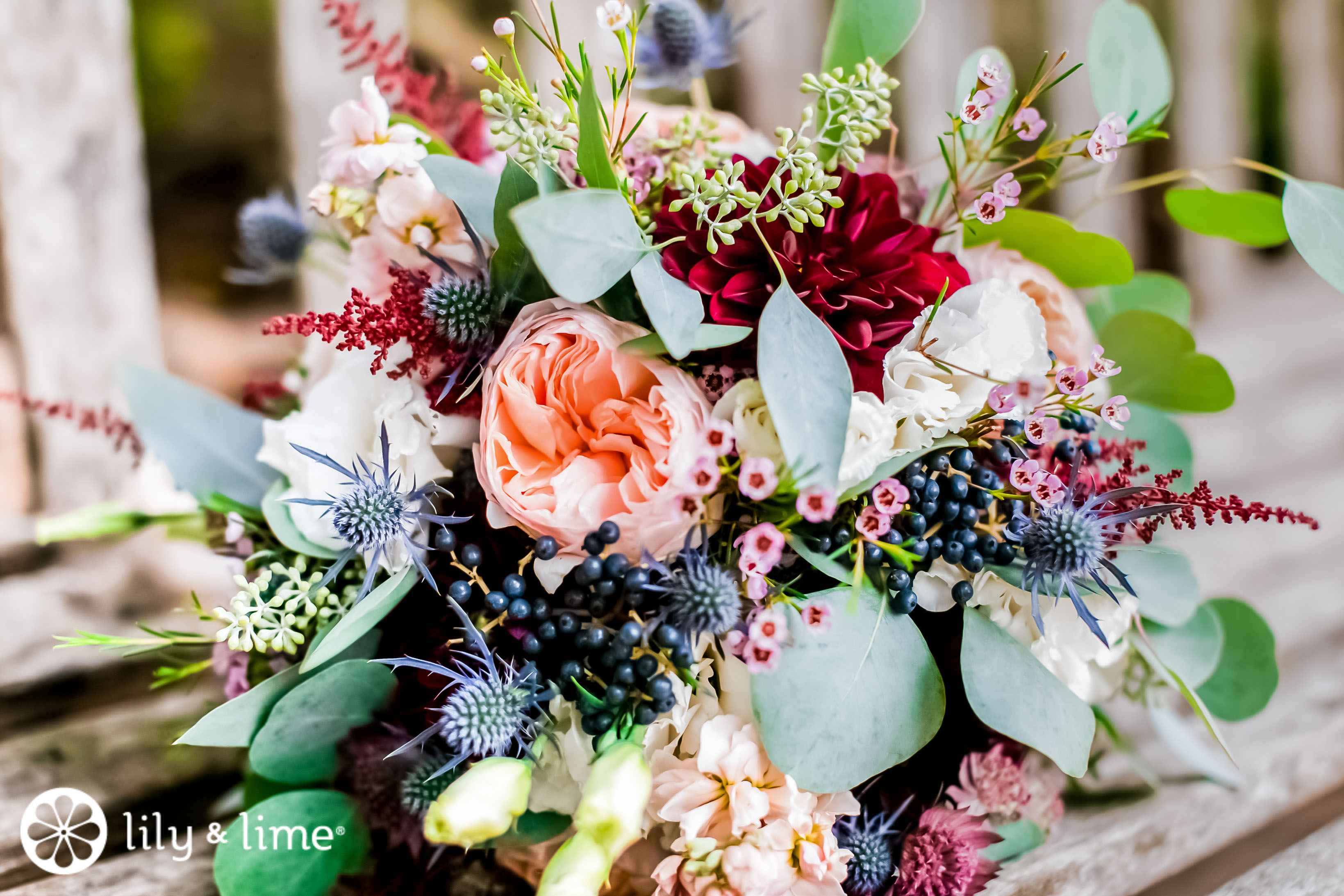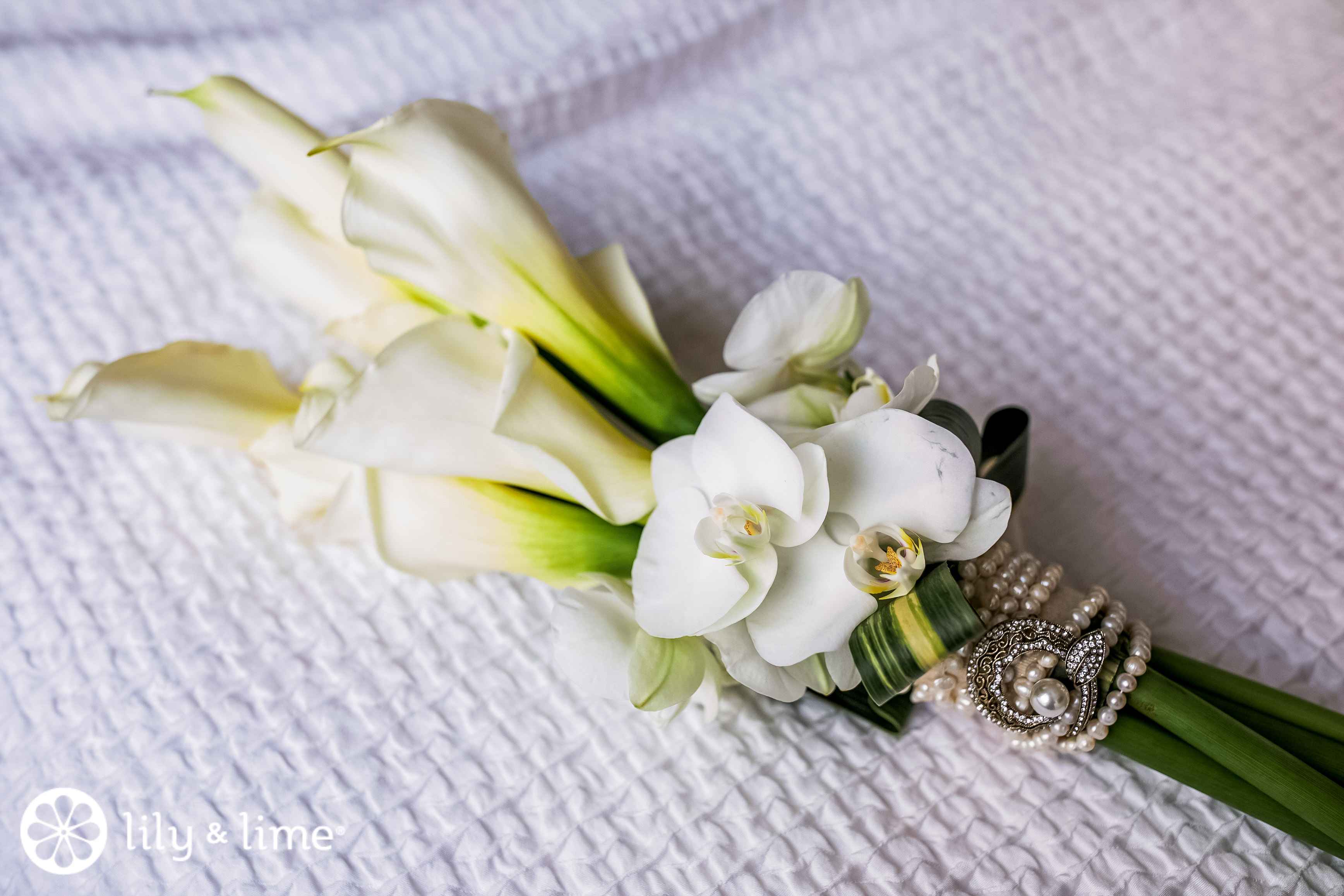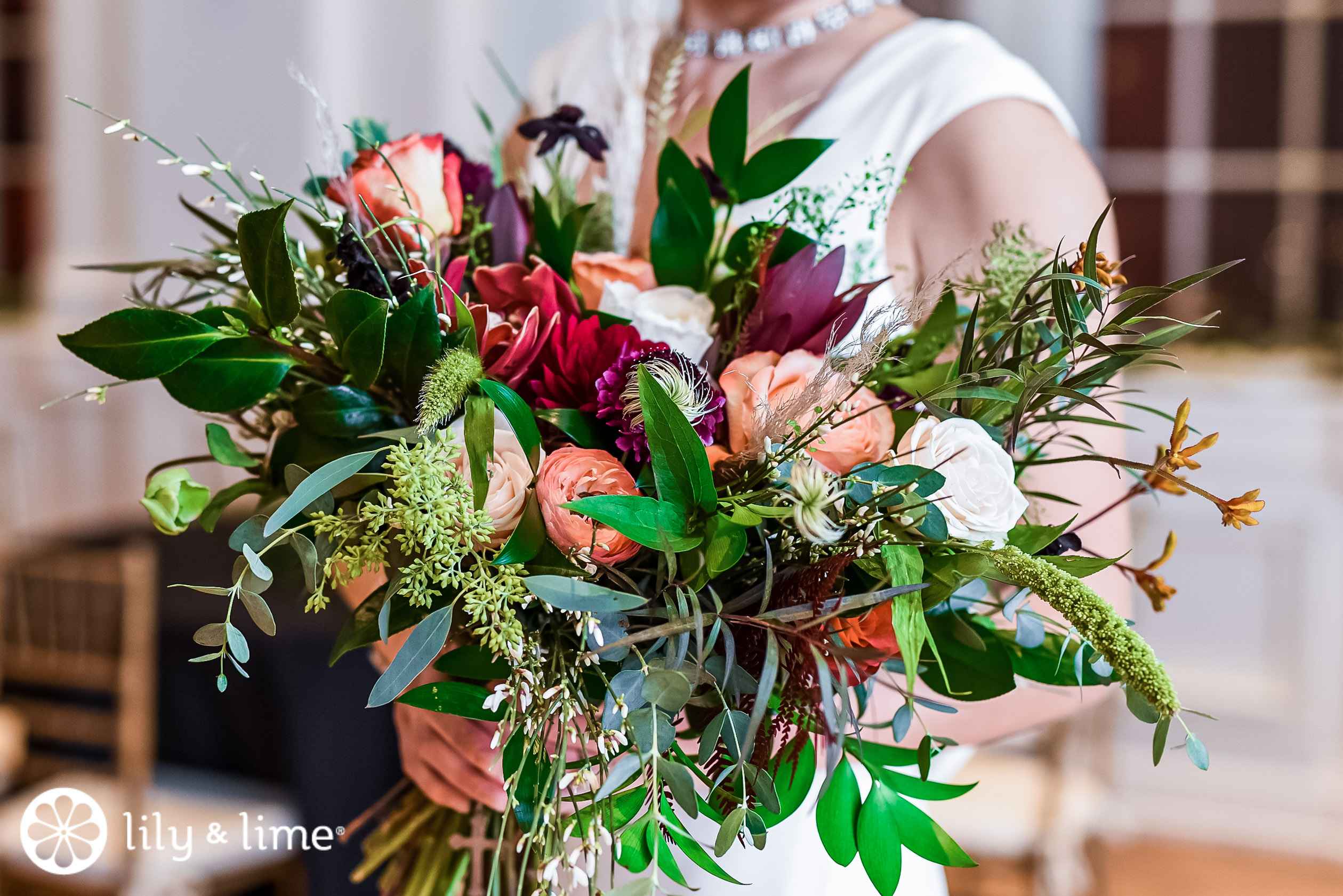 "Open the bloom of your heart and become a gift of beauty to the world." – Bryant McGill
Flowers are indeed the best gift the world has to offer. Like souls blossoming in nature, flowers are painted in vibrant colors and intricately vivacious textures that bring joy to whoever lays their eyes on them. Their delicate elegance and scintillating aromas touch our hearts in awe and exhilaration, and grace every surface they're laid upon as tiny flakes of dreams. We use flowers for almost every big and small occasion throughout our lives, whether we are attending a wedding, decorating an event, going to surprise a loved one, or even showing someone that we care. The art of selecting flowers that suit the occasion flawlessly is an art we crave to master.
Probably one of the best parts of wedding planning, apart from choosing the best among all the beautiful wedding dress designs, is choosing the type of wedding flowers that will not only sync with the chosen wedding color palette and theme but also speak for the unique personalities of the newlyweds. From fall wedding flowers from local farmer markets that can cast a magic spell to summer wedding flower ideas that involve colorful fruits and vegetables or even unique wedding bouquets made out of foraged wildflowers, there are endless options that contemporary brides are opting for to upgrade their bridal and bridesmaids bouquets. Some brides believe in having no flower wedding, while others might be on a strict wedding budget with little or no room for wedding flowers. And there are some brides who are not at all flower people and would rather have something that'll not wilt or wither. So that they can keep these bridesmaids' bouquet alternatives as keepsakes or give them away as wedding favors to their bridesmaids. For all the brides who would like to add DIY wedding décor hacks to play while planning their wedding bouquets, this list will take you on a unique ride through great outside-the-box trends in wedding flower planning.
Unique Bridal & Bridesmaid Bouquets Ideas for a Wedding That'll Stand Out
Paper blooms and pinwheels
Probably one of the most simple bridesmaid bouquets, paper blooms with brooches and colorful wraps as well as pinwheels made out of colorful and recyclable wrapping sheets are stylish and bright ideas for summer and fall weddings. Designing bridal bouquets with paper is a very eco-friendly idea to make your wedding special and unique. Apart from the fact that your paper wedding flowers will always be timeless and weatherproof, paper bouquets can make your wedding look very classy and contemporary. This is also the most popular DIY wedding bouquet idea. With the number of texture types and colors available, you can make simple bridal bouquet ideas as well as dramatic fall bridal bouquets that can steal the limelight. You can make colorful pinwheels out of throwaway papers and accent small bridesmaid bouquets or make colorful paper butterfly wedding bouquets as a touch for a fairy-tale wedding. From making paper rose bouquets for a romantic feel to making bridal and bridesmaids bouquets with paper and fabric faux flowers in blue shades for adding "something blue" to the wedding, paper wedding flower ideas are endless.
Succulent bridal bouquets
One of the unique bridal and bridesmaids' bouquets ideas, big and sturdy succulents are replacing traditional wedding flowers among modern brides who want to make a statement. A great traditional wedding flower alternative, succulents can add vibrant colors to your fall wedding palette. They also last longer and can be given away as delicate wedding favors to your wedding gang or re-used as home décor or even used as a reception table centerpiece. Loosely assemble big succulent bouquets with tiny flowers and greens, or tie them with fresh millets and bay laurels, or assemble them with dahlias, spray roses, blue eryngium for a spring wedding, or create textures with dried agapanthus, copper beech, seedpods, and dried branches for a fall wedding flower idea. Since succulent flowers are budget-friendly and easily available, they make for amazing and unique bridesmaid wedding bouquets in all seasons.
Corsages and flower crowns as alternatives
If you would still like to add flower touches to your bridesmaids' gang without getting overtly flowery and romantic, then adding corsages and flower crowns or floral headpieces are the perfect way to accent the bridesmaids look on your wedding party. Considered to be quirky and out-of-the-box bridesmaid bouquet ideas, statement corsages, and floral crowns are the best way to inject flower details to the bridal wedding gang as a more modest floral counterpart. These alternative wedding flower ideas for bridesmaids are affordable and comfortable for all seasons and wedding types. Paired with modern bridesmaids' attire like sleek jumpsuits or pantsuits, corsages, and vintage flower crowns are great pairings for bohemian and countryside weddings. The romantic and whimsy touch of flower crowns makes them the best alternative to traditional flowers and are perfect for outdoor weddings. While smaller blooms are ideal for an inspirational spring wedding flower idea in a garden setting, big and bold blooms are perfect for woodsy fall bashes.
Feather bridal bouquet ideas
Can anything be romantic than the soft touch of silk and feather as a unique small bridesmaid bouquets idea? If you are wondering how to make bridesmaid bouquets out of feathers, then look for online feather bouquet inspirations and use your creativity to spruce up your DIY detailed wedding even further. Whimsical feather wedding bouquets are ideal for brides looking for eco-friendly wedding ideas that can also be easily DIY-ed. Incorporating non-floral elements like ostrich feathers or even feathers of swans and flamingos can give a bouquet a whole new shape and a vintage look. Handmade floral arrangements can also be done by assembling silk and feathers in neutral colors and turning them into chic shapes like butterflies and stars.
Lantern wedding bouquet
The most beautiful bridal bouquets we've seen in recent years, lanterns are not only used for dressing up tables in receptions. Lanterns are used as simple wedding flower ideas for winter and fall affairs when the natural light outside dims down and cozying up with your loved ones as you celebrate a new beginning sounds straight out of a storybook idea. Considered to be a romantic replacement for the traditional bridesmaid bouquet, lantern wedding bouquets add a warm and pretty glow to an evening ceremony. These bright and glowing lanterns can also be repurposed as DIY details for your reception décor or even gifted as favors to your bridesmaids who will be carrying them. You can combine rustic lanterns and forest ferns for a glowing winter reception or bring a traditional Turkish flame-filled lantern as a bridal bouquet idea in a chic Disney princess style.
Vintage jewelry wedding bouquets
Brooch wedding bouquets have been quite popular among vintage brides and DIY couples who want to make a statement on their wedding day. Bouquets made out of upcycled jewelry, antique floral jewels, and sentimental personal pieces have made beautiful bridal and bridesmaid flower ideas. An all-season wedding bouquet and flower idea, bejeweled bridal bouquets can add texture and color to your wedding whites with beads, gem, and sparkling jewelry of all types and kinds. For a bride who loves a little bling in her life or a bride who loves vintage chic wedding details, these arrangements from baubles can also double up as a thank-you gift to their wedding party, and these bouquets will not wilt or wither for years to come. A combination of vintage jewels, jewelry that poses as "something old," or ensembles of family heirlooms create gorgeous and collectible jeweled wedding bouquets. These classic small bridesmaid bouquets will add a perfect shine to Victorian-era wedding dresses.
Hoop wedding bouquet inspiration
Oversized wreaths make for unique and pretty bridesmaids' wedding bouquets. This new wedding bouquet trend has taken the wedding industry by storm. From odd round shapes to perfectly accentuated geometric frames, hoop bridal bouquets have displayed different shapes and definitions from time to time. Creative and experimental brides who love to play with textures and colors can opt for these wedding flower inspirations that take a bit from the old and mix it in with the new flower ideas for an unexpected, gorgeous accessory to walk down the aisle with. From wreaths and wire rings to oversized wreaths of baby's breath and wooden twigs, these unique wedding floral arrangements can also be used as DIY ceremony set-ups to spruce up the wedding décor. These affordable wedding flower arrangements can also double up as a home accent post-ceremony, or they can also be used to dress up reception tables.
Light-filled bouquets
Light up the wedding setting by carrying glowing wedding bouquets. Add a romantic touch to your winter or fall wedding by having a lightbulb bridal bouquet. This bright white wedding bouquets alternative is perfect for eco-friendly weddings as these bulbs can always be reused at home or even at the wedding ceremony or reception. For a surreal evening wedding reception, light-filled bridal bouquets are perfect, and you can be completely creative with this unique bouquet idea. Lightbulb bouquets are especially loved for countryside outdoor wedding settings, where one has an ambient lighting set-up with bistro and fairy lights.
Fruity bridal bouquets
One of the freshest spring and summer wedding bouquet ideas, fruity wedding bouquets sourced out of the season's harvest is the perfect way to celebrate the season you're getting married in. The cool and crisp wedding flower arrangements can be done with hydrangeas, bittersweet, and scabiosa pods for spring weddings and peonies, roses, wild grasses, passionflower vine, and viburnum berries for a striking summer vibe. The fresh burst of fruits can be ensembled with only vibrant fruits or be mixed with greenery to add vibrant textures and make it photo-ready.
Dried flowers arrangements
For fall brides and brides who want to include bold colors in the wedding, dried flower ensembles are quite popular. From neutral color palettes with modern and rustic flairs like a bunch of lavender and thistle to bouquets made out of small daisies and grasses as a minimalist bouquet idea, dried flowers are one of the big upcoming wedding trends. Dried blooms like bridal bouquets made out of creamy astilbes, pinecones, berries, and pale millet have a super-soft textural warmth that gives a charming finish to a rustic arrangement. You can add a mix of your own bunch of dried stems and flowers as well as greenery to these rustic bridal bouquets and create a fall vibe to a romantic flower arrangement. From a wheat wedding bouquet with creamy roses and some lavender to an ensemble featuring dried herbs, feathers, and blue blooms, there are so many creative spins to this rustic wedding flower trend. Even decorative pine cones fit winter and fall weddings and are more cost-effective than other wedding flowers and look just as nice.
Your wedding is the only occasion that will celebrate the unique and one-of-a-kind relationship you share with your beau. Since there's no love quite like your love story, is there a single reason for not taking inspiration from unique wedding bouquet ideas for your celebration? Spread this sentiment and infuse your unique personality and one in a million personal tastes into every aspect of your wedding décor details. From setting up a stylish aisle with quirky messages that quote your love story to the vows and everything in between, the details of your wedding should reverberate uniqueness and discernment.
Want to have foraged wildflowers and fruits as a budget-friendly wedding flower idea? Do it. Want to skip the whole reception and go for a courthouse wedding instead in your pretty sundress? Go for it. Remember, your wedding is truly and solely yours. To enhance this once-in-a-lifetime experience, fill up your celebration with details that you hold closest to your heart. Go for the above ideas if you are a bride who thinks her gang of bridesmaids wouldn't like the chosen flowers for bridesmaids' bouquets and have something that suits every mood, season, color palette, bridesmaids wear, and surrounding settings.
\