Trend Alert: Dusty Blue Wedding Ideas For 2023
December, 12 2022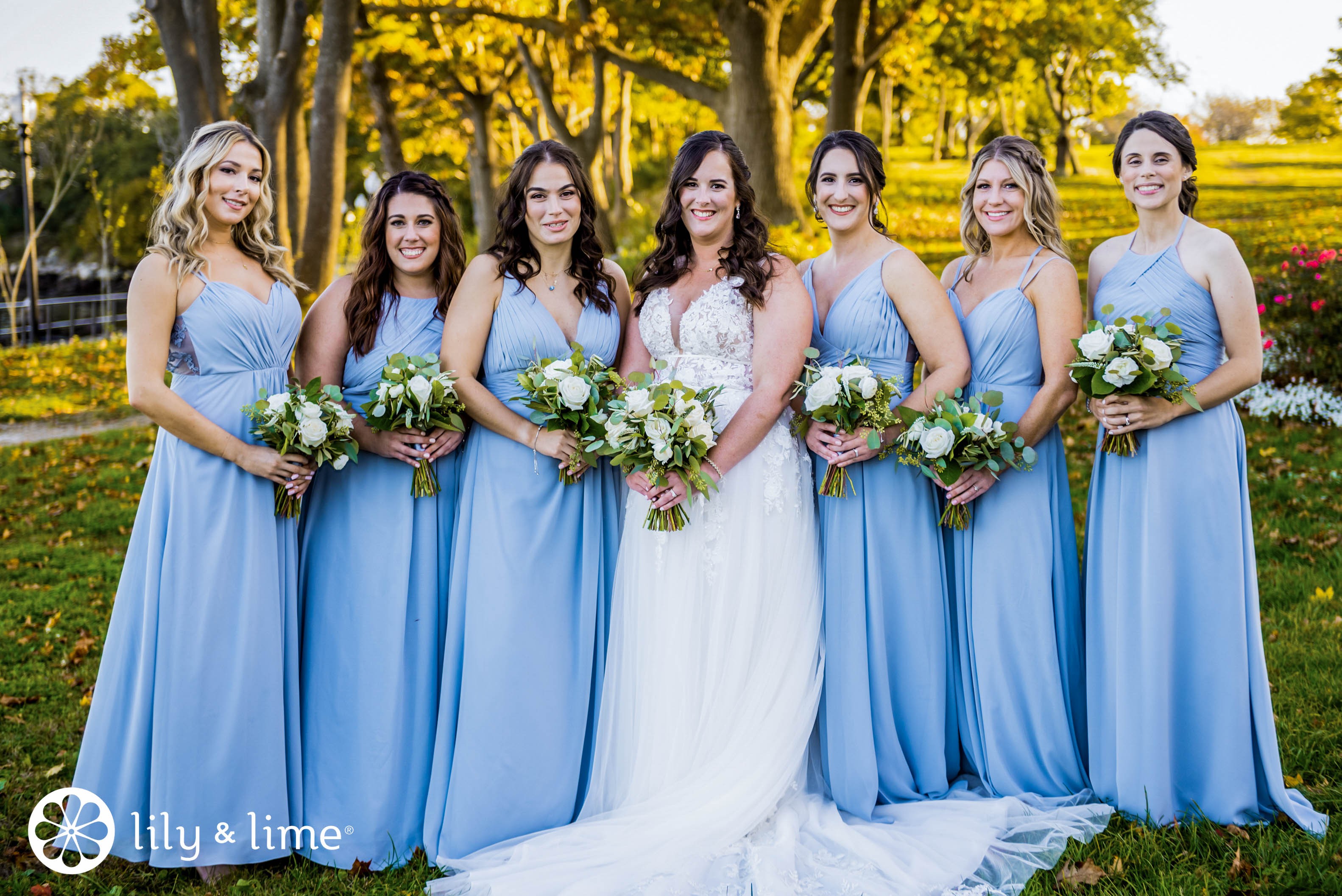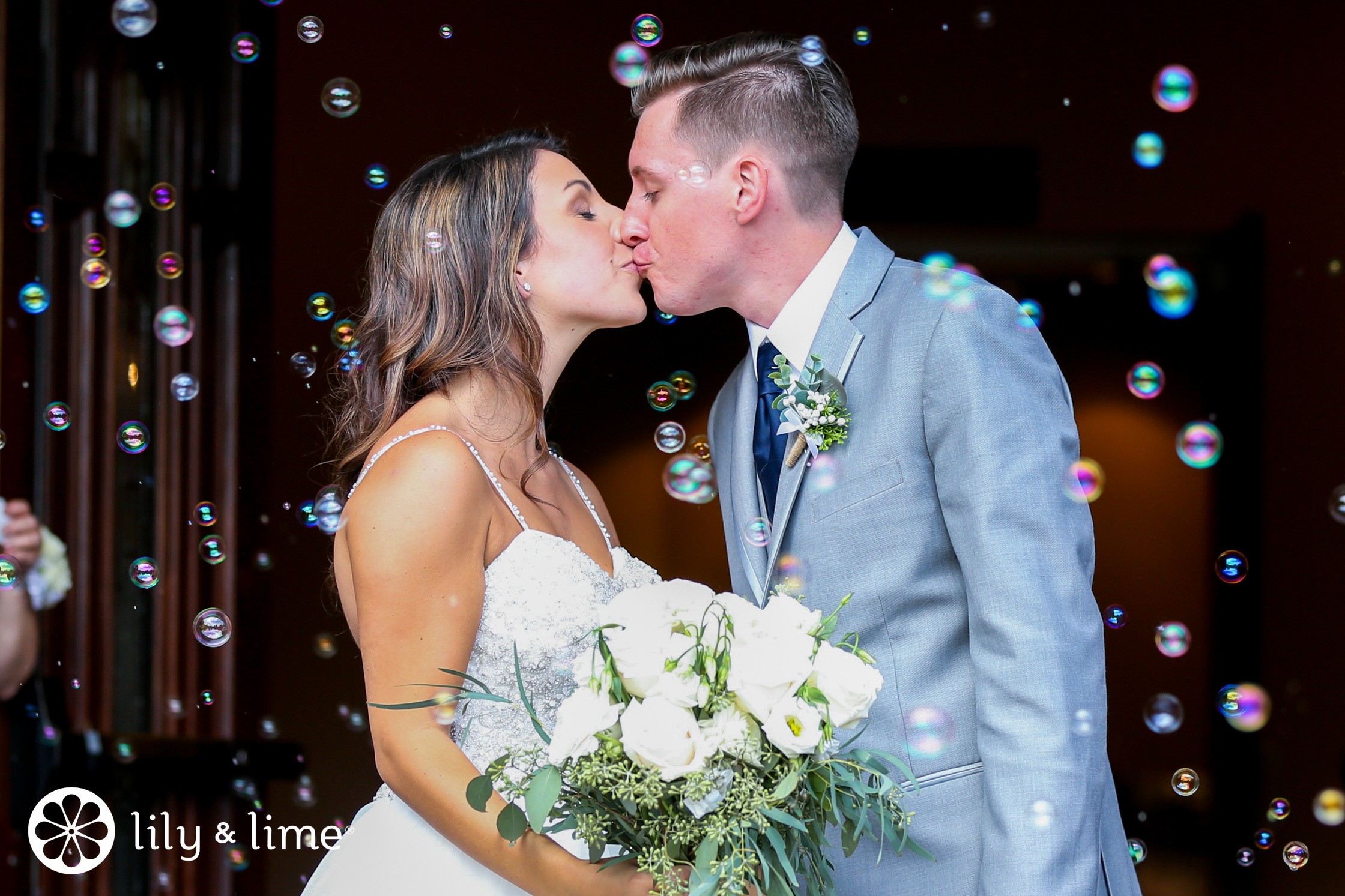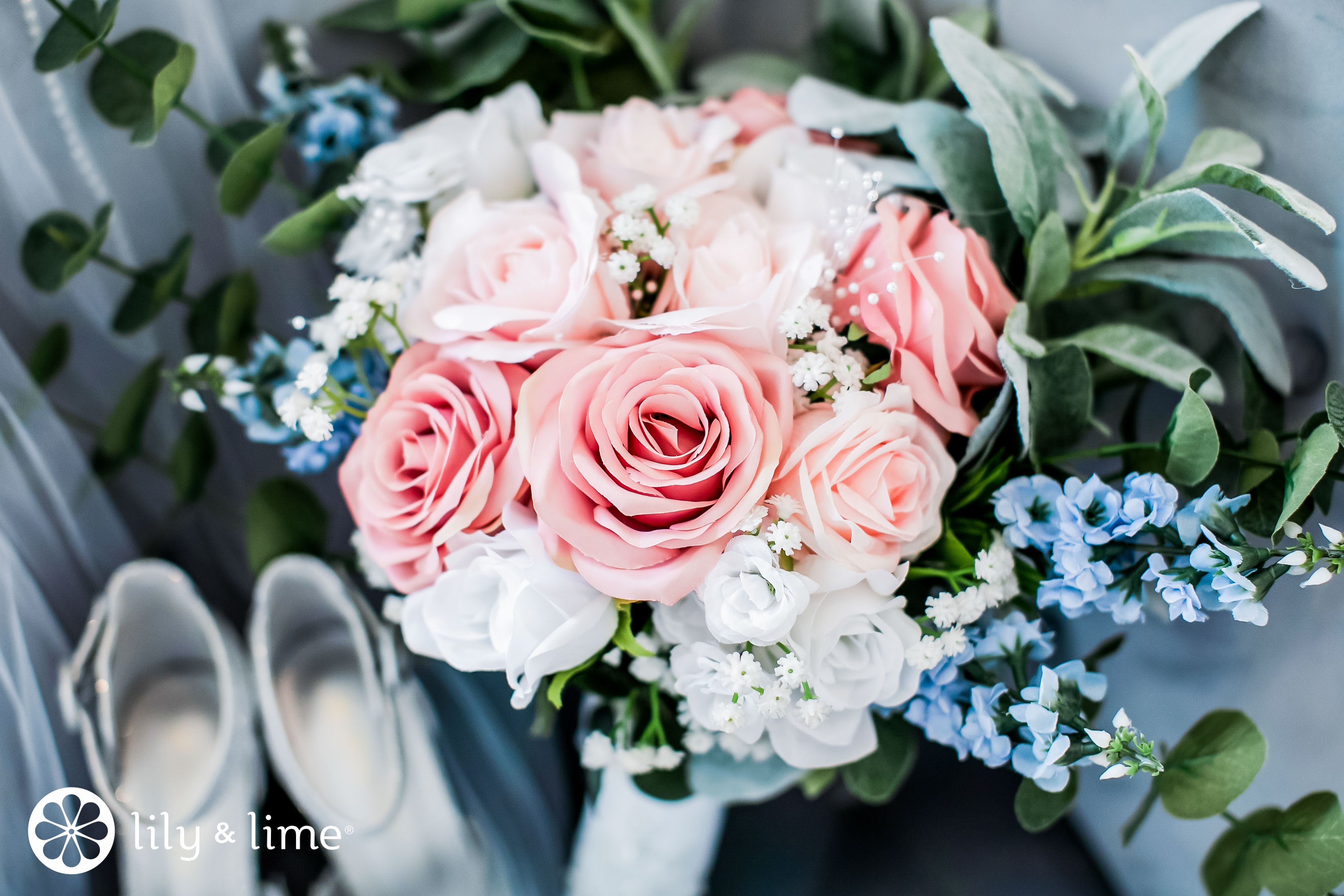 Today, let's put a different and prettier twist to the saying, "something old, something new, something borrowed, something blue" with some dusty blue ideas! This blog will list out some of the trendiest ideas, pretty dusty blue wedding decor, dusty blue dresses, dusty blue invites, and dusty blue everything! If you're looking to throw a wedding with some of the best ideas, we have quite a few of them for you!

Dusty Blue: Theme Color Guide

Before we drop into the ideas, the first step will be to know which colors sit well with dusty blue. We can all agree on the fact that dusty blue gives you an elegant aesthetic, befitting any season. If you are sure about the color, then you'll need which colors will go with it. What's more, complementing colors can be your friend when you're looking to balance your wedding theme with the season you're tying the knot in! Before we jump into ideas, let's talk a little about the color combinations and the different ideas that will look perfect in the themes:

Dusty Blue, Cream, and Green

One of our favorite theme colors is dusty blue paired with cream and dusty green. This combination is just perfect for a simple yet elegant wedding, and it gives us the picture-perfect spring theme! However, this theme works like a charm for summer weddings as well. One of the best parts about this is that cream and green are neutral shades. And that leaves room for development. For example, you can mix hollies in your flower arrangements if you're going for a Christmas theme, or you could mix whole fruits in your wedding table decor and for your accents for a summer vibe, or you could just add some extra white floral details for your spring wedding. And if you want a deep autumn wedding look, you can simply choose to add wonderful touches of moody, deep-colored flowers.

Dusty Blue, White, Gray, and Deep Green

Next, we love the dusty blue, white, gray, and deep green with loads of greenery! What we love about this theme is that it is timeless! This is perfect for early winter weddings, or for fall weddings! The reason why those two seasons come to mind is the color combination. Dusty blue is neutral, pretty, and delicate, and so is white. However, gray and deep green give it a beautiful charm with their deep hues. Bigger accents and details of weddings, such as wedding signage and bigger chunks of decor can be in deep green or gray, while white and dusty blue can fill in the smaller details. It will give your wedding a wonderful look.

Dusty Blue, Gold, and Light Gray

Another combination we love is dusty blue, gold, and light gray. This theme gives us Pinterest and Instagram-worthy wedding photos! Something about this wedding color palette screams "magical wedding." You can use these colors to add more charms to your wedding. This wedding scheme works impressively well for all kinds of seasons, courtesy of the neutral shades. What's more, you can swap out the light gray for a blush pink or lavender to add a lighter hue to the wedding theme colors.

Apart from this, another beautiful wedding theme with dusty blue is to pair lavender, peach, and speckles of red for the theme. This combination gives us a wonderful early winter vibe! Dusty blue with blue lavender and pink gives you another lovely wedding theme, perfect for any summer wedding! And if you're planning a wedding while you enjoy the outdoors, regardless of the season, then you can pair dusty blue with red, burgundy, and speckles of peach and white! Now that we have listed out some of the colors that work with dusty blue, let's dive into wedding ideas that you can use for your special day!

Add Dusty Blue Wedding Details With These Ideas!

Here are some amazing ideas that you can use for your wedding if you're looking for dusty blue for your wedding!

Dusty Blue Wedding Stationary

We've always been staunch believers in setting the tone with pretty colors, especially when it is a part of your wedding theme! So, without much debating, our first choice will be to use dusty blue in your wedding invitation set! Whether you're choosing to send out wedding invites traditionally, or you choose e-invites for your wedding, a few touches of pretty dusty blue will be perfect! As for ideas, let's break this section into two halves for ease:

Traditional Paper Invites: Dusty Blue Edition!

So, if you're sending out paper invites, you can use pretty dusty blue ribbons! These ribbons can be used as fasteners if you're looking for a subtle use of the color. Another way to use dusty blue, subtly, is to use it as the color for your cards' borders. To make the dusty blue borders perfect, you can use some glitter. You can also choose dusty blue envelopes, and add some lace details. The lace is delicate and matches the aesthetic of dusty blue adding to your wedding ideas! You can also use dusty blue as the backdrop for your wedding invite, the card with all the details, and glazed silver lettering for your card! And if you love this idea, but feel that it would be too strong for the card with all the details, then you can easily switch it up by using dusty blue in the background and silver lettering for your save-the-date cards!

No Traditional Invites? No worries, Here are Some E-Invites in Dusty Blue!

A great way to add dusty blue to your e-invites is to use the color for your lettering. You can customize the lettering color and make it dusty blue! You can also use dusty blue in some elements, perhaps in small geometric shapes on the save-the-dates! Geometric shapes in your wedding invites look beautiful, you can utilize the shapes to set the tone for your wedding theme! For example, if you've already picked out the theme centered around dusty blue, then using the complementing colors for the shapes will do the trick for you!

Wedding Day Outfits: Add Dusty Blue to the Outfits!

Dusty blue is an absolutely lovely color, and if we had it our way, we'd paint everything with it. However, being practical goes better for such matters, which is why we'd like to suggest adding dusty blue details to your wedding outfits! You can use dusty blue in the groom's wedding outfit as well as in your wedding gown! For brides, it is easier, because you can use dusty blue details in your bridal bouquet. As for grooms, it is still quite simple, all you need is a gray suit with a dusty blue tie. Another way to add more dusty blue to the groom's wedding outfit is to use dusty blue details in their boutonnieres. Lastly, another idea for adding dusty blue to your wedding theme is to use a pair of dusty blue socks for the groom's outfit! As for the brides, if you're looking to wear a classy wedding suit, then you can use the same ideas for your wedding outfit! And if you're not happy using these ideas, then how about having the bridesmaids and groomsmen dress in dusty blue outfits? The bridesmaids' dresses can be dusty blue, regardless of the kind of dress they wear to your wedding. And for groomsmen, you can ask them to put on dusty blue jackets along with a white suit. This idea will be perfect, and to make it better you can have the groomsmen dress in dusty blue jackets with white suits, while the groom dons different colors. What's more, these ideas will give you impressive wedding photos! Apart from this, if you're throwing a summer wedding where jackets are a big no, then how about gold and dusty blue suspenders? Or perhaps white and black groomsmen with dusty blue ties?

Dusty Blue Accents: Make Dusty Blue Your Wedding Theme's Cornerstone!

A great way to add the touch of dusty blue to your wedding, then you should think of adding accents to your wedding in the same color. Starting with the easy-to-achieve and just perfect is to use lovely dusty blue tufted dusty blue chairs for your sweetheart's table. Velvet tufted chairs look the best. You can also rent a few chairs to keep them in corners and create photo corners for your wedding guests. Dusty blue chairs look wonderful with ivory and silver wedding dresses. Apart from this, you can create small bouquets of white and blue flowers, and tie them with dusty blue ribbons. You can go for oversized dusty blue bows so that the bouquets don't overshadow the color. Other ways to make your wedding theme perfectly, you can also choose to add some balloons. Balloons are a great addition, especially if you're throwing a budget wedding. And the best part is, if you can't find dusty blue balloons to fit your wedding, you can simply buy white and gold balloons. Make sure you purchase white in more quantities. Next, purchase dusty blue paint. When the balloons are filled with air, you can have somebody paint them over!

But if you feel that balloons and making them the color you want them to be is too much work, then how about using paper lanterns? Paper lantern wedding decor ideas are just right for any session. Whether you have a day wedding or an evening wedding, dusty blue paper lanterns add class and beauty! For an evening wedding, you can even add some electric tea lights to give these a magical touch. Another way to add a wonderful touch to your accents, and that too on a budget and which is also a DIY-friendly idea - dusty blue bordered mirrors! The thing about mirrors is that even if you don't have a bunch of mirrors that you can use for your DIY project, you can buy them in bulk and create a wonderful mirror backdrop! All you need is a bunch of mirrors and dusty blue paint. Then, all you need to do is arrange the mirrors on a solid surface, which can be used to hang up on a wall. If you have differently shaped mirrors, you can arrange them to look as you want them, or arrange them in order of size. And if you have the same-sized mirrors, just paste them on a surface you can use, for example, a large piece of cardboard. Once you have the mirrors pasted to the surface, you can use the dusty blue paint to paint over the mirrors! All you need to do is settle on the scheme. You can either paint the mirrors that border the backdrop, or you can paint the mirror alternatively. Apart from this, another cool idea is to paint all of the mirrors with the colors of your wedding theme! However, when you take on this DIY project, make sure that you find a surface that can withstand the weight of the mirrors you will place on them!

Bonus: Other Ideas That Work as Beautiful Accents

You can also add dusty blue carpets! If you're asking where then our answer is everywhere! You can use a thin carpet for your wedding ceremony, and for your wedding reception!

Dusty Blue Signage: Welcome Signs and More!

On the topic of accents, how about adding dusty blue to your wedding signage? You can choose a dusty blue welcome signage with gold or silver lettering. You can also use dusty blue signage for your wedding's menu card along with signage for the food stations! For food stations, you can have the backdrop of the signage in dusty blue, and choose to decorate the borders as per your choice. The borders can be floral details, greenery runners, or any other element that you've picked out for your wedding day. Another way to add dusty blue to your wedding's decor is to add a monogram on the wall, behind your sweetheart's table. You can choose acrylic signage for the wedding monogram! If you decide to use a monogram of initials for your names before your wedding invitations are sent out, then you can have these monograms on your wedding cards and have acrylic monograms in the same design for your wedding reception venue as well. The monogram for your wedding reception venue and your wedding invites can be in dusty blue.

If you're not sold on these ideas, then worry not, we still have some more wedding signage ideas. Instead of going ahead with dusty blue escort cards, how about using a wedding seating chart in dusty blue? Dusty blue has a calming touch to it, which makes it the perfect color for your wedding seating chart! You can decorate the chart with some of the best greenery decor ideas or you can use string lights to decorate it. Greenery decor for your seating chart will work better if you're throwing a daytime wedding. However, the other idea, a seating chart bordered with or decorated with lovely string light decor is perfect for an evening wedding reception!

The Wedding Details: Let's Get Dusty Blue Everywhere!

Apart from the bigger wedding details, as we listed above, let's talk about some other ideas that will work for your wedding easily! One of the ideas that we absolutely adore includes dusty blue escort cards! We would love to see the colors splashed all over the escort cards. You can go for a watercolor wash for these escort cards, white background with splashes of dusty blue, gold background with a splash of dusty blue in the center (or vice versa, whichever you prefer), or even blush pink and dusty blue are some good ideas to use. However, you can also just use dusty blue, it will look quite elegant. As for the lettering you can use gold, white, silver, or even black. However, the choice of the lettering color will depend on the background. Apart from this, you can also use dusty blue wedding day shoes for your bridal look. Dusty blue shoes look perfect with pretty much any kind of wedding dress. Whether you're pairing it with an airy dress fit for a magical summer wedding or you're putting on a dress with a long train for a regal winter wedding, dusty blue wedding shoes look mesmerizing!

Apart from this, you can also add dusty blue to your wedding's tablescape. A great way to add some interesting touches is with dazzling dusty blue candles. But that's not all. Custom colors like dusty blue candles can be a hard find, and an expensive one at that, which is why we have some more ideas that will work just fine for your wedding's dusty blue theme! Instead of candles, you can set up a wonderful dinner table setting with some cute dusty blue napkins, and white plates. If you want to add a touch of style to your white and dusty blue pairing, you can easily add some more charms by adding another color, such as gold or bronze to make the setting look picture-perfect. If none of these ideas work for you, then how about using a dusty blue table runner? Table runners add crisp color and style to your tablescape.

With that, our piece on dusty blue wedding ideas and color combinations comes to an end. The ideas above will make your wedding planning easier. Even if you feel that you cannot use all of these ideas, we hope you can use the ideas above as your starting point. You can also copy-paste the ideas to your wedding planning agenda. Before we leave you, we'd like to leave some practical advice for you. When you're planning your wedding with colors and themes in mind, make sure that you come up with a way to check which colors go with which details. Visualization is the key to wedding planning.